Welcome to another edition of 'Packers by the Numbers.' Today, I'll be previewing the Packers' Week 16 matchup against the Tennessee Titans on Sunday night. This contest is only one of two Week 16 games featuring two 10+ win teams, giving it potential for 'Game of the Week' status. Let's dig into it.
2020 Titans come to Lambeau with their first 10-win season since 2008
The Titans travel to Lambeau with a 10-4 record after a commanding 46-25 victory over the Lions. With this win, they clinch their first 10-win season since 2008. They also sit tied with the Colts for first place in the AFC South. While they haven't officially clinched a playoff spot, a loss by the Dolphins or Ravens loss on Sunday afternoon could secure a postseason bid for the Titans before they even take the field on Sunday night.
Packers defense matched up against the NFL's best offense
The Packers will certainly have their work cut out for them against the Titans' top-ranked offense. The Titans come into Sunday's game ranked first in the league in points and yards, and third in yards per play. Derrick Henry has served as the most important piece in this offense and leads the league with 1679 rushing yards and 15 touchdowns. With two games still left to be played, he has already set a new career high for yards in a season, surpassing his previous high of 1540 yards set last season. He is also only 321 yards away from becoming the league's first 2,000-yard rusher since Adrian Petersen in 2012.
The Titans' passing game shouldn't be one to ignore, either. Ryan Tannehill comes into Sunday's game with 3,482 yards (248.7 yards/game), 31 touchdowns, five interceptions, 66.5% pass completion, and a 110.4 passer rating. He currently ranks top five in the league in touchdowns, touchdown-to-interception ratio, yards per attempt, and passer rating. He's enjoyed the services of wide receivers Corey Davis and AJ Brown, as the two have combined for 1826 yards and 15 touchdowns on 116 receptions.
The Titans have also put together one of the most efficient offenses in the league. They currently rank eighth in third down percentage, fourth in fourth down percentage, and sit in second behind the Packers in touchdown red zone percentage. They have only turned the ball over nine times, tied with the Packers for fewest in the league.
Titans pass rush is their biggest weakness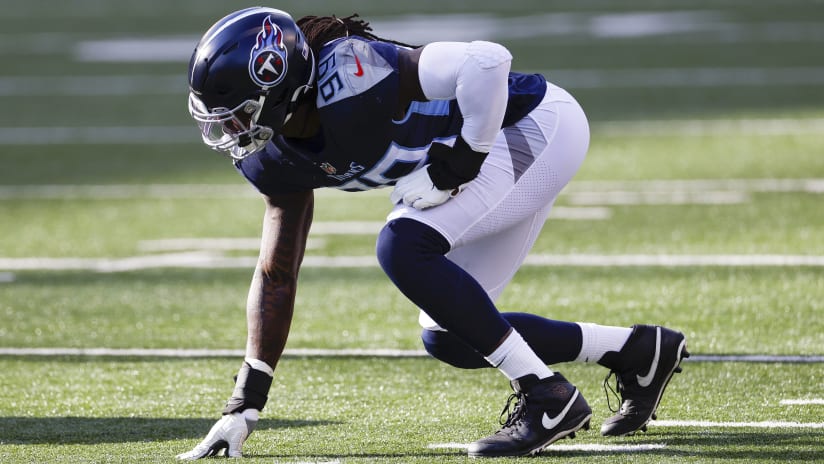 Like the Packers, the Titans pair their strong offense with inconsistent play by their defense. They rank 22nd in points allowed, 26th in passing yards allowed, and 28th in rushing yards allowed. A lot of their defensive shortfalls can be attributed to a weak pass rush unit that has been without Jadeveon Clowney since mid-November. His absence has been sorely missed as the Titans have only been able to get 14 sacks and a QB pressure rate of 16.9%, both which rank last in the league. The Packers' highly touted offensive line should fare well in this matchup and give Aaron Rodgers plenty of time to make plays.
Packers vs Titans All Time
The Titans are the Packers' fourth and final AFC opponent of the 2020 season. Because these teams play only every four years, there aren't many recent games to look back at. The Titans won the previous matchup in 2016 with a convincing 47-25 victory in Nashville; a game which the Packers suffered their largest defeat and allowed the most points of their 2016 season.
Their last matchup at Lambeau in 2012 was quite the opposite – a lopsided 55-7 victory by the Packers which still stands as the Packers' largest margin of victory since 2005 and tied for the most points scored in a game by the Packers since 1983 (a number since matched in 2014 against the Bears).
The Packers are 5-7 all time against the Tennessee Titans/Houston Oilers franchise that is celebrating their 60th anniversary in 2020. Surprisingly, the Titans are one of only four teams that Aaron Rodgers has just one win against (the Colts, Bengals, and Patriots are the other three).
Sunday night's game looks to be an entertaining one and has potential to turn into a high-scoring shootout between two great offenses. While the Packers aren't in desperate need of a victory for playoff seeding, they will certainly look to bounce back after last week's sluggish performance and have one last chance for a strong game against a contending team before heading into the playoffs.
For More Great Wisconsin Sports Content
Make sure to follow me on Twitter @CheesheadIndy and follow us @WiscoHeroics1 for more great content. To read more of our articles and keep up to date on the latest in Wisconsin sports, click here.
The trends mentioned in this article were sourced by statistics found at Pro Football Reference and ESPN NFL Stats.