The Packers have fallen in each of their first two preseason games so far. They have one more coming up this week against the Buffalo Bills.
While losses are never easy to swallow, everyone must remember that preseason outcomes do not count for anything. The point of these match-ups is not to win, but to evaluate and improve. Coaches want to see where their team is at before the regular season starts, as well as analyze the bottom of the roster to determine who will make the final cut and what role they'll have on the team.
Despite what the scoreboards say, the Packers looked good in their first two preseason games against the Texans and Jets. Here's why.
The Packers Have Had Almost Half Their Roster Out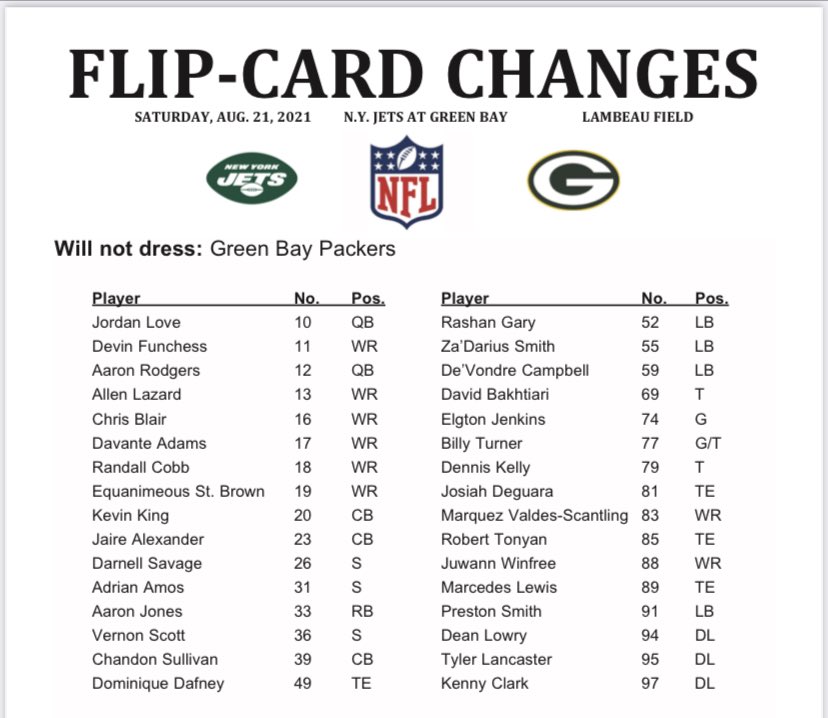 Green Bay choosing to sit their starters does not come as a surprise to anyone. However, they've made the decision to not play many of their top backups either.
For example, the Packers kept out most of their tight ends this preseason; not only big names like Robert Tonyan and Mercedes Lewis, but also guys like Josiah Deguara and Dominque Dafney. Against the New York Jets on Saturday, the Packers had seven inactive wide receivers with only four WRs suited up. The Packers also had quite a few defensive linemen out, such as Kenny Clark, Dean Lowry, and even Tyler Lancaster.
With so many starters and backups not playing, the results of these two preseason games are not shocking.
Defensive Line Is Looking Strong
Defensive line has been a sore spot for the Packers the last few years. It was especially weak when stopping the run. However, the defensive line looks really different this year.
Most of the excitement in this group comes from young players who are making a name for themselves. One of them is an undrafted rookie out of Iowa, Jack Heflin, who has been surprisingly good. He has made a strong case for the Packers to keep six defensive linemen. He might even earn a roster spot over Tyler Lancaster, as they play the same position but Heflin offers more. He could bring another element to the defensive line.
Here is a clip of Heflin against the New York Jets showing his talent and abilities.
DT Jack Heflin is playing the same spots on iDL as Tyler Lancaster – but doing it with so much more energy

Stout vs double teams, controls single blocks, active chasing plays down the line, active in pass rush counters…

Might've played his way onto this roster… pic.twitter.com/33JuguRkt4

— Ben Fennell (@BenFennell_NFL) August 22, 2021
We also cannot forget about TJ.. Slaton, the rookie fifth-round pick out of Florida. He has a lot of power to his play, as he can control at the point of attack against opposing offensive linemen. Slaton can also be effective against the run and be disruptive by pushing the pocket back into the quarterback's lap. Slaton looks like a lock for the Packers roster and might get a lot of minutes if he continues his great play.
This video is a good example of what Slaton can do for the Packers defensive line.
Rookie DT T.J. Slaton's strength at POA is wildly impressive thus far – especially vs single blocks

Consistently plays on opposite side of LOS & easily controls/plays peek-a-boo + disengages block

Can't wait to see @KCBoutThatLife & @_56Ms_ deployed together for @GB_CoachMont pic.twitter.com/jlIjGsHZZx

— Ben Fennell (@BenFennell_NFL) August 22, 2021
Offensive Line Is Looking Deep

The Packers' offensive line looks strong this year. Not only do they have quality starters, but their depth looks promising as well.
In these first two preseason games, the Packers' offensive line was full of young and rookie players who played pretty well. There were a few hiccups in run blocking, but the pass blocking has been great.
Josh Myers is the clear starter at center. Yosh Nijman gave up the strip-sack against the Houston Texans but bounced back against the New York Jets. Royce Newman might be the starting right guard, and Cole Van Lanen looks solid at both guard and tackle. Ben Braden looks like a candidate to start at guard. Jon Runyan is a top option to start at left guard. However, Lucas Patrick has not played well and may be off the roster soon.
Overall, the Packers' offensive line looks good so far and Rodgers should expect to be clean this year.
Safety Room Has A Lot of Options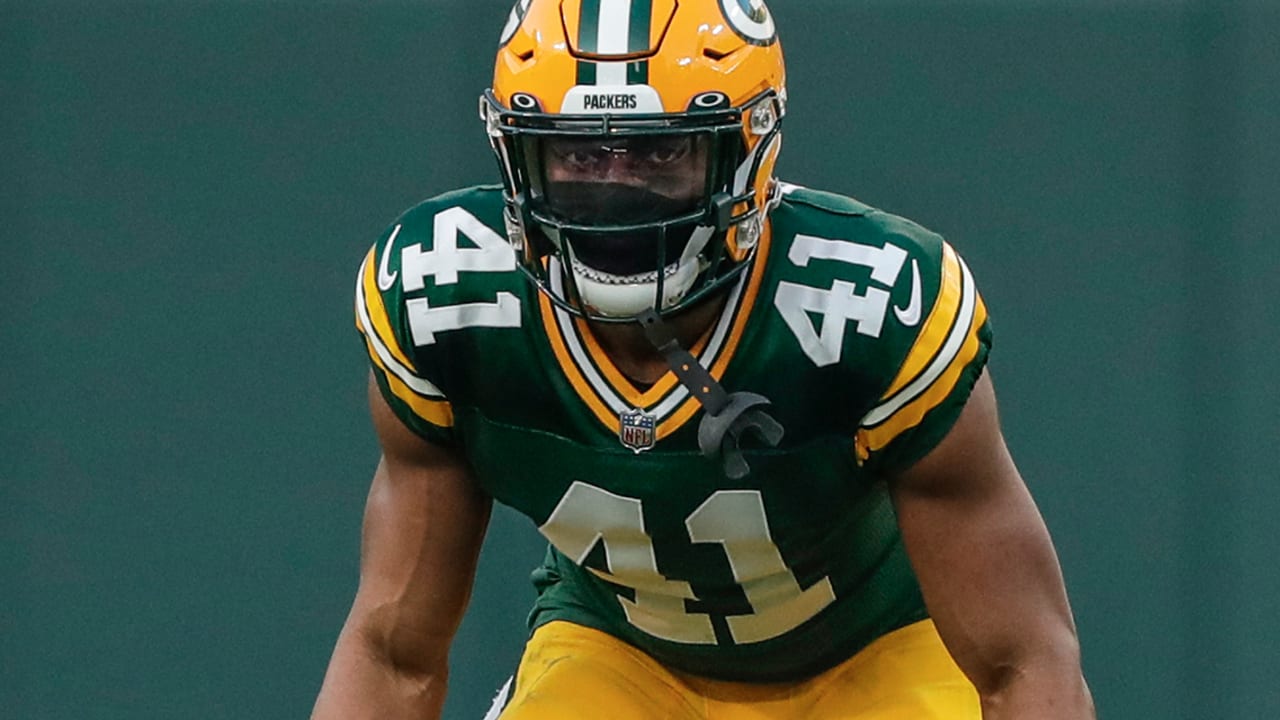 In these two preseason games, the Packers got a glimpse of what they have behind Darnell Savage and Adrian Amos. They have many players who look to earn playing time as backups.
Standing out so far is Henry Black, an undrafted free agent out of Baylor last year. He looks to be a lock for the roster, as he has shown he fits Joe Barry's defensive system. Black is getting time with the starters when the Packers do a three safety look. Black can also play around the line of scrimmage and make big hits like he did last year, forcing a fumble against the Houston Texans and sealing a win for the Packers. Black can fill gaps like a linebacker to help stop the run too, as shown here.
#Packers 2nd year safety Henry Black sure feels like a good fit to play some C4 for Joe Barry! …Safeties MUST love playing the run in this scheme!

Quick trigger downhill – beats WR crack block to the spot. Looking like John Johnson/Jordan Fuller out there! @jacckpott pic.twitter.com/TMSPrku6f5

— Ben Fennell (@BenFennell_NFL) August 22, 2021
Green Bay also has Vernon Scott, last year's seventh-round pick who was getting time when former Packer Raven Greene got hurt. Scott can play well against the run and pass, and looked solid in the two preseason games played. Along with Henry Black, he is getting time with the starters when the Packers go to that three safety look.
Innis Gaines has been turning some heads too. However, he had some bad moments against the New York Jets on Saturday. Will Redmond might be the odd man out. Yes, special teams is his strength, but the Packers have other guys who can do that and also play well on the field.
This Packers safety group will be one to watch this season.
Lots of Talent in the Cornerback Group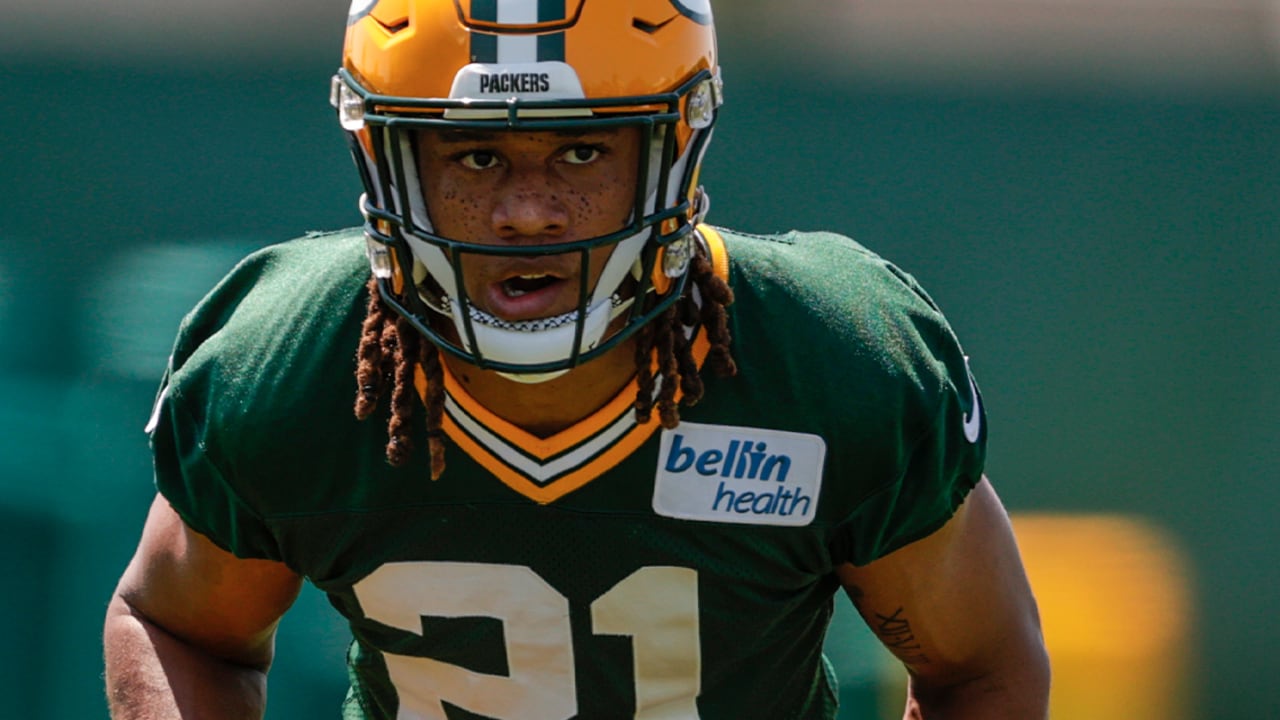 This cornerback group is indeed the most talented the Packers have had in a while. They're led by Pro Bowl corner Jaire Alexander, along with Kevin King and Chandon Sullivan.
Behind those guys is promising talent, like first-round pick Eric Stokes whose speed will be useful on the Packers' defense. Stokes has played well in the preseason.
[pickup_prop id="6794″]
Kadar Hollman has been quiet, yet quarterbacks have not really tried throwing his way. Shemar-Jean Charles has been up and down, but he is learning and has potential. Kabion Ento is making noise and might have a spot on the roster with one more preseason game to prove himself. Isaac Yiadom most likely will not make the roster, as he is just a body replacement for Josh Jackson who was traded last week.
Overall, this cornerback room might be one of the best in the NFL come kickoff.
Dominant Packers Running Backs
The Packers have an excellent group of running backs this year. They are led by one of the best RBs in the NFL in Aaron Jones, and behind him are some pretty good backs as well.
One is the "Quadfather" in A.J. Dillon, who will wear defenses out with his bruising style of run. He should be featured in the passing game, as he will share the backfield with Aaron Jones.
Kylin Hill, a seventh-round pick in this year's draft, has been strong this preseason. He looks like he'll be the third back behind Jones and Dillon. Hill is developing as a rusher and performed well against the Texans and Jets, scoring a touchdown against both. Hill is going to be dangerous in the passing game as well, especially on third down. In addition, with Aaron Rodgers at quarterback, teams won't stack the box trying to stop him and the passing game.
Look out for this running back group this season.
Follow for More!
Follow me @CarlosS29143608 and follow us @WiSportsHeorics for more content. Check out our merch page. Use the promo code WISCO at the checkout for 1$ off! To keep up on all of your favorite sports Wisconsin click here!