The Green Bay Packers had one of the highest performing offenses in the NFL this season. Of course, most Packers fans already know about the amazing season put together by All-Pro wide receiver Davante Adams. However, what has gone unnoticed by many fans is the breakout season that Allen Lazard had in 2021. Sure, he did not put up the monster numbers that Davante Adams did. Few wide receivers in the NFL have ever put up the numbers Davante Adams does. Allen Lazard, though, put together the type of season that indicates big things are to come for him.
Allen Lazard in 2020
Last season, it appeared that Allen Lazard was primed for a breakout. With Davante Adams nursing a hamstring injury on September 27, 2020, Allen Lazard became the Aaron Rodgers' primary target against the New Orleans Saints. Lazard hauled in six receptions for 146 yards and a touchdown. Unfortunately, that was also the game in which Lazard injured his core and required surgery.
Due to the injury, Lazard was limited to just 10 games in 2020. He had 33 receptions for 451 yards and three touchdowns. Additionally, Lazard converted 23 of those receptions into first downs. Aaron Rodgers had a 124.5 passer rating when targeting him, which would have been higher if not for Lazard's 10.9% drop percentage. For all of the criticism that Marquez Valdes-Scantling received last year for his drops (11.1% drop rate), Lazard was nearly as worrisome.
That all changed in 2021.
Allen Lazard in 2021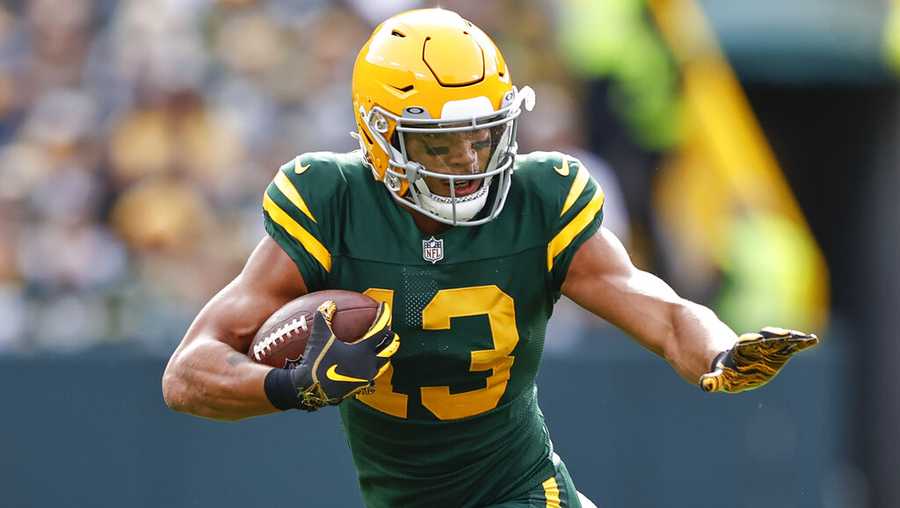 This season, Allen Lazard came into camp fully healthy and recovered from the injury that affected him last season. Entering the final year of his contract, he also came ready to prove to the Green Bay Packers that he is worthy of a second contract despite the team's 2022 salary cap situation.
This past season, Lazard played in 15 games catching 40 passes for 513 yards. He also was second on the team (behind Davante Adams) with eight touchdown receptions. One of these was Jordan Love's first career touchdown pass against the Kansas City Chiefs. While these numbers may not seem too flashy, the advanced stats tell a much bigger and promising story.
Whereas 23 of Allen Lazard's receptions were converted to first downs in 2020, 28 of them were in 2021. Additionally, Aaron Rodgers' passer rating when targeting Lazard went up from 124.5 to 132.8. Lazard was targeted more this season and he made his opportunities count. That concerning 10.9% drop rate in 2020 fell to 1.7% in 2021. In other words, Lazard dropped just one pass all season long. (MVS, by the way, dropped zero passes this season).
There is no question that it will be tough to keep Davante Adams on the roster next season. However, Allen Lazard has proven that he is worthy of a second contract. It is entirely possible that he could emerge as the Packers' new number one wide receiver. Or, ideally, a good 1B option aside Adams as 1A.
Allen Lazard Booking Agent
Contact Information
Call Mayfield Sports Marketing at 262-366-8188 to schedule Allen Lazard for your corporate appearance or product promotion.  Our booking agents will work on your behalf to get you the best price for your desired sports speaker.
Mayfield Sports Marketing has earned a reputation of being the one to call for booking top athletes to speak at events and trade shows. To learn more about Allen Lazard appearance cost and booking fee, please call us today. www.MayfieldSports.com.
For More Great Wisconsin Sports Content
Follow me on Twitter at @theotherAdams14 and follow us @WiSportsHeroics for more great content. To read more of our articles and keep up to date on the latest in Wisconsin sports, click here!