The regular season has come to a close and the long-anticipated Associated Press All-Pro Teams have been announced. Not surprisingly, Aaron Rodgers received 34 out of 50 votes to earn his fourth First Team All-Pro selection. Davante Adams was a unanimous choice for his second consecutive All-Pro nod. What was surprising, though, was the named of inside linebacker De'Vondre Campbell as a First Team All-Pro. Campbell had been snubbed for the Pro Bowl, but was voted as one of the best inside linebackers in the NFL by the voters. With his All-Pro status, Campbell joins Clarke Hinkle and Ray Nitschke has the only middle or inside linebackers to be named All-Pro while playing for the Packers.
Clearly, All-Pro caliber seasons are few and far between for the Green Bay Packers. Here, we are going to take a look at those seasons for all three players.
Clarke Hinkle- All-Pro Seasons: 1935-1938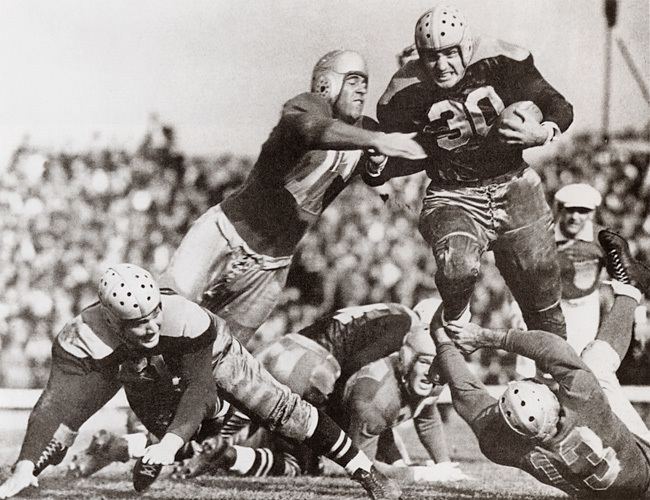 Clarke Hinkle is truly one of the greatest players in Packers history, and certainly in NFL history considering his era. Hinkle played at a time when many players played both offense and defense. Primarily known as a fullback, Hinkle retired as the NFL's leading rusher with 3,860. Hinkle might have played longer, however he was forced into retirement in 1941 by military service in World War II.
At the time that Clarke Hinkle played, defensive stats, such as tackles and sack, were not recorded. It is, therefore, tough to determine which of these four All-Pro seasons were his best as a linebacker. In 1936, however, the Green Bay Packers won the Championship for the first time in Hinkle's career. They also won a title in 1939, but Hinkle was not named an All-Pro that year.
Clarke Hinkle was inducted into the Pro Football Hall of Fame as part of their second class in 1964. In 1994, he was named a member of the NFL's 75th Anniversary All-Time Two Way Team for his prowess on both offense and defense. Hinkle's former teammate and fellow Hall of Famer, Don Hutson, was also named a member of this team.
Ray Nitschke- All-Pro Seasons: 1964 and 1966
Like Clarke Hinkle, the legendary play of Ray Nitschke cannot be told in the finding of old stats. They simply were not all recorded. However, Ray Nitschke was the cornerstone of Vince Lombardi's defense, a defense that helped the Green Bay Packers win five championships in seven years.
In 1964, Ray Nitschke made his first All-Pro Team. That season, he had two interceptions, two fumble recoveries, and 1.5 sacks. His tackles total is not recorded. In 1966, the year the Green Bay Packers won the first Super Bowl, Ray Nitschke was named to his second All-Pro team. Nitschke had two more interceptions that season to go with a fumble recovery and 1.5 sacks.
After his playing career ended, Ray Nitschke was named as a member of the NFL 50th and 75th Anniversary Teams. He is the only linebacker on both lists. Nitschke was inducted into the Pro Football Hall of Fame in 1978. The Green Bay Packers retired his number 66 in 1983.
De'Vondre Campbell- All-Pro Season: 2021
One of the biggest criticisms of the Green Bay Packers in recent years has been that they do not value the inside linebacker position. Perhaps this is evident in the fact that they waited until after training camp started to sign De'Vondre Campbell to a $2 million contract. To say that Campbell has outplayed the value of that deal would be an understatement.
In 2021, De'Vondre Campbell had 146 total tackles, 102 of which were solo tackles. Campbell also notched two forced fumbles, two interceptions, and two sacks. Not only was he a force tackling ball carriers, but he was also stellar when quarterbacks targeted him in the passing game. Opposing quarterbacks had a passer rating of just 74.9 when targeting him. Additionally, Campbell had a missed tackle percentage of just 2.7%, having missed just four tackles are year long.
For More Great Wisconsin Sports Content
Follow me on Twitter at @theotherAdams14 and follow us @WiSportsHeroics for more great content. To read more of our articles and keep up to date on the latest in Wisconsin sports, click here! Also, check out our merch store for some amazing WSH merchandise!