As mentioned in my last article about Coastal Carolina wide receiver Jaivon Heiligh, the Green Bay Packers have a huge wide receiver problem. They head into the 2021 offseason with essentially Amari Rodgers, Juwann Winfree, and Randall Cobb on the active roster. Green Bay will possibly release Randall Cobb to save some salary cap, but nonetheless the organization needs to prioritize in drafting a wide receiver in 2022. With Heiligh being a mid-round prospect Green Bay can focus on, Arkansas wide receiver Treylon Burks is a prospect they'll need to move up in the first round to draft. They haven't drafted a wide receiver in the first round since Javon Walker in 2002. However, after studying Burks, Green Bay may have to break that tradition.
College Career in Arkansas
Burks played three seasons at the University of Arkansas. He totaled 144 receptions for 2,386 receiving yards and 18 touchdowns, on 211 targets. He also rushed for 243 yards and one touchdown on 36 attempts. Each season, he increased his target share from 15.7% (2019), 25% (2020), to 29.3% in 2021. In addition, Burks averaged 16.6 yards per reception and earned 1,098 yards after contact in three seasons.
In fact, his breakout season was in 2021. Through twelve games, Burks had a catch rate of 72%, 1,104 receiving yards and 11 touchdowns on 66 receptions. His biggest highlight of the year was in week three against Georgia Southern. He caught a screen pass from KJ Jefferson, broke a tackle, and ran the ball in for a 91 yard touchdown. That was one of fifteen missed tackles Burks forced, along with gaining 42 first downs in 2021. He also made seven contested catches this past season. 
Well…bye pic.twitter.com/NACxvwNekY

— Arkansas Razorback Football (@RazorbackFB) September 18, 2021
"TREYLON BURKS. RIDICULOUS FOR THE ARKANSAS TOUCHDOWN." pic.twitter.com/cSy34aCMwH

— CBS Sports (@CBSSports) October 16, 2021
Route Running
Burks is one of the most electrifying, freakish athletes in recent wide receiver draft classes. The 6'3″ 225lb junior out of Arkansas dominated the SEC competition in 2021, and continued to improve each season. One of his biggest strengths is most notably, his strength. Burks has that elite short area burst off the line of scrimmage, along with ridiculous speed on seam and go routes. Along with that, Burks increased his snap percentage in the slot each year in Arkansas (74% in 2021). Combining his speed, strength and quick release off the line of scrimmage, Burks creates separation easily on a slant route and gains yards after the catch.
Burks scored a 91.5 PFF grade or higher on routes from behind the LOS (line of scrimmage) to deep routes of 20+ yards. He's known for making the contested catches down the sideline, and using his physicality to gain yards after the catch. Per Pro Football Focus, Burks was ranked 1st among all wide receivers in the 2022 draft class with 3.57 yards per route run.
To describe his dynamic physicality and route running, he is a copy and paste version of AJ Brown. Comparing his athletic ability to create plays and gain yards after the catch, he has the versatility like Deebo Samuel. Burks did have 13 rushing attempts for 124 yards and one touchdown in 2021. If given the time to adapt to NFL speed and develop his game, Burks can be a WR1 for years to come.
Fit In Green Bay's Offense
Burks is that wide receiver that, if Davante Adams doesn't return, is that receiver Rodgers can rely on if given the chance. With his brute strength, quick release off the line of scrimmage and ability to make the contested catches down the sideline is the weapon Rodgers needs. Per Dwain Mcfarland (PFF and FF Hustle), between 2019-2021 the most WR targets and yards per route in the NFL came from the Hitch (17%), Out (13%), and Crossing routes (12%). These three routes specifically are not just what the Packers utilize frequently, but Burks specializes in crossing routes and out routes. Having him run a simple soft zone crossing route on a play-action would be deadly for opposing defenses.
At the very least, Burks would be that deep threat for Rodgers, if they don't re-sign Marquez Valdes-Scantling. Considering Burks' physicality, breakout speed, catch radius and dynamic playmaking ability, pairing him up with Rodgers would be a great combination. Burks never played with an elite level quarterback in Arkansas, so this would only elevate his game even more. Plus, he would start day one considering Green Bay only has Amari Rodgers on the active roster.
Draft Capital
Although Burks would excel well in Matt Lafleur's offensive scheme, drafting him won't be cheap. Burks is a surefire WR1 talent, maybe a generational talent at the position. He'd require Green Bay to trade up significantly in order to draft him considering they draft 28th. It'd be a historic moment for the franchise since they haven't drafted a wide receiver in the first round since Javon Walker in 2002. Wherever they need to trade up to in order to draft him, Burks is worth the draft capital.
However, right now Burks is being mock drafted anywhere between the Falcons at #8, and Dolphins at #29. He's guaranteed to climb up draft boards after the NFL Combine and his pro day at Arkansas. The star wide receiver out of Arkansas can really elevate the Green Bay offense if drafted. He'd either be a reliable WR2 behind Davante Adams, or be the team's new dominating WR1. Between now and the NFL draft on April 28th, Burks could become the #1 ranked wide receiver in the 2022 class.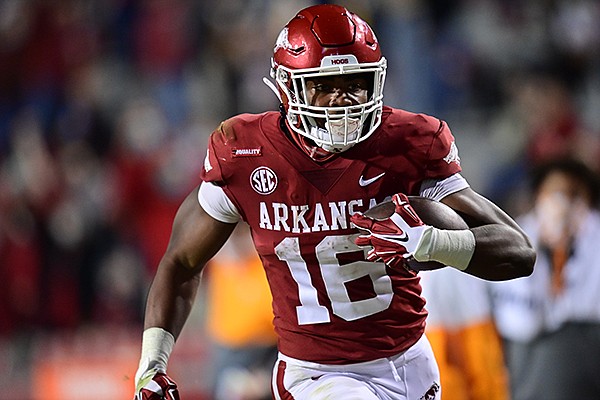 Want More Great Content?
Follow me on Twitter at @PackerEddy_FF and follow us at @WiSportsHeroics for more great content. To read more of our articles and keep up to date on the latest in Wisconsin sports, click here! Also, check out our merch store for some amazing WSH merchandise!