The Packers 2020 draft class was looked at by others as a terrible draft. It was said none of the draft picks were good or did not fill a need. The biggest one was of course the Jordan Love pick that had everybody questioning the Packers. The picks were not bad, but where we got them was really questionable. Yet the players from 2020 draft outside of Jordan Love can make a impact in 2021.
Draft Pick Second Round- AJ Dillion
AJ Dillion has the potential to be a real good player in the NFL. He was not a bad pick, but can be argued about drafting him in the second round. Despite that, he can be a dominant running back in the NFL. He learned in a rotational role in his first year as a rookie. His break out game against the Tennessee Titans showed what he can become. Now that Jamal Williams is no longer with the Packers, he will assume the backup role behind Aaron Jones. He will definitely provide a one two punch for the Packers at running back. With AJ Dillion, the Packers offense will have a physical running game that will keep defenses on their heels in 2021.
Draft Pick Third Round- Josiah Deguara
Josiah Deguara was another reach, especially in the third round. The Packers drafted him because he fits what they want to do on offense. He is the H-Back that Matt LaFleur wants to use in his system. In week one last season, he showed flashes of why the Packers drafted him. He was excellent in run blocking and slippery getting behind the defense as he caught a pass for twelve yards. Unfortunately, he tore his ACL ending his rookie season. In 2021 he will back with a pretty crowded Packer tight end group and will compete for playing time. If fully recovered, he will be another weapon for Aaron Rodgers and the Packers offense this coming season.
Draft Pick Fifth Round- Kamal Martin
Kamal Martin fell in the draft due to injury concerns and Packers drafted him in the fifth round. In fact, during training camp, he was impressing the coaching staff a lot. In addition, he was on his way to winning a starting job at linebacker, but then had a knee injury. The injury caused him to miss eight weeks, missing a pretty significant amount of time. When he came back from injury, he saw lots of playing time. He showed he can be a physical presence against the run and a big hitter as well. Martin also missed many tackles, something he needs to work on. Getting the experience in his rookie season can help him make that second jump. Martin is in the driver seat to become the starting linebacker for the Packers in 2021.
Undrafted- Krys Barnes
While he was not drafted, Krys Barnes was certainly a huge surprise. Barnes was signed as a undrafted free agent with the Packers in 2020. He ended up being on the practice squad and then got called up before week one. Week one he played incredible and as the year went along got more playing time. He eventually took over as starting linebacker and became the signal caller for the Packers defense. Barnes was making big plays especially against the Carolina Panthers when he punched the ball out on the goal line on a quarterback sneak. He was one of the main reasons the defense as whole was better down the stretch. Barnes has a chance to show he is the future for the Packers at inside linebacker.
Draft Pick Sixth Round- Jon Runyan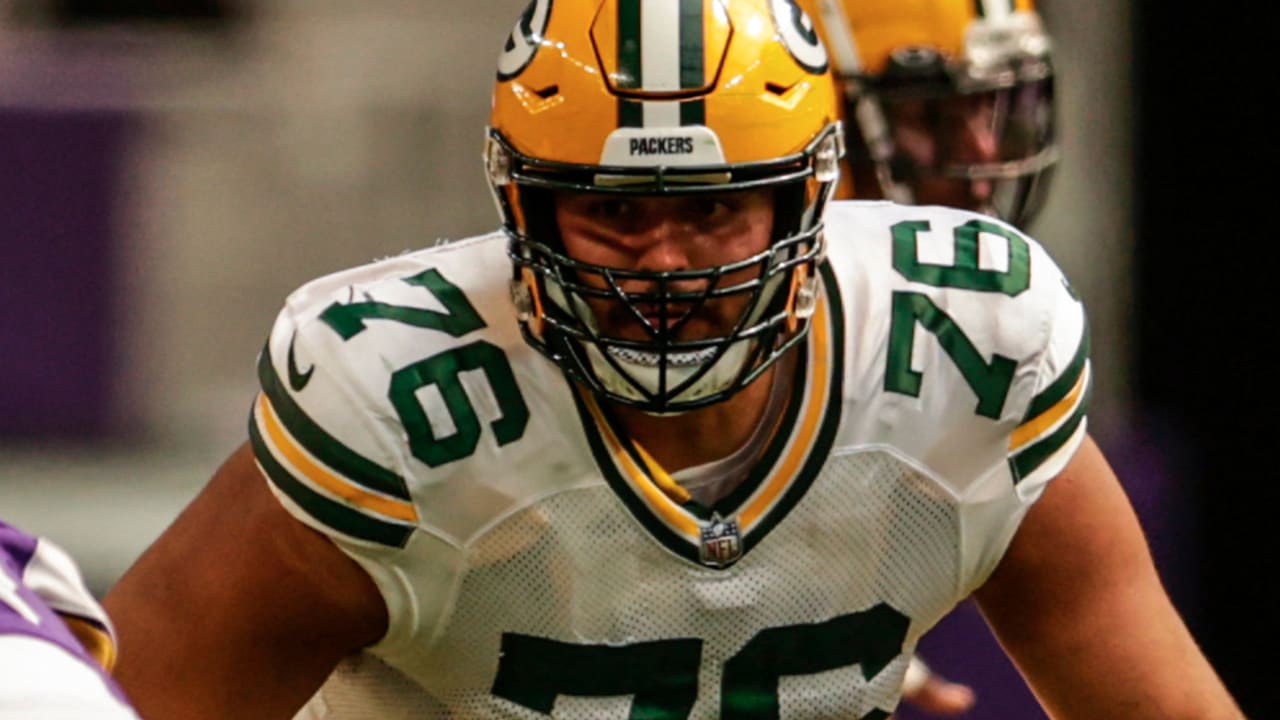 The biggest steal of the Packers draft in 2020 was Jon Runyan. They may have found a hidden gem in Runyan. When injuries plagued the offensive line, he was called in and played really well. He did not look like a rookie he looked like a veteran doing it for years. As the year went along, injuries kept hitting the offensive line Runyan kept coming up big when his named was called. The Packers have question marks coming into season along the offensive line. They have a player in Jon Runyan that might be in line for a starting job on the line in 2021.
Second Sixth Round Pick Jake Hanson
Jake Hanson did not have a real strong first year with the Packers. He was cut and did not make the 53-man roster. Nevertheless, he was brought back to the practice squad, but then got injured. Hanson anchored a offensive line that helped protect offensive rookie of the year Justin Herbert, who he played with at Oregon. He has the tools to be a solid center in the NFL. Now that Corey Linsley left in free agency, the center position is open for competition. Hanson has a chance to get the starting job, but has to earn it. It doesn't help his case that the draft is deep with offensive linemen this year. Jake Hanson will come into 2021 as a dark horse to win the starting job at center for the Packers.
Third Sixth Round Pick- Simon Stepaniak 
Simon Stepaniak was one of the three offensive linemen drafted by the Packers in the draft. He did not play a snap this year as he was recovering from a knee injury he suffered at Indiana. The injury kept him to only practice for a month before getting put on IR. At Indiana, he showed he has the tools to be a dominant offensive linemen in the NFL. He is steady in pass protection and a mauler in the run game. With the Packers offensive line having open spots this year, he will have a chance to win a starting job in 2021.
Seventh Round Pick- Vernon Scott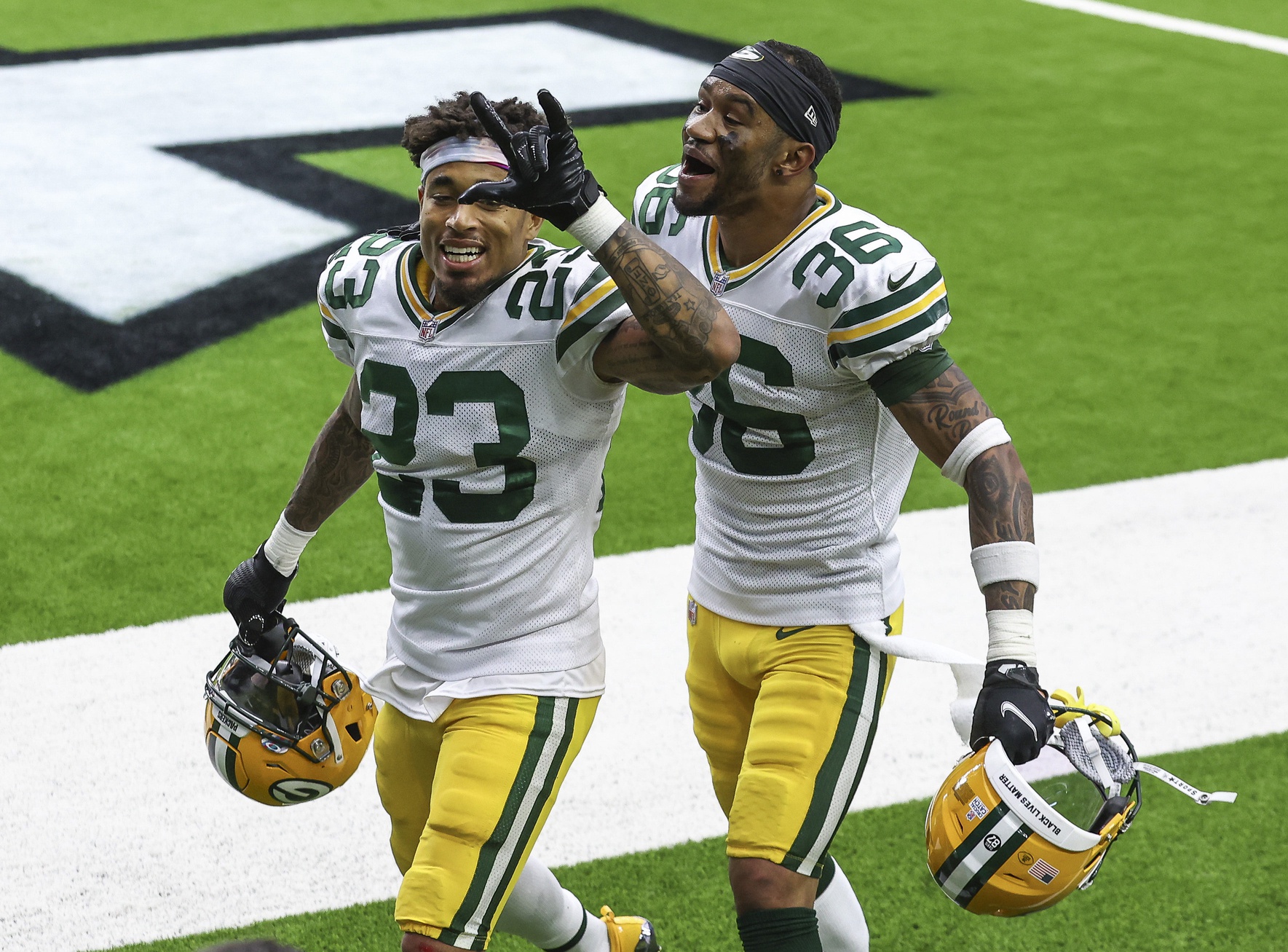 Vernon Scott saw a quite a bit of playing time. He was drafted more as a camp body and for depth, but has proven he can be more then that. Scott played pretty well in coverage and was great against the run when he was on the field. He played the hybrid linebacker role when Raven Greene got hurt. He may be in line for more playing time with Raven Greene not being resigned. If he can take another step in 2021 this will allow Darnell Savage and Adrian Amos to move around the line of scrimmage more. Vernon Scott has a opportunity to make a big impact in 2021.
Second Seventh Round Pick- Johnathan Garvin 
Johnathan Garvin was the last pick for the Packers of the 2020 draft. He has lots of potential to be a effective edge rusher in the NFL. Garvin at Miami showed flashes of explosiveness, but still needed work. He is in a good situation with the Packers as he has a great outside linebacker coach in Mike Smith. In addition, having to learn behind guys like Preston Smith, Zadarius Smith, and Rashan Gary. He will be depth piece with Randy Ramsey behind all three of those players. If he can improve then the pass rush can really be dangerous. The tools and talent is there now it is up Garvin to take the next step in 2021.
[pickup_prop id="6231″]
In Conclusion: Follow me @CarlosS29143608 and follow us @WiSportsHeorics for more content. Check out our merch page. Use the promo code WISCO at the checkout for 1$ off! To keep up on all of your favorite sports Wisconsin click here!