The Green Bay Packers 2022 training camp starts next month. All eyes will certainly be fixed on the progression of the current wide receiver group. I have mentioned before that no receiver is going to have the type of production that Davante Adams consistently had in his tenure with the Packers. It is just not going to happen. Green Bay has put a lot of effort into revamping this group in the offseason, and the credit needs to be given to the front office. The biggest question mark is still finding the number one option for Aaron Rodgers. Arguments can be made for Allen Lazard, Randall Cobb, and Sammy Watkins. I do believe there will be so much balance that a number one receiver will not be established. Let's take an early look at projections and how I think the wide receiver group will perform:
Allen Lazard
Projection: 65 receptions, 784 yards, 10 touchdowns
Allen Lazard is the best option right now for Aaron Rodgers. Though he has not signed his contract, that is something to not be considered about. We have seen Lazard perform very well in Matt LaFleur's offense in the past several seasons. One example was week three in the 2020 season against the New Orleans Saints. Lazard exploded for 146 yards and a touchdown. At the end of the 2021 season we saw Lazard quietly emerging as the number two option behind Davante Adams and build a relationship with Aaron Rodgers. Lazard's health is going to be contributing factor on whether or not this will be a career year for the fifth year wide receiver out of Iowa State.
Randall Cobb
Projection:  72 receptions, 773 yards, 5 touchdowns
Every team needs a veteran playmaker who can explode at any time. The Packers are fortunate that their guy is Randall Cobb. Cobb's focus this year, similar to Lazard, is to stay healthy. That is a lot to ask from an 11 year veteran, but, Green Bay is lacking experience at this position. If Amari Rodgers cannot develop again this year, the slot position will be Cobb's for the taking. I think that Cobb still has it in him to perform at a high level. With another year in the LaFleur offense, Randall Cobb is going to be as dependable as Green Bay hope for.
Christian Watson
Projection: 57 receptions, 525 yards, 6 touchdowns.
People are very high on Christian Watson. I think that this was an excellent draft pick and steal. But, I am going to pump the brakes on Watson a little bit. Throughout OTAs, Watson has struggled with catching passes. That is not much of concern to me. As a rookie, Christian is going to have a learning curve. The transition of FCS football to the pros is going to take some time. I think that Watson is going to do most of his damage in the latter part of the season, but LaFleur will have some plays set up in the offense for him. Players like Jordy Nelson, Randall Cobb and Davante Adams did not shine their rookie years, but they panned out to be great players. Christian Watson will be on that pedestal, and I think he will be just fine.
Sammy Watkins
Projection: 38 receptions, 445 yards, 3 touchdowns
This was a difficult player to measure. Sammy Watkins is a eight year veteran with experience as a number option in Buffalo. But, the fact that Watkins is playing on a nonguaranteed contract this season speaks volumes. Additionally, Watkins is extremely injury prone, and I am anticipating that he is not going to play a full a season. The fact that he has not shown up to OTAs is also concerning. For player who needs to adjust to a new offense, any sort team activities should be on the forefront.  Sammy Watkins is going to be a nice addition to the Packers offense when healthy, but it is hard to imagine he will put up numbers like he did as a Bill.
Romeo Doubs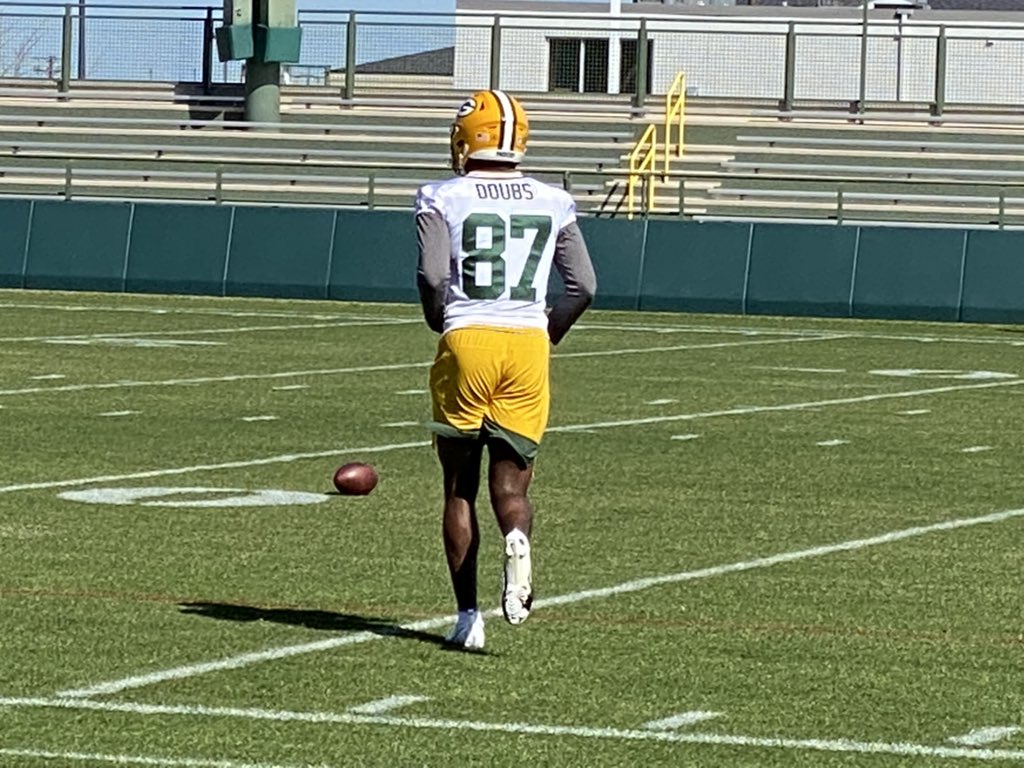 Projection: 25 receptions, 255 yards, 1 touchdown
Romeo Doubs is going to find his most of his opportunities this season on special teams. He has practiced this week catching kicks on kick returns, which is an area that Green Bay needs to drastically improve. With the best rotation being Lazard, Cobb, Watson, and Watkins, Romeo might have to wait his turn. But, he is a good enough player where he can have an impact on other facets of the game. I am confident though that when he is on the field, he is going to make the most of his opportunities. The most important thing will be to learn from the veterans and continue to grow.
Amari Rodgers
Projection: 15 receptions, 194 yards, 0 touchdowns
There are too many other playmakers ahead of Amari Rodgers right now. This is a blunt statement, but I do think it holds validity. After a very sub-par 2021 season, it is difficult to assess Rodgers' role in the offense. He had opportunities on special teams but had his struggles. In a cut-throat league like the NFL, if you cannot find your role, it is going to be tough to get time on the field. Very similar to Doubs, I think Rodgers will be mostly a special teams contributor again this year. I sincerely hope that I am wrong because Rodgers had a great career at Clemson and can be the new slot receiver. But, if he cannot pass over the rookies or even Watkins, Green Bay might question his future in the green and gold.
Follow me on Twitter @ChrisBuboltz and follow us @WiSportsHeroics for more great content! To read more of our articles and keep up to date on the latest in Wisconsin sports, click here. Also, check out our merch store for some amazing WSH merchandise!