The Packers roster this year is indeed very talented. Outside of wide receiver the Packers do not have a lot of weaknesses on the roster right now. Most of the core is still with the team this year. They are in a very good spot to make a run at the Super Bowl this season. Certain players on the team are in for a breakout season in 2022. Here are all of the players who are all due for a breakout season this year.
Josh Myers- If He Can Stay Healthy Myers Can Be One Of The Best Centers In The NFL
Packers just know always how to get the center position right. Second year player Josh Myers might be the next great Packers center. Last year Myers was under pressure as he was replacing an all-pro center in Corey Linsley. Yet he performed really well as he was arguably the best rookie center in the NFL outside of Creed Humphrey, especially in pass blocking. Unfortunately he got hurt and was on injured reserved then tried to play not at full strength in the playoffs. Now he seems to be fully healthy and will look to build off his promising rookie season. Got the experience in the offense and his rookies slumps out the way which will allow him to improve this year. If Josh Myers can stay healthy he can be one of the top centers in the NFL.
Devonte Wyatt- Expected To Breakout Playing Next To Kenny Clark On The Defensive Line
On the Packers defense a player to watch is rookie defensive tackle Devonte Wyatt. He was dominant in 2021 on the Georgia Bulldogs defense that won the National Championship. Wyatt took a dip in the draft due to his age but the Packers decided to take advantage and draft him in the first round. He helps give the Packers a dominant defensive line they have not had in a long time. With opposing offensive lines double teaming Kenny Clark Wyatt will get one on one matchups and should be productive. He has shown at Georgia against the pass and the run he can be disruptive and dominant. Also can be a defensive rookie of the year candidate. He will be eased in but expect Devonte Wyatt to have dominant rookie season.
Eric Stokes- After a Promising Rookie Season Could Have a Breakout Season Next to Jaire Alexander
Eric Stokes in his rookie season showed a lot of promise. It was up and down but he started to get better as the 2021 season went along. His speed is something that the Packers saw when drafting him as it allows him to keep up with the speedy wide receivers in the NFL. Stokes has been tested as in some games had to match up with the opposing offense best play maker at wide receiver with Jaire Alexander out. He held up well as Stokes was limiting the big plays.
Now Stokes will have Jaire Alexander to play next to who is coming back from a shoulder injury that kept him out most of the 2021 NFL season. With Alexander coming back fully healthy Stokes won't have to guard the best wide receiver on opposing offenses making it easier for him. Eric Stokes is due for a breakout season and could form a dominant cornerback trio with Jaire Alexander and also Rasul Douglas.
Quay Walker- Will Be a Chess Piece For The Packers Defense And Could Have a Breakout Season
The Packers selected Quay Walker with their first pick in this years draft. He was considered the best inside linebacker in the draft. Packers did need another linebacker next to De'Vondre Campbell and Walker seems to be that guy. Walker will be a versatile piece on Joe Barry's defense. Not to mention Joe Barry knows how to coach and get the best out of all the inside linebackers he has coached.
In addition, Walker won't have the pressure of calling the defense. De'Vondre Campbell will be the guy making all of the calls on the Packers defense. Quay Walker will be moved all over the defense especially in pass coverage as he shown to excel in space covering tight ends and running backs. Expect Quay Walker to have a breakout rookie season and maybe be a defensive rookie of the year candidate.
Randall Cobb- Should Be More Productive With The Experience In The Offense
Randall Cobb was traded back to the Packers last offseason and showed he still has a lot left in the tank despite him being in the twilight years of his career. Cobb was starting to get more comfortable with the offense of Matt Lafleur late in the 2021 season. Unfortunately he had a groin injury that ended his regular season. He is dedicated and a true team player to help the Packers reach another Super Bowl since 2010.
Randall Cobb took a massive pay cut to stay with the team this year. He is the veteran leader of a young wide receiver room and has more experience with the offense. In addition has the trust of Aaron Rodgers who he has played with for most of his career. Look for a bounce back year for Randall Cobb as he is more familiar with the offense.
Rashan Gary- Due For A Breakout Dominant Season And Could Be A Defensive Player Of The Year Candidate
In 2021 Rashan Gary had a solid year for the Packers and stepped up with Zadarius Smith out most of the year. He led the Packers in sacks with nine. Gary was one of the best edge rushers in the NFL last year. Yes he did not have double digit sacks but you can't judge a pass rusher just by sacks.
Gary was one of the best in the NFL at being disruptive, getting pressures, and one of the best at pass rush win rate. Not to mention he is stout against the run which is just as important as getting after the quarterback. Gary is due for a monster year in 2022 and could be a dark horse candidate for defensive player of the year this season.
Christian Watson- Has the Potential To Have a Breakout Rookie Season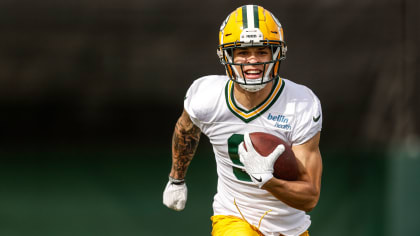 Packers rookie wide receiver Christian Watson has all the tools needed to be a very good wide receiver in the NFL. The Packers traded up to get him in the second round in this years draft. They see the potential that Watson could become a very good player. He is considered a raw prospect and still needs some development especially with his hands as he had a high drop rate in college but that can be fixed.
The Packers will not rush his development making him the number one receiver. That would not be fair to him if he was thrown into the fire early. Not to mention needs to earn the trust of Aaron Rodgers and learn the the entire offensive playbook. Both may take some time for him to do both all in his rookie year. The sky is the limit for Christian Watson to have a real productive rookie season this year.
For More…
Follow me on Twitter at @CarlosS29143608 and follow us at @WiSportsHeroics for more content. To keep up on all of your favorite sports in Wisconsin, click here! Also, check out our merch store for some amazing WSH merchandise!