NBA: Damian Lillard is one of the best players in the league, and he turns out to be on the trade block.   For years he has put on highlight after highlight for the Portland Trailblazers.  This past season saw him average a career-best 32.2 points per game.  Lillard currently holds franchise records for points, points per game, threes made, and free throws made.  While the superstar has made it clear he wants to be traded, he also stated he has "no interest" in playing for two specific teams.
Damian Lillard Has No Interest In Playing For the Boston Celtics Or Los Angeles Clippers
The Athletic/Stadium Shams Charania, there are two teams he has zero interest in joining:
"Shams tells the @PatMcAfeeShow he's heard that the Boston Celtics and Los Angeles Clippers have shown some level of interest in joining the Lillard sweepstakes, but when it comes to Dame's interest in playing for those teams, "it's been a resounding 'No.'
Damian Lillard Has His Sights Set On The Miami Heat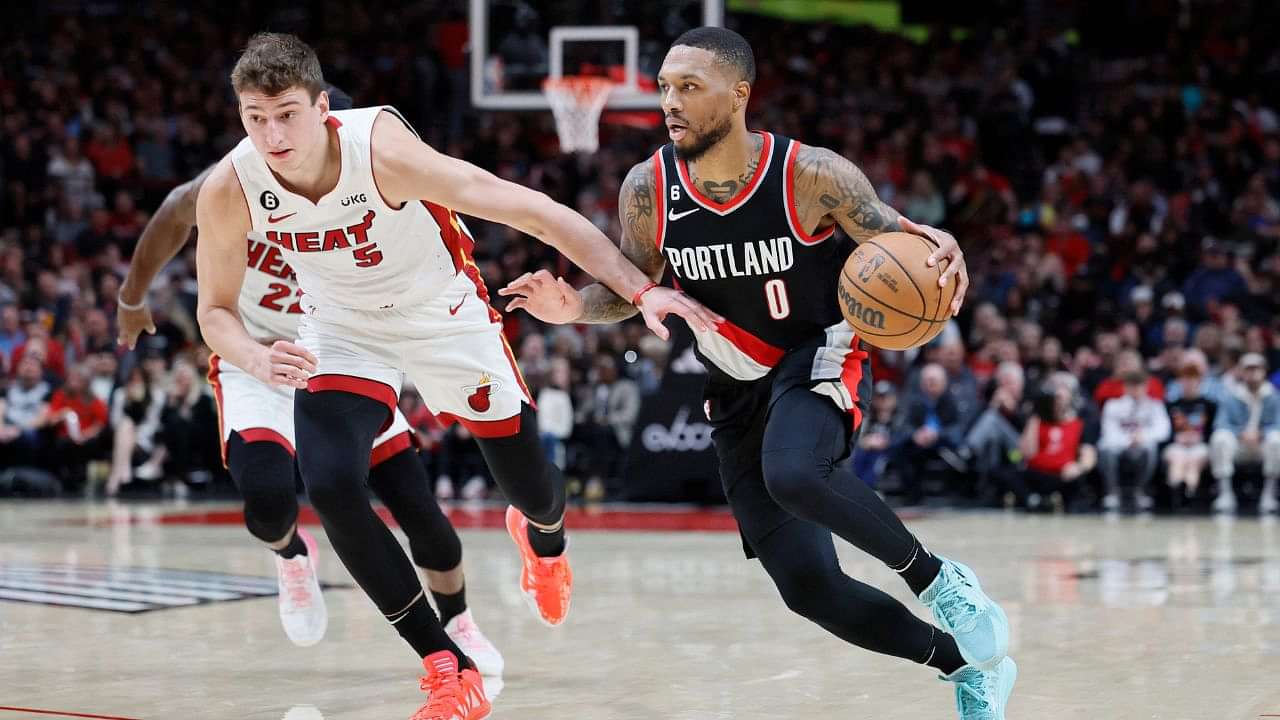 Sam Amick of The Athletic reported back in June Damian Lillard had serious interest in joining the Miami Heat if a trade were to occur:
"Lillard indeed has serious interest in joining the Heat, who would surely love to pair him with Jimmy Butler and Bam Adebayo. If it reaches this point — and there's still an 'if' here considering all the times Lillard chose not to ask out before — Lillard's wishes would matter a great deal because of the enormity of his contract," Amick wrote.
That interest has not wavered.  How would a Damian Lillard Trade to the Miami Heat impact the Milwaukee Bucks?  The Milwaukee Bucks finished the 2022-23 regular season with the best record in the NBA and the #1 overall seed in the Eastern Conference.  However, after a Giannis Antetokounmpo injury and a few poor showings, the Heat eliminated the Bucks in the very first round of the 2023 NBA playoffs.  The Heat would eventually lose to the Denver Nuggets in the NBA Finals.
The Heat acquiring Damian Lillard would catapult them to the top of pre-season rankings as far as the Eastern Conference goes.  The Bucks seemed to be outmatched by a younger and faster Miami Heat team at times.  Lillard would bring a different dynamic to the team that they didn't have last year, most notably, another elite scorer.
For More Wisconsin Sports:
Follow me on Twitter at @mcquadewarnold, follow us @WiSportsHeroics.  Also check out our Merchandise Here!  Get 20% off with the code "WSH."  You can also reach out to McQuade Arnold via email at mcquadewarnold@gmail.com. To read more of our articles and keep up to date on the latest in ALL of Wisconsin sports, click here!  Green Bay Packers, Milwaukee Brewers, Milwaukee Bucks, Wisconsin Badgers.
Frequently Asked Questions
Damian Lillard has been with the Portland Trail Blazers for 11 seasons. During this time, he has showcased his talents and consistently contributed to both the team's success and his own individual achievements.
Damian Lillard went to Weber State in Utah over other options like Wichita State and Saint Mary's because he desired to escape the violence of his Oakland neighborhood. This decision represents his determination to carve his own path and thrive in an environment away from distractions.
Damian Lillard has played with several teammates throughout his career. Some notable players who have played with him include LaMarcus Aldridge, Jusuf Nurkic, and CJ McCollum. These players have contributed to DamianLillard's success on the court with their impressive statistics and data.