The 2022 NBA Trade Deadline is fast approaching and questions float around as to what the Bucks will do with their team.
January was a rough month for the defending champions, there's no going around that. With injuries, illnesses, it's pretty obvious that there are some holes in the roster. If they want to defend their championship title, or at least have some promise for the postseason, changes need to be made. Let's take a look at just one trade candidate the Milwaukee Bucks should consider: Thaddeus Young.
Trade Scenario:
Milwaukee Bucks Get: Thaddeus Young
San Antonio Spurs Gets: Donte DiVincenzo, Semi Ojeleye, Rodney Hood.
Donte DiVincenzo's contract is due to expire at the end of this season. With him missing a big chunk of the season and most of postseason last year, it was clear the Bucks were looking to make some moves. Many believe bringing Grayson Allen in was the sign that DiVincenzo might not be in Milwaukee for much longer. Lots of kudos can be given to Horst for bringing Allen to Milwaukee, seeing as DiVincenzo still has yet to show signs of improvement and impact.
I, among many, had high expectations for Semi Ojeleye. Unfortunately, he hasn't really lived up to said expectations. The first mistake Horst made was keeping Ojeleye over DeMarcus Cousins. Ojeleye hasn't started much, and spends a lot of time on the bench. Nonetheless, him coming to Milwaukee was just a let down for fans. The Bucks have kept Wesley Matthews around to basically cover as a wing defender and three-point shooter, and has shown he is far better than Ojeleye.
The Spurs are looking for that rebuild; Bringing guys like DiVincenzo to their team might help build around the younger players to get their ball rolling. Also throwing Ojeleye and Hood within that trade who have some veteran time could prove to be serviceable; Or could just be used as bait to get Young to Milwaukee. The Bucks haven't seen much production out of Ojeleye, Hood, or DiVincenzo this season, and if they're looking to make that postseason run, they have to be elite.
Bringing Thaddeus Young in would immediately mend some patches that the Bucks have been looking to stitch together. With Sandro Mamukelashvili, Semi Ojeleye, George Hill, Rodney Hood, and even Thanasis Antetokounmpo struggling to get consistent minutes and production, the Bucks need that backup.
Young Trade Benefits / Cons?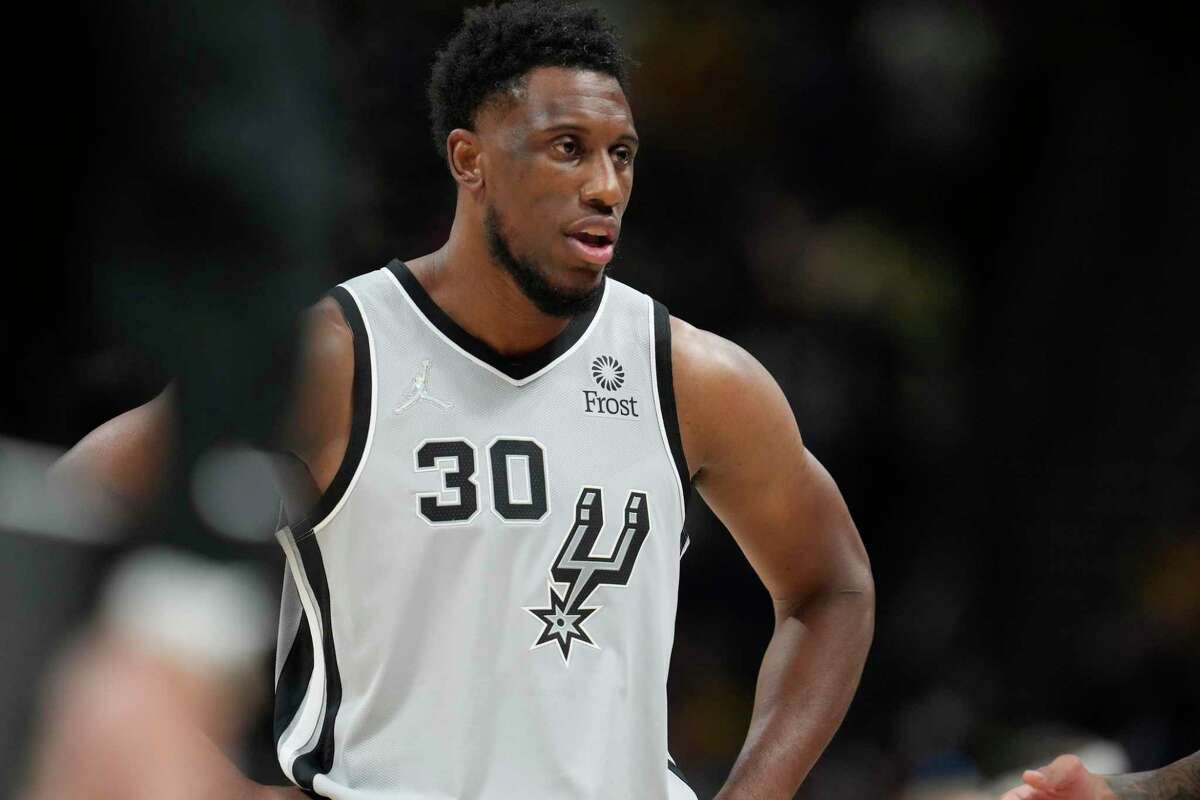 Thaddeus Young isn't new to the central division; He's played with the Indiana Pacers and the Chicago Bulls. The Bucks need a man that's going to be at the forefront, be a potential backup point guard.
Looking at Young's season, the 33-year-old is having arguably the worst season of his career after coming from Chicago in a trade involving DeMar DeRozan. On average, he's tacking 5.8 points on 55.7 percent shooting (A career-low), 2.3 assists per game, and 3.4 rebounds (Another career-low).
To give him the benefit of the doubt, however, he has only played in 25 of the Spurs' 48 games and averages around 14 minutes per game. The Spurs are moving into focusing on their younger players that they'll be able to build a team around.
Does this bring a cause for concern for Milwaukee? Not necessarily.
With the Bulls last year, he averaged 12 points on 58 percent shooting, four assists, and six rebounds in 24 minutes per game. Having him as a reserve would probably be the best for him on Milwaukee's roster. Standing at 6'8″, Young would essentially fill that mold that P.J. Tucker created in the Bucks' championship run. This way, the Bucks are able to play around with their lineup, and be more aggressive.
While he's been a power forward for a majority of his career (89%), he also has the ability to be a good defender and guard the wings and even guard center. There is some concern for his shooting production, as he's a career 33 percent shooter from the 3-point range. Certainly, the Bucks will be able to figure out where he best fits within their lineup. He does bring great passing skills, averaging 4 assists per 36 minutes in the last four seasons. His ability to make some nice plays will help set things up for the big three.
Overall Thoughts
This wouldn't be a bad idea for the Bucks to pursue. Ultimately, it's going to fall on how they want to kick up their success and defend their title. Adding Young to their roster and rotation gives the Bucks a boost; He's a 15-year veteran, and brings a lot to the game. Milwaukee still is without Brook Lopez, and bringing Young in would add a man who can play on all fronts. The 33-year-old is a hot topic in the trade market discussions right now and the deadline is around the corner, so the Bucks need to act fast.
Follow me on Twitter at @sarahspooon and follow us at @WiSportsHeroics. For all things Wisconsin sports, click here.