The Milwaukee Bucks have a projected summer league roster. In addition to that, we have their schedule. The Bucks have some intriguing matchups scheduled for their time in Vegas. Remember though these are not the same teams we just finished watching. The team names will mean more to the fans. In Contrast, the players are there to compete for a spot on a roster.
Bucks Current Summer League Roster
Evans Ganapamo (Cape Town Tigers, BAL)
A.J. Green (Northern Iowa) UDFA
Matthew Hurt (Memphis Hustle, G League)
Iverson Molinar (Mississippi St.) UDFA
MarJon Beauchamp (G League Ignite) Drafted 1st Rd Pick 24
Hugo Besson (New Zealand, NBL) Drafted 2ns Rd Pick 58
Sandro Mamukelashvili (2-way contract Herd/Bucks)
Rayjon Tucker (Bucks)
Luca Vildoza (Bucks)
Each NBA franchise sends a team to the Las Vegas Summer League. Every team is guaranteed five games. More important, are the first four games that are already scheduled.  Consequently, these first four games determine which two teams will play for the championship. Leaving the other 28 teams playing consolation games. The consolation games are determined by rivalries, broadcasting interests, and summer league results.
Let's take a closer look at the games already scheduled for the Bucks.
Mark your calendars for Summer League!! 📅 pic.twitter.com/ewIWy3HofX

— Milwaukee Bucks (@Bucks) June 21, 2022
Bucks vs. Nets  July 8th 7 PM ET on NBA TV
First team the Bucks play in Summer League are the Brooklyn Nets. Unquestionably, Bucks fans start to think of our infamous series with the Nets. But, not a single player from this game was involved with that epic series. The match-up between Taze Moore and MarJon Beauchamp will be one to watch. Taze was a defensive hustler in college. He is athletic and high energy.  In addition, he helped Houston to the Elite Eight this past season. Taze is strong with the ball to the hole and makes great cuts without the ball.  For these reasons, he'll test MarJon on both sides of the court. Comparatively, they share numerous strengths and both are streaky shooters.  However, MarJon (21) is three years younger than the 2022 Great Clips Slam Dunk Champ. MarJon has more upside than Taze. In short, this is a great next challenge in MarJon's journey. 
Bucks vs. Celtics July 11th 8 PM ET on NBA TV
First and foremost, I never want to lose to the Celtics again. Now, while I realize this is an unrealistic expectation; my distaste for Boston sports is on display.  Our second game in the Summer League will be the most meaningful to Bucks fans. Celtics have four two way players on their roster. As well as that, the Bucks have some of their bench mob and two way players on their roster. These two teams might carry over some of the playoff series bitterness. It could get chippy in Vegas. Additionally, I look forward to the matchup of Bucks fan favorite Sandro Mamukelashvili vs. Trevion Williams. Sandro is an offensive minded big man that can stretch the floor. Trevion is from the long line of talented centers from Purdue. Differing from Sandro, Trevion is looking to earn a contract in Vegas. Sandro will score, but Trevion will control the boards. 
July 2, 2022
Bucks vs. Timberwolves July 13th 4 PM ET on NBA TV
Next we get to play our neighbor in a friendly rivalry. I'm hopeful that when the NBA expands (Vegas and Seattle) Minnesota will transition to the Eastern Conference. As a result, we would see our neighbor more than twice a year. For this neighborly grudge match, eyes should return to MarJon. Due to, Second-team All-ACC, Wendell Moore Jr. lining up across from MarJon.  Coincidentally, this is the second Moore, that's a defensive specialist, that MarJon will face. With coaching, I know MarJon will be an NBA level defender. Whereas, his offensive game needs polishing. I hope to see MarJon taking care of the ball, taking efficient shots, and being active on the offensive boards. If he does these three, he can earn minutes in the regular season. Without a doubt, it is the summer of MarJon in Milwaukee.      
Bucks vs. Mavericks July 14th 7 PM ET on ESPNU
Subsequently, we play the Dallas Mavericks. Depending on results and player performances at this point, everyone should be getting minutes this game. With this in mind, we should see how our ball handlers compare to Mavericks Rookie, Jaden Hardy (G League Ignite). Hardy was on numerous Bucks fans draft radar.  However, we selected his teammate in MarJon. Watch Hardy as he competes against Rayjon Tucker, Hugo Besson, and Iverson Molinar. Tucker, a feisty defender, will have his hands full with Ignite's leading scoring. On the other hand, Besson will be getting his first taste of ball on American soil. Besson shows flashes of being a prolific scorer, but can be burnt by speed.  Molinar, a speedy combo guard that loves to score with the ball in his hand; needs to improve his assist-to-turnover ratio. Furthermore, I just don't want to end this game, playing the What If Game?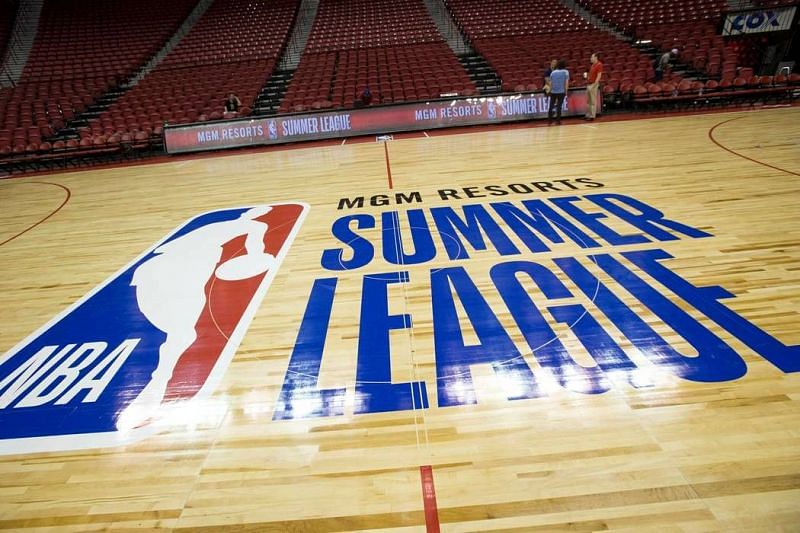 Bucks vs. ??? July 16th or 17th
Following, we will be scheduled for our fifth and final game on the 15th. I'd love to see us make the championship game. That would mean we had some youngsters play beyond expectations and journeymen trying to find a home. Realistically, I think we go 2-2 and get matched up against a divisional opponent who also went 2-2. (i.e. Chicago, Indiana, Detroit, Cleveland)
First day at the office for @Marjon32.

Please welcome the newest member of the Bucks to @FiservForum. pic.twitter.com/vQdvw7JWi9

— Milwaukee Bucks (@Bucks) June 29, 2022
Summer League Hopes
To summarize, Bucks Nation will be following MarJon's performances. Will he see time in year one? Can he be a future piece to another championship run? Thankfully, MarJon is feeling at home in Milwaukee and finding his rhythm in the off-season grind. It should be noted, this will be a small sample size for MarJon. We need to focus on his positives and know that his mistakes will get coached. Previously, I stated he needs to take high percentage shots, not turn it over, and hustle. This is what I hope to see from MarJon. 
Outside of that, we need a three point shooter to emerge. Iverson Molinar, AJ Green, Matthew Hurt, and Hugo Besson can all fill it up from deep. With this in mind, don't be surprised if one of them earns a spot on the roster if they get hot over these five games.
Luca Vildoza is one other player we have to keep in mind. He was picked up just before the playoffs started. At 26, Luca is old for the Summer League, but trying to vie for the backup PG role. Prediction, Luca will be cut by Summer League's end. 
Last but not least, a feel good story.  Bucks signed Basketball Africa League star, Evans Ganapamo. Ganapamo played collegiately at New Orleans and Prairie View A&M. He did not have much success during his college career. After two years of pro-ball in France, he found success in the second season of the BAL, scoring 17.1 pts per game.  We will be seeing more BAL talent getting chances in Summer League play.   
Other Summer League players with WI Sports Connections
Sam Hauser (SPASH)
Justin Lewis (Marquette)
Jalen Lecque (Wisconsin Herd)
Patrick Baldwin Jr. (UW-Milwaukee)
Javin DeLaurier (Wisconsin Herd)
Darryl Morsell (Marquette)
Johnny Davis (Wisconsin)
Theo John (Marquette) Injured*
*Thanks to www.nbascoutinglive.com, www.si.com, and www.nba.com for stats, schedule, rosters and reports.
For More Great Wisconsin Sports Content
Follow me on Twitter @BernieBango and follow us @WiSportsHeroics for more great content. To read more of our articles and keep up to date on the latest in Wisconsin sports, click here! Also, check out our merch store for some amazing WSH merchandise!