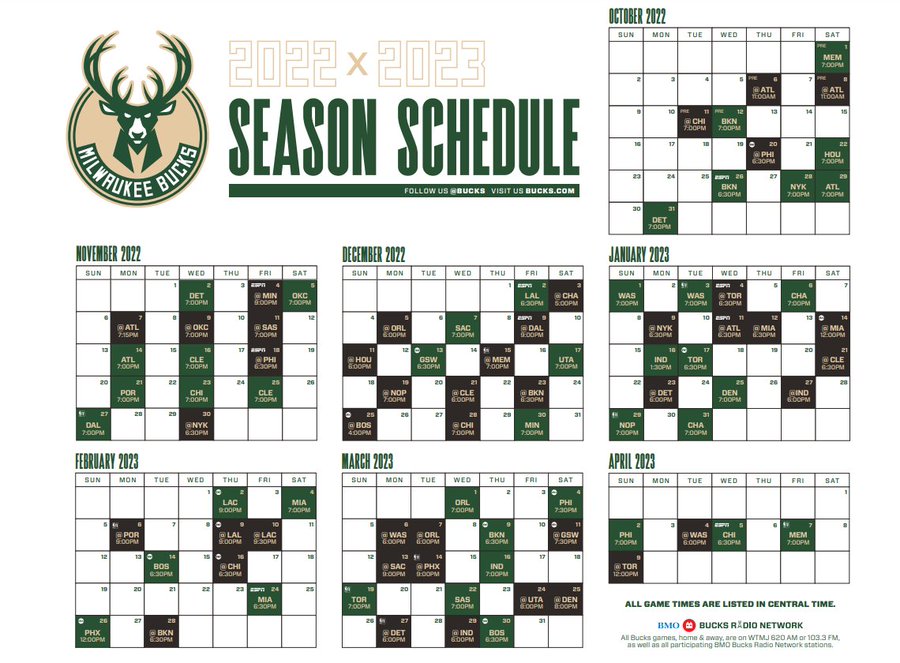 Basketball season is right around the corner and the 2022 NBA schedule has been released. The Milwaukee Bucks certainly have a challenging road ahead of themselves in 2022, as seen in their schedule. One of the hardest and most intriguing games comes Christmas Day against the Boston Celtics at TD Garden. So let's look at some of the most interesting and challenging matchups for the Bucks this upcoming season.
The Road Ahead: 2022 Bucks Schedule
The Milwaukee Bucks kickoff their 2022 schedule at 6:30 p.m. on October 20th against the Philidelphia 76ers at Wells Fargo Arena.
With a title on the line and Giannis Antetokounmpo subsequently coming off arguably the greatest season by a Bucks player, the stage is set for an amazing season. Meanwhile, some of the biggest marquee games in the first half of the Bucks schedule will include:
Oct. 26 vs. Brooklyn
Nov. 18 at Philidelphia
Nov. 27 at Dallas
Dec. 2 vs. LA Lakers
Dec. 13 vs. Golden State
Dec. 15 at Memphis
Dec. 25 at Boston
This year, the Milwaukee Bucks schedule has 32 national TV games, consequently allowing fans across the nation to view the team more.
Milwaukee's road back to the finals will start October 20th, as the 76ers will be a team to beat this year. Therefore Bucks players and fans know their rightful place is holding the trophy up at the end of the season. This Bucks schedule is rather difficult, and it will take a tough, gritty team to make it through. The long 5+ day road trips along with the extended home stands will make 2022 interesting, but we are here for it.
Milwaukee fans rejoice! There is certainly plenty more to be talked about and lots more to come as the season heats up. Stay tuned for a full breakdown of the 2022 Bucks schedule as well as an in-depth roster breakdown.
Follow us @WiSportsHeroics for more great content. To read more of our articles and keep up to date on the latest in Wisconsin sports, click here!