With Opening Day approaching (just 56 days, but who's counting?), let's take a look back at some of the best moments from the Milwaukee Brewers success-filled 2019 season.
5: Keston Hiura walks-off Kimbrel and the Cubs
Following a game-tying home run by reigning 2018 MVP Christian Yelich, rookie second baseman Keston Hiura hit his first ever walk off home run against the Chicago Cubs. In late July, many Brewers fans were upset due to the signing of talented closer Craig Kimbrel within the NL Central. However, this blown save, along with the looks on Theo Epstein (Chicago's President of Baseball Operations) and Jed Hoyer's (Chicago's General Manager) faces, were enough to calm down the Milwaukee fanbase.
4: Lorenzo Cain robs José Martinez on Opening Day
Coming off of one of the most successful seasons in Brewers franchise history, the expectations for the 2019 squad were high going into Opening Day. Lorenzo Cain immediately reminded Brewers fans of his play-making ability in the outfield, when he robbed St. Louis Cardinals outfielder/first baseman José Martinez of a game-tying home run to end the game. Consequently, Cain's slogan "Not Today" was born, along with Craig Coshun's iconic call, "Got it, at the wall!" which would be heard all season long at seemingly every commercial break.
3: Christian Yelich walks-off Cubs in playoff push
Considering the 2019 season as a whole, this moment is bittersweet for Brewers, fans. Christian Yelich's walk off double off former Brewer Brandon Kintzler, came just days before his season-ending injury in Miami. Regardless, this moment was defining of the Brewers season, as it sparked another spectacular September run, this time without a superstar in right field. The Brewers went 16-5 after this game-winner.
2: Ryan Braun blasts go-ahead grand slam against Cardinals
With just thirteen games to go after this one on September 15, Milwaukee was once again feeling the pressure to get to the postseason down the stretch. After the Cardinals got Braun down to his last strike, he hit one over Harrison Bader's head and into the left centerfield seats. Brewers fans were gifted with color commentator Bill Schroeder's passionate, "Yes!" in the background, which captured the feelings of fans everywhere.
Honorable Mentions: Cain (again) and Grandal
In game 161/162, the Milwaukee Brewers were clinging onto hopes of snatching the division from the St. Louis Cardinals with a win in Colorado. Enter: Lorenzo Cain. In the midst of a Gold Glove season, Cain showed off his athleticism again by robbing this home run out of (literal) thin air at Coors Field. After this, Milwaukee went on to lose the game, which significantly hurt their chances of winning the Central. At the time though, this looked to be a game-saving catch, just like Opening Day.
Yasmani Grandal's two run shot in the top of the first inning of the NL Wild Card game had Brewers fans buzzing early. However, knowing how this game ended, it can only be an honorable mention on this list. Despite the end result, fans will always remember this Grandal dinger from his short stint in Milwaukee.
1: Brewers clinch postseason berth in Cincinnati
There is nothing like hearing Bob Uecker say the words, "They're going to the postseason!" It was only the sixth postseason berth in franchise history, and the second back-to-back berth ('81-'82 and '18-19). It is truly a special moment when a "small market" team makes the postseason, which is why it's number one on this list. The 2019 Brewers solidified their spot in franchise history when they beat the Cincinnati Reds on September 25, 2019 by a score of 9-2.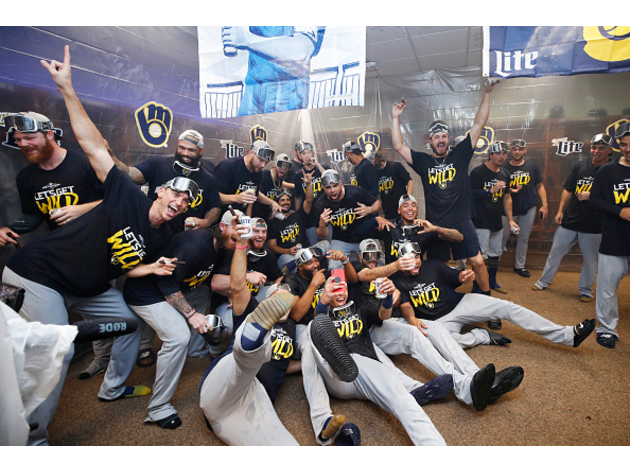 Do you agree with these rankings? Did I miss any key moments? Let me know in the comments down below!
Follow me on Twitter for more great content @schrades_14
Discuss this and everything to do with sports at the Overtime Heroics forums!
New designs are dropping in our merch store! Be sure to check out the latest threads!