Wednesday December 2 was the deadline for the Brewers to tender or non-tender contracts to their arbitration-eligible players.  All of the players who were tendered contracts received one-year deals.  Here, we will break down who will be back with the Brewers and who will be playing elsewhere next season.
Tendered Contracts
The #Brewers have signed SS Orlando Arcia, C Omar Narváez, C Manny Piña and 1B Daniel Vogelbach to 1-year contracts, avoiding arbitration. pic.twitter.com/Vkx3EEMUT2

— Milwaukee Brewers (@Brewers) December 3, 2020
Orlando Arcia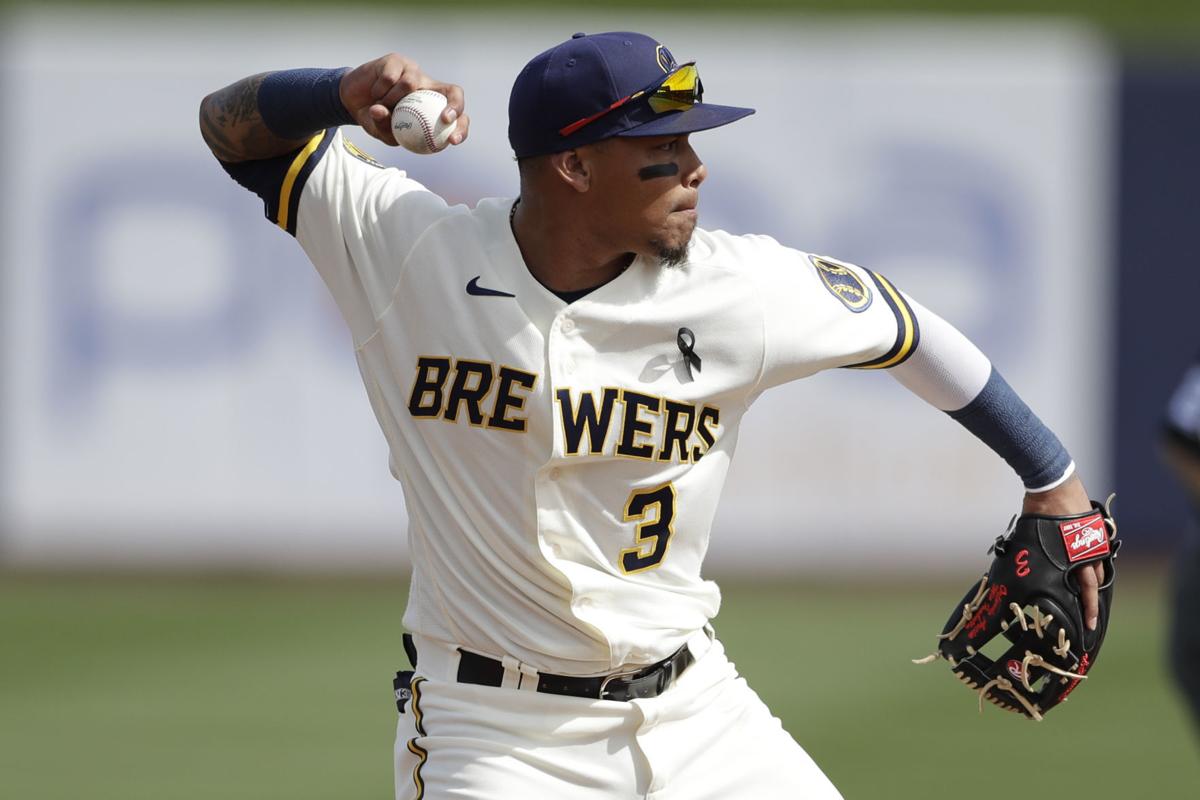 Orlando Arcia is back with the Brewers on a one-year deal for $2 million.  The contract is actually a $200,000 pay cut from his 2020 salary.  Despite down seasons from a lot of Brewers batters, Arcia was able to put together the second-best hitting season of his career.  He hit .260/.317/.416 with five home runs and 20 RBI.  His batting average and on-base percentage were his best since 2017 and his OPS was his career-high.  While the Brewers did get swept out of the playoffs, Arcia hit his fourth career postseason home run, tying him for the franchise lead.
Manny Pina
Like Arcia, Manny Pina is back with the Brewers for $200,000 less than his 2020 salary.  Pina signed his one-year deal for $1.65 million.  His signing comes a day after the Brewers signed free agent catcher Luke Maile. Pina's 2020 season was limited to just 15 games due to a knee injury that required surgery.  Pina tore his meniscus sliding back into first base during a pick-off attempt against the Reds.
Daniel Vogelbach
The Brewers' offensive woes in 2020 are well-documented, but mid-season acquisition Daniel Vogelbach provided some positive moments.  An All-Star in 2019, Vogelbach was having a down year himself in 2020.  With the Mariners and Blue Jays, he was hitting just .088 with two home runs and four RBI.  However, Vogelbach had a renaissance with the Brewers.  In 19 gamse with the Crew, Vogelbach hit .328/.419/.569 with four home runs and 12 RBI.  His contract for 2021 stands at $1.4 million and he is under club control until 2025.
Omar Narvaez
Omar Narvaez's $2.5 million to stay with the Brewers, like Pina's and Arcia's deals, is a pay cut.  Like many Brewers batters, Narvaez had a down-season offensively.  He hit just .176/.294/.269 with two home runs and 10 RBI.  In 2019, with the Mariners, he had hit .278/.353/.460 with 22 home runs and 55 RBI.  Combined with the Pina contract, the Brewers now have five catchers on their 40-man roster: Pina, Narvaez, Maile, Jacob Nottingham, and David Freitas.
Tendered Contracts that Have not Been Signed
The #Brewers have tendered contracts to LHP Josh Hader and RHP Brandon Woodruff. pic.twitter.com/QGP870lkkQ

— Milwaukee Brewers (@Brewers) December 3, 2020
Brandon Woodruff
The Brewers have tendered a contract to Brandon Woodruff, but the details of the contract have not been made public at this time.  The Brewers' 2020 Opening Day starter had one of his best seasons as a professional last season.  He had a losing record of 3-5, but had a career-best ERA (3.05), WHIP (0.99), and strikeouts per nine innings (11.1).  An All-Star in 2019, Woodruff is under club control until 2025.
Josh Hader
Like Woodruff, Josh Hader has been tendered a contract, but the details of the deal are not public yet.  While leading the NL in saves with 13 last season, Hader also had a bit of a down year in terms of his pitching performance.  In 2020, Hader posted a 1-2 record with a 3.79 ERA in 19 innings pitched.  His strikeouts per nine innings remained impressive (14.7), but were down from his 2019 season.  A two-time All-Star and NL Reliever of the Year, Hader is under club control until 2024.
Traded
The #Brewers have traded RHP Corey Knebel to the Dodgers in exchange for a player to be named or cash. pic.twitter.com/p7Nqufv3jd

— Milwaukee Brewers (@Brewers) December 3, 2020
Corey Knebel
Fan-favorite Corey Knebel has been traded to the Los Angeles Dodgers for a play to be named later or cash.  The trade ends a rollercoaster stint with the Brewers for the former All-Star closer.  In 2017, Knebel led the league with 76 appearances while saving 39 games and making his lone All-Star team.  That year, he posted a 1.76 ERA and 14.9 strikeouts per nine innings.
Knebel missed the entire 2019 season due to Tommy John surgery.  He struggled coming back from the injury in 2020.  While he made the Opening Day roster, Knebel struggled finding his velocity and posted a 6.08 ERA and 1.73 WHIP.
Non-Tendered
The #Brewers have non-tendered OF Ben Gamel, INF/OF Jace Peterson and LHP Alex Claudio. pic.twitter.com/yxnyxSUbh9

— Milwaukee Brewers (@Brewers) December 3, 2020
Ben Gamel, Jace Pederson, and Alex Claudio were not tendered contracts for next season, which means that they are now free agents.  They may still be brought back on different free agent deals, however it is likely they will be playing elsewhere next season.
For More Great Wisconsin Sports Content
Follow me on Twitter at @theotherAdams14 and follow us @WiscoHeroics1for more great content. To read more of our articles and keep up to date on the latest in Wisconsin sports, click here!