Rookie second baseman Brice Turang gets the Brewers offense going with an RBI double in the second inning against the Cubs on Sunday. Quinn Harris, Getty Images
The Milwaukee Brewers used a six-run sixth inning to take the series 9-5 on Sunday afternoon at Wrigley Field in Chicago. Outside of a tense 8th inning, the pitching was solid all-around with starter Eric Lauer going five strong and striking out six. This was Milwaukee's most complete performance of the season as it's always fulfilling to beat a division rival.
1. Milwaukee executed with runners on base
Milwaukee Brewers shortstop Willy Adames, left, throws up his hands as Brewers center fielder Joey Wiemer scores on a single from left fielder Jesse Winker during the sixth inning on Sunday vs. the Cubs. The Brewers blew open a close game with a 5-run sixth inning and claimed a 9-5 victory. Associated Press
This will be a key area for Milwaukee all season.
Milwaukee on their teams has been trying to build an offense that puts the ball in play, especially with runners in scoring position. Milwaukee only hit .235 with runners in scoring position (RISP) last season.
It's never been an area of strength but on Sunday, the Brewers went 5-for-12 with RISP with RBIS and left only 10 in scoring position.  Milwaukee's pitching staff is special with Corbin Burnes, Brandon Woodruff, Freddy Peralta, Eric Lauer, and a combination of Wade Miley/ Adrian Houser, but the offense needs to pick up the slack if they hope to have a successful season.
2. The young players continue to impress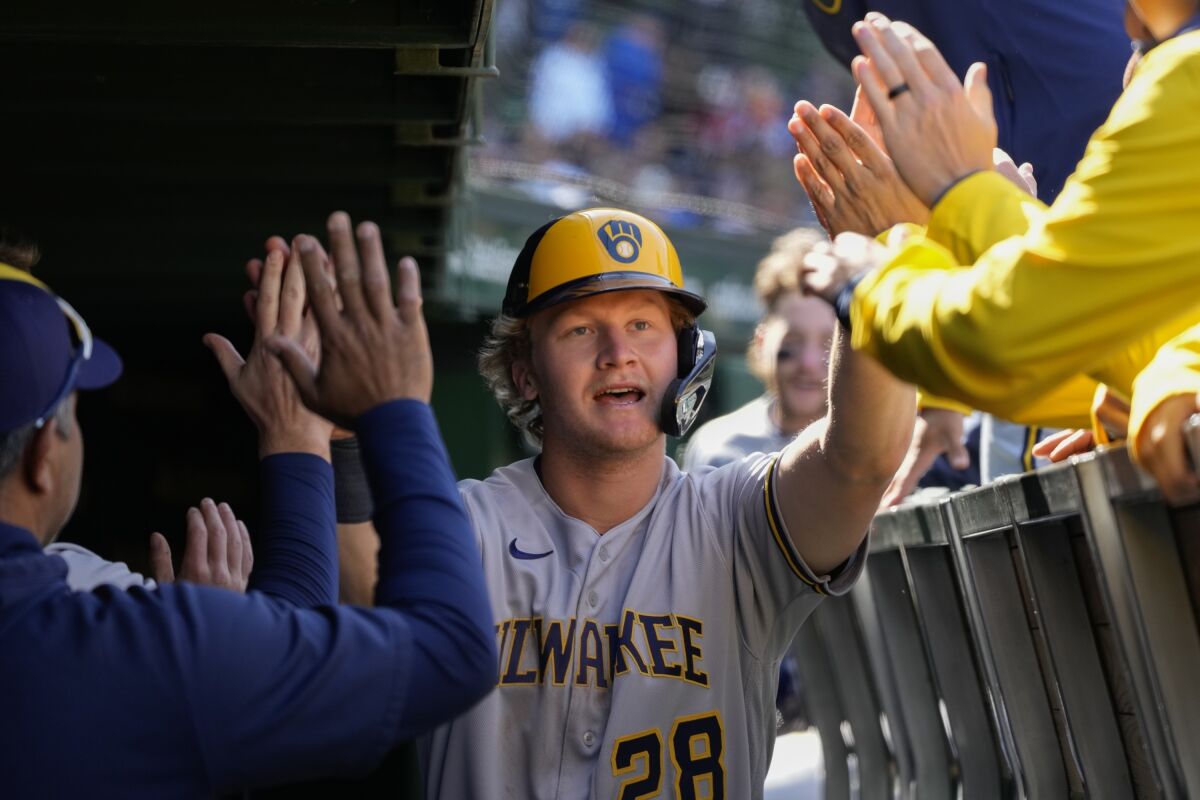 When young promising prospects are called up to the big leagues, the overarching question is are they ready?
Well after three games I would say these three guys are not only ready but why didn't we call them up sooner?
I'm talking of course about Brice Turang, Garrett Mitchell, and Joey Wiemer.
These three guys after three games, have injected life into this team. Seeing them fly around the bases is exciting to watch as a fan, and is reminiscent of when Milwaukee had JJ Hardy, Corey Hart, Prince Fielder, and Rickie Weeks all coming through the system.
All three contributed to the win on Sunday as Mitchell drove in two runs, Turang had an RBI double in the 1st inning to start the scoring for Milwaukee, and Wiemer reached on an infield single in the 6th and later scored on a Jesse Winker RBI single.
The future is bright with the Baby Brewers.
3. A big day for Jesse Winker
Jesse Winker – The Canadian Press
After batting only .216 in 136 games for Seattle last year, Jesse Winker was dealt in the offseason along with Abraham Toro (who is in Triple-A Nashville to start the season) for Kolten Wong. Winker was back in the friendly confines of the NL Central where he started his career with the Cincinnati Reds.
The move to Milwaukee allowed Winker to return to a place where he was comfortable. Winker during his time as a Red, hit.322 with 13 home runs, and 28 RBIs in 60 games against Milwaukee. 
Fast forward to opening day, Winker struck out three times against Marcus Stroman and did not look like the hitter we saw in Cincinnati, and at the beginning of his career in Seattle.
Winker on Sunday though drove in three runs including starting the scoring barrage in the 6th inning with a two-run  RBI single to drive in Brice Turang and Joey Wiemer to extend the Brewer lead to 5-2.
Winker added another run in the 7th with a sacrifice fly to extend the lead to 9-2 Milwaukee.