The 2020 MLB First Year Player Draft was unique. For the first time in the draft's 56 year history it didn't take place during the regular season. And it was short. The MLB draft typically consists of 40 rounds. MLB decided to condense the 2020 and 2021 drafts to 5 and 20 rounds respectfully due to the Coronavirus pandemic. Although teams are limited on how many players they can draft, MLB is allowing "unlimited" undrafted free agents signings.
The MLB Draft wrapped up Thursday night, but there will certainly be more players signed in the coming days and weeks. Until then, let's get to know your Milwaukee Brewers 2020 draft class.
Round 1: Garrett Mitchell, OF – UCLA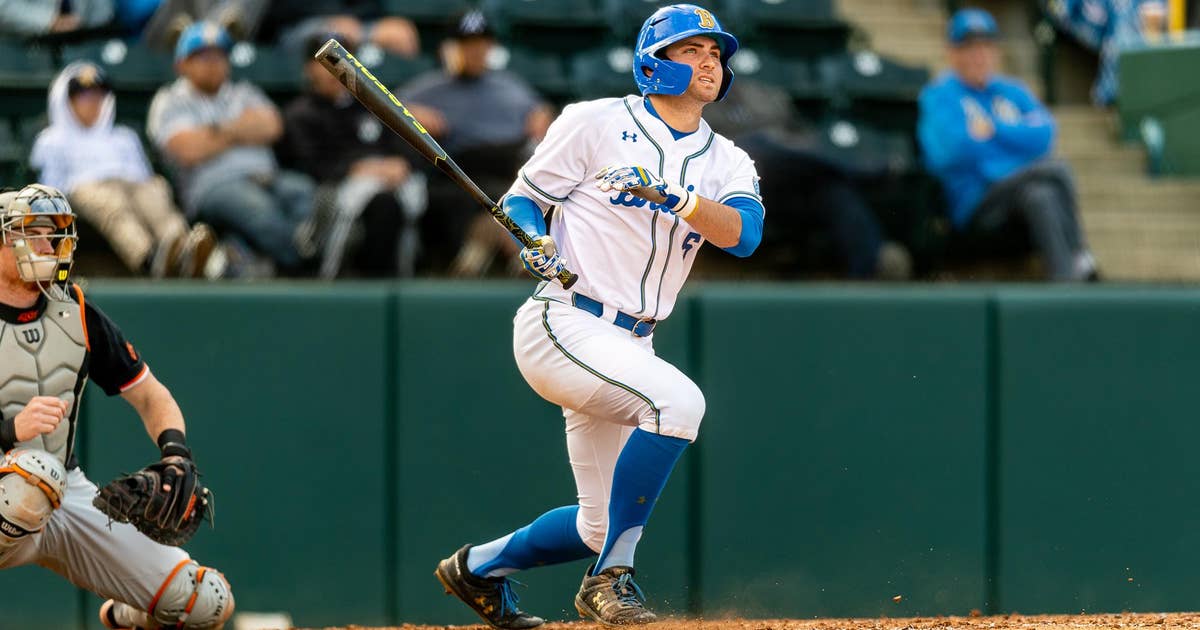 The Brewers used their 20th overall pick to select Garrett Mitchell, an outfielder out of UCLA. Outfield is a bit of a crowded position in the Brewers' farm, but Garrett was clearly the best player available when the Brewers made their selection. He is a gold-glove caliber center fielder that can hit for average. Many think he has the potential to be the eventual successor to Lorenzo Cain in CF. Mitchell is a 5 tool athlete who can fly. In his last full collegiate season at UCLA, Mitchell almost had as many triples as doubles (12 triples to 14 doubles). He slashed an eye popping .327/.393/.478 in 121 college games.
Garrett Mitchell spent the 2018 summer in the upper Midwest playing in the Northwoods League for the Mankato Moondogs. Mitchell was on OBP machine in the NWL slashing .309/.404/.382 in 34 games. Mitchell will need some time to continue to develop, but the more I read about him, the more reminds me of a faster, left-handed Lorenzo Cain. He should immediately slot in as a Brewers top 5 prospect.
Round 2: Freddy Zamora, SS – Miami
The Brewers spent their 53rd overall pick on Freddy Zamora, a shortstop out of Miami. If you haven't noticed yet, David Streans loves stocking up on young talented SS and OFs. Zamora is a "glove-first" shortstop, but he has developed into a solid hitter recently. He slashed .300/.391/.429 in his two seasons at Miami. Important to note he missed the 2020 with an ACL injury. That injury hurt his prospect rating. Pre-injury he was ranked 49th by MLB, 33rd by Baseball America, and 25th by FanGraphs.
Zamora has the defense ability to remain at SS. I wouldn't be surprised if he ends up moving to 3B or 2B, or even the OF with his strong arm, especially if he is able to continue improving his offensive game. This pick may have been a bit of reach, however Zamora has a high ceiling and he likely would have been taken by the Brewers next pick.
Round 3: Zavier Warren, SS* – Central Michigan
The Brewers select switching hitting Zavier Warren at 92. Warren is listed as a shortstop, but he has also logged innings at 3rd base and catcher. He is another guy that hits for contact over power and gets on base a ton. Warren slashed .328/.457/.451 in 130 games at Central Michigan. He put up video game numbers in 2019. It was against lesser competition, but still impressive. In 61 games he slashed .369/.502/.578 with 70 RBI, 73 runs scored, and we walked more than he struck out.
There is a lot to work with offensively and Warren is versatile on defense. I don't think he will stay at SS. If he can improve his power he could make the move to 3rd base. If not, he may make a name for himself at 2nd base. Or he could be successful as an ultra offensive catcher. That's the kind of versatility Craig Counsell and David Stearns dream about. That versatility will also help keep him from being position looked in the minors. It will be fun to watch Warren's career path.
Round 4: Joey Wiemer, OF – Cincinnati
With their 121st pick, the Brewers grab another collegiate position player, Joey Wiemer. Wiemer has above average speed, defensive ability, and has an elite arm. Cincinnati even gave him a shot at pitching and he was clocked throwing 98 MPH off the mound. His batting needs improvement, but he is another high OBP guy which has clearly been a focal point for David Stearns. Wiemer slashed .264/.379/.408 in college.
Defensively, Wiemer could play anywhere in the outfield. He would need improve his power production to make it as an offensive corner outfielder. His plate discipline should raise his floor. Wiemer is also a large man. He is 6'5″. He has raw power, he just needs to work on honing his swing so it can translate into better actual results.
Round 5: Hayden Cantrelle, SS – Louisiana-Lafayette
The Brewers select middle infielder Hayden Cantrelle with the 151st pick in the draft. He played shortstop in college, but has experience at 2nd base and will likely be brought up as a 2nd baseman in the Brewers organization. Cantrelle is a switching hitting high on base percentage player. Again, David Streans loves guys like this. Cantrelle slashed .280/.405/.444 in 135 games at Louisiana-Lafayette. He also stole 50 bases in those 135 games.
Just like Zamoroa and Warren, Cantrelle brings a lot of defensive versatility. He could make his way up the minor league ranks in a utility infielder role with his ability to get on base, his "sneaky pop", and his speed. Cantrelle is a solid value pick in the final round of the draft.
In Conclusion: Be Patient
The MLB draft is very different than the NFL and NBA Drafts. In other sports drafting for need is a valid strategy. Baseball is different. In baseball you almost always have to take the best player available. It usually takes 3-5 years for prospects to develop into MLB ready players (potentially longer for players out of high school). Plus, the timeline for this draft class may be more stretched out than normal since there probably won't be a 2020 Minor League season. Keep in mind that having too many players at a given position is okay. A ton of prospects end up getting used as trade pieces anyway. And if the Brewers didn't address a position you wish they would have, they can still sign "unlimited" undrafted prospects that are available. There are several future all-stars out there that didn't hear their name called Wednesday or Thursday.
How do you feel the Brewers did? Let me know what you think on Twitter at @JonathanWieser and follow us @OTHWisconsin for more great content! Also, be sure to check out the Overtime Heroics Forums page to join in on the discussion. To read more of our articles and keep up to date on the latest in Wisconsin sports, click here.