After missing the playoffs for two straight seasons, the Packers needed a change. In 2018, general manager Brian Gutekunst decided it was time to move on from Mike McCarthy. Shortly afterwards, Gutekunst hired Matt Lafleur and the rest is history. Lafleur has completely changed this stagnant Packers organization.  He currently has them as the number one seed in the NFC playoffs this season. After being snubbed for the award last year, Matt Lafleur showed again why he deserves to win NFL coach of the year this season.
His Career Path Leading Up To Head Coach
One can say that Lafleur surprised many after what he has accomplished after becoming head coach. Hired after one year as Tennessee's offensive coordinator, Many were in disbelief when the Packers hired him as the head coach. Before that, he spent time as the quarterbacks coach for the former Washington Redskins team and Atlanta Falcons. He was also the offensive coordinator for the Los Angeles Rams for one season.
Bringing The Winning Culture back To Green Bay
When Matt Lafleur came in as head coach, his goal was to change the mindset of this organization after two losing seasons. There were early reports about Aaron Rodgers and Lafleur not getting along.  However, those were immediately debunked. Playing flawlessly in Lafleur's system this year, Rodgers is poised to win his third MVP. There's been a different vibe in the locker room.  Players are growing confident with Lafleur leading the way. "Since Lafleur's been here, he's just done a great job of just helping us come together as a team and playing for each other" nose tackle Kenny Clark said earlier this season.
"I think that's really what he brought to our team and it got us to play better, harder and for each other. Credit to him and we're 23-6, coach is a great coach." A prime example of the comradery he implemented was his locker room celebration this week. "I told Jamaal that if we take care of business today, I would bust out a few dance moves" Lafleur said at a post game interview. "I think we got a resilient bunch of guys that love each other and love competing, a lot of selfless guys."  Since becoming head coach, Lafleur has brought a new sense of leadership, accountability, and winning atmosphere to the organization.
Has Set Records And Team Standings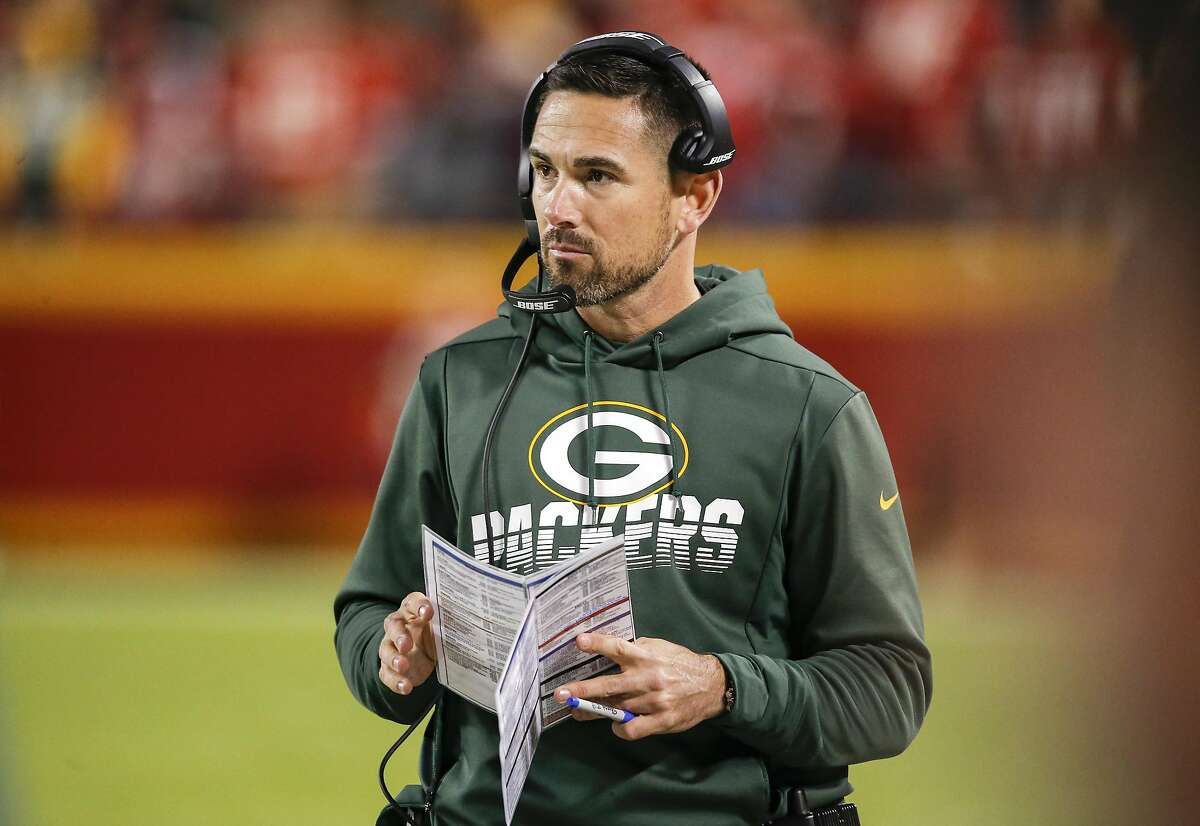 In his first two seasons, Matt Lafleur brought the Packers to back to back 13-3 seasons, earning at worst the #2 seed in the playoffs. The Packers have won two consecutive division titles, with a winning percentage of .813. After week 17, the Packers are 13-3, and are the #1 seed in the playoffs. Earning the only bye in the conference, the NFC playoffs will go through Green Bay at Lambeau Field.
He became the first coach to lead his team to the playoffs in his first season. In 2019, he led the biggest one-year win improvement in Packers history. Furthermore, he became only the fifth coach in NFL history to win thirteen-plus regular season games in his first year. His 26-6 is the best record of any head coach in their first two seasons in Packers history. The 13-3 record was the best record the Packers had since 2011 when the team went 15-1 with Mike McCarthy. In addition, within his first two seasons he has only one divisional game loss, making his record 11-1.
Comparing LaFleur to His Peers
Only two rookie coaches in NFL history finished with better records than Lafleur in their first season. Jim Caldwell took the Colts in 2009 to 14-2 his first year, but lost in super bowl XLIII against the Saints. Also, George Seifert coached the 49ers to 14-2 in 1989 and won super bowl XXIV. He's the only coach who has a better record than Lafleur in his first two seasons going 28-4.
Not only did Lafleur completely change the mindset and culture in this organization, but he has the team as 2x division champions. After this week, the team is 13-3 and has the #1 seed in the NFC playoffs. With that, he deserves to win coach of the year.
Want More Great Content?
Follow me on Twitter at @PackerEddyFF and follow us at @WiscoHeroics1 for more great content! To read more of our articles and keep up to date on the latest in Wisconsin sports, click here!