One of the biggest topics of conversation following the Packers loss was their blocking. To be more specific, the offensive line's blocking and positioning on the field. However, despite the loss and tough line play, Packers head coach Matt LaFleur defended starting OG Jake Hanson, who struggled in particular.
Jake Hanson started at right guard yesterday afternoon in place of the injured David Bakhtiari. The 2020 sixth round pick struggled mightily pass blocking with a rating of 14.4, according to PFF. He had a reasonable run block rating of 60.8, but he allowed a sack, three hurries, and four pressures.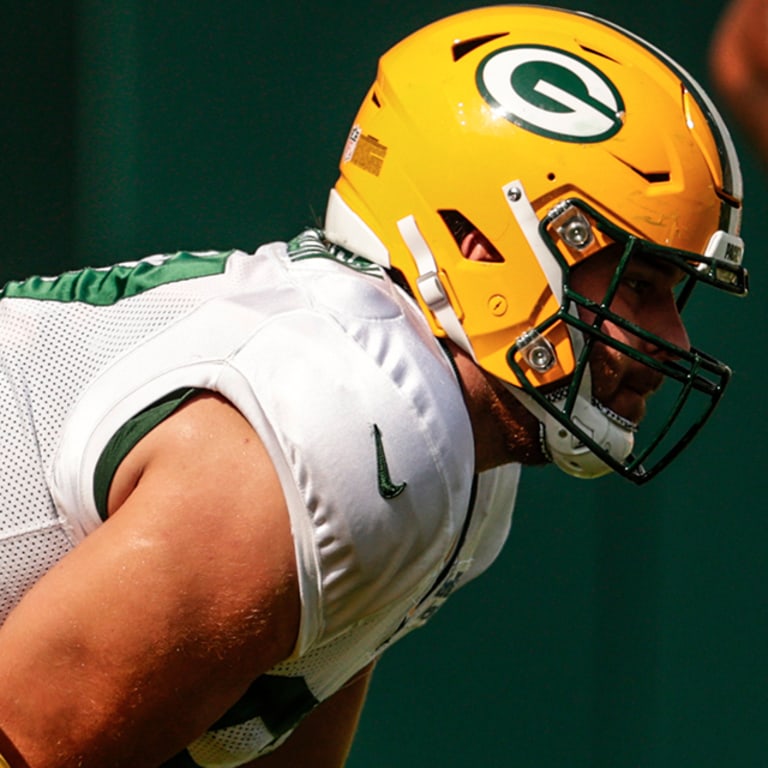 This was his first start and full game in the NFL. Hanson mainly saw Dalvin Tomlinson and Jordan Hicks yesterday, both of whom are formidable opponents. Despite who his opponents are, his performance was something he probably wants to forget, and it brought on quite a few questions.
LaFleur Praised Hanson's Camp
Packers head coach Matt LaFleur stated that Hanson had earned his starting spot because of the preseason. He said he felt he had an "Outstanding camp" and that "At the moment" Hanson is a top five lineman on the Packers. Given the injuries on the line, it is understandable that Jake Hanson may be a top lineman.
However, after his performance last night, perhaps another player who had an excellent camp should get a chance as the starter. Zach Tom came in for Jon Runyan yesterday against the Vikings. He played a handful of snaps, but if anyone earned a starting spot during camp it seemed like it would've been Tom. Across all three preseason games Tom allowed zero pressures and he impressed with his run blocking as well.
Not everything is available to the public. There is plenty that happens on the team that no fans or followers actually get to see. Perhaps Hanson did have a great camp, especially behind the scenes during joint practices, but Tom's success cannot be denied.
Hanson's performance for the Packers was nothing to brag about, and he was a major surprise to have made the roster. It was also a surprise to see him starting, since most had crossed him off for the season. At this point, Hanson should get more chances, but maybe Zach Tom should get a chance in the meantime. It is extremely difficult to point at someone who had a more successful preseason than him, and if Bakh still won't be back, Tom could fill in.
Realistically, it can't get worse. The offensive line played poorly yesterday, and it really doesn't get much worse than how they looked at times. Pass blocking in particular proved to be a challenge. Even if Tom doesn't do as great as Packers fans think he could potentially do, given the recent play giving him a chance really can't hurt.
For more:
Follow us @WiSportsHeroics for more great content. To read more of our articles and keep up to date on the latest in Wisconsin sports, click here!