In his last news conference before training camp, Packers' head coach Matt LaFleur gave the media and fans a little insight into how a possible Aaron Rodgers absence might affect Green Bay's upcoming training camp: it won't.  No matter who is under center for the Green Bay Packers, the plan is going to be the same.
What Matt LaFleur Said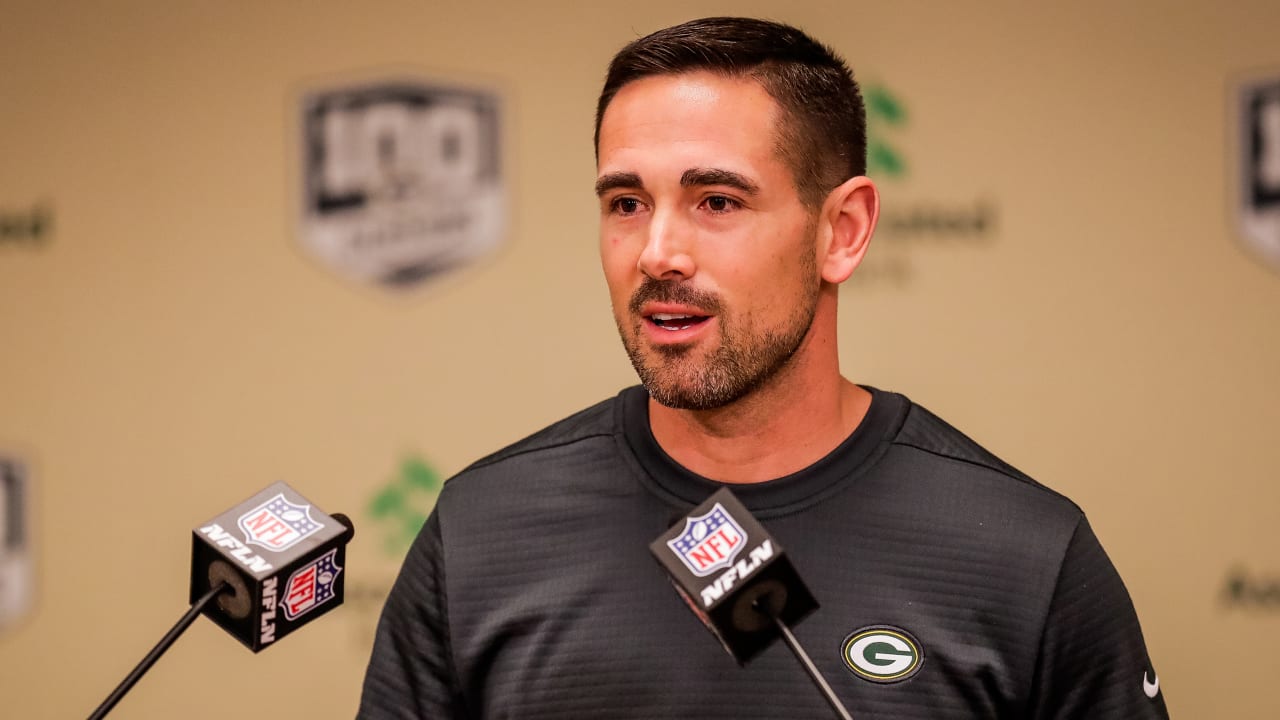 "We'll have one plan. We've kind of pretty much laid that out. Just going to fine-tune some things over the next few weeks in terms of the logistics of our schedule and whatnot. We've got what we feel is a pretty good blueprint in terms of how to get our guys ready to play. Obviously, it is a little bit different this year in terms of the number of preseason games and then you compare it to last year, so you're kind of leaning back on the 2019 season. We feel confident with what we'll have in place with the guys. We'll look forward to getting them back July 27."
[pickup_prop id="6693″]
Will Aaron Rodgers Show Up?
In short, the only person who knows whether or not Aaron Rodgers will attend training camp is Aaron Rodgers.  Matt LaFleur, of course, would love to have the reigning MVP in camp and as his starter in 2021.  Whether or not that will happen remains to be seen.  The saga of discontent that Rodgers reportedly feels towards the Packers has been on-going since April, and there are no real answers out there.
Jordan Love In Camp
Since Rodgers has been absent for OTA's and mini camp, the majority of the snaps have been taken by Jordan Love.  The Packers infamously chose Love with their first round pick last season, a pick they traded up to make.
The reports on Jordan Love out of mini camp express mixed results.  There were days in which he looked fantastic.  On the other hand, there were days in which he really struggled.  This is all part of the learning process, though.  Jordan Love is learning his receivers and learning how to read defenses against a defense that could be one of the best in the NFL.
[pickup_prop id="7097″]
Of course, the ideal situation would be that Love continues to learn under Aaron Rodgers.  Rodgers, himself, sat for three seasons behind Hall of Famer Brett Favre.  However, there is a possibility that Rodgers has played his last game in a Packers' uniform.  If that is the case, Jordan Love will be ready, and so will the Green Bay Packers.
For More Great Wisconsin Sports Content
Follow me on Twitter at @theotherAdams14 and follow us @WiscoHeroics1 for more great content. Check out our merch page here and use promo code Wisco at check out for $1 off! To read more of our articles and keep up to date on the latest in Wisconsin sports, click here!