The Milwaukee Brewers signed Kolten Wong ahead of the 2021 season to help improve defense and offensive production from the second base position. Former top-prospect Keston Hiura had a hot bat during his rookie campaign, which made his defensive struggles somewhat tolerable. However, after a disastrous 2020 season, the Brewers signed Wong and started to experiment with Hiura at first base. The move paid off as Wong was a Gold Glove finalist at second base and hit well above his career average with a slash line of .272/.335/.447 with 14 home runs and 50 RBI. This season, however, has been an entirely different story.
Kolten Wong Has Struggled Offensively and Defensively in 2022
As mentioned previously, Kolten Wong hit well above his career averages last season. This season, though, he is witting well below it. For his career, Wong is a .260/.332/393 hitter. He is hitting .231/.319/.398 in 2022.
The offensive struggles are compounded by a sharp decrease in defensive performance. Last season, Wong had a .995 fielding percentage, committed just two errors, and had an Rdrs (defensive runs saved) of six. This year, Wong has a .964 fielding percentage, has committed eight errors, and has an Rdrs of negative four.
At 31 years old, Wong is closer to the end of his career than he is to the beginning. The Brewers can exercise a team option on Kolten Wong's contract in 2023, but he would make $10 million and is clearly on the decline. Mark Attanasio probably wouldn't pay Wong that much if he were producing anyway. In any case, it is a good bet that Wong will not be back with the Brewers after this season, which leaves the future of second base up in the air.
What Players Do the Brewers Have that Can Play Second Base?
Aside from Kolten Wong, the Brewers have three other players that have played second base this season: Hiura, Jace Peterson, and Luis Urias. Hiura has committed three errors at second in just 12 games played at the position. Urias has a Rdrs of zero in 22 games at second, while Peterson has played just two games there.
In other words, there is no real option on the Major League roster for the future at second base. Urias would make the most sense of the three, but he is a much better third baseman than a second baseman. Hiura has been experimenting in the outfield, and Peterson is best as a super utility player. All three can play second base, but none should be the everyday option.
Do the Brewer Have Any Second Basemen Ready in the Minors?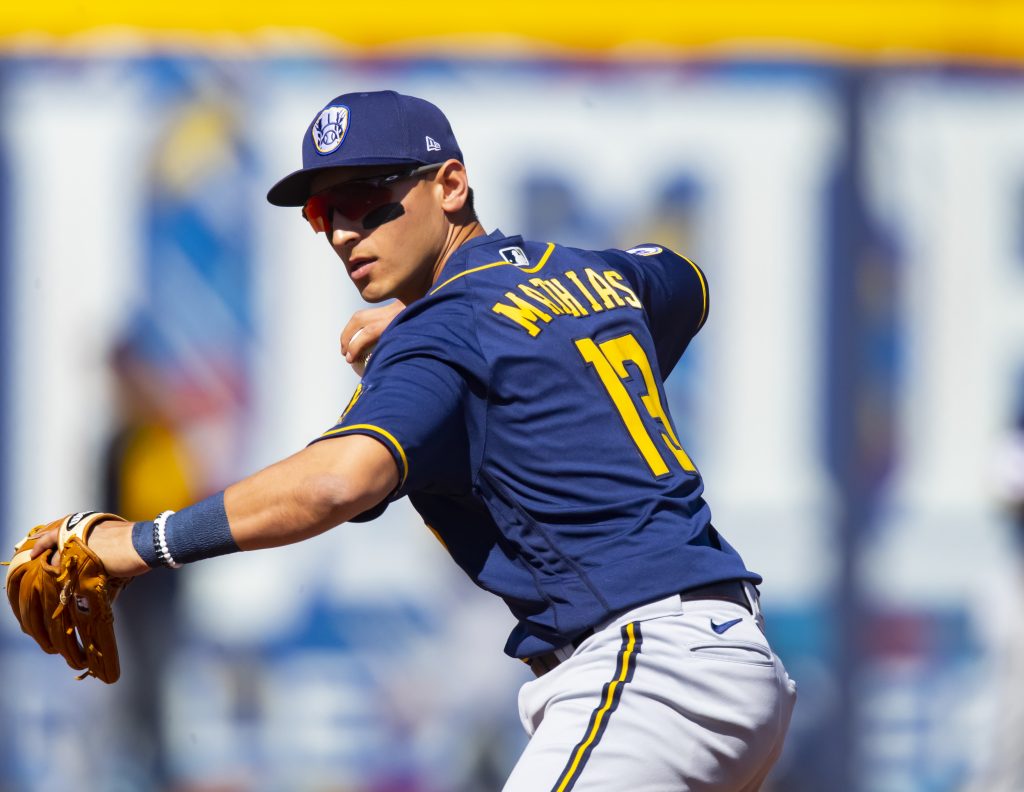 The Milwaukee Brewers have three prospects in MLB's top 100, and they are all outfielders (Jackson Chourio, Sal Frelick, and Joey Wiemer). Brice Turang is the Brewers' fifth-ranked prospect and is listed as a shortstop/second baseman. However, he has not played second base since 2019. In 2022, the Nashville Sounds have played Turang at shortstop and center field.
Tyler Black, the Brewers' seventh-ranked prospect, is a second baseman but is currently playing High-A baseball with the Wisconsin Timber Rattlers. This season, he is hitting .281/.406/.424 with four home runs and 35 RBI. Black is not expected to be Major League ready until 2024.
However, there is one name in the Brewers' farm system that may be familiar to most Brewers fans who plays second base: Mark Mathias. After missing all of last season with a shoulder injury, Mathias has been playing second base for the Nashville Sounds. He is also on the Brewers' 40-man roster.
This season, Mathias is hitting .307/.410/.493 with six home runs and 24 RBI. In 41 games this season, Mathias has 43 hits. While spending a few days with the Brewers while Wong was on IL, Mathias hit his first Major League home run and had an Rdrs of one in just six games played. With Kotlen Wong's struggles, is it possible that the Brewers view Mathias as the future at second base?
The Brewers Could Sign a New Second Baseman in Free Agency
There are not many quality second basemen who will become free agents following this season. Here are the top three (not including Kolten Wong) and their 2022 stats so far:
Adam Frazier: .221/.286/.288 with two home runs and 21 RBI; .983 fielding percentage and negative four Rdrs
Donovan Solano: .283/.358/.417 with one home run and five RBI; 1.000 fielding percentage and zero Rdrs (only has played 18 games, three of which were at second base)
Cesar Hernandez: .241/.301/.305 with no home runs and 19 RBI; .991 fielding percentage and negative six Rdrs
Aside for Solano, who has only played three games at second base, there is not a quality option that will be on the market. Solano started the season on the 60-Day IL with a hamstring injury. It will be interesting to see if he continues to produce for the Reds.
Conclusion
Aside from a trade for an established Major League second baseman, it appears that the Brewers' future at second base will be Mark Mathias if Kolten Wong's season does not improve. They have him on their 40-man roster for a reason, and he has hit very well at Triple-A this year. Do not be surprised if Milwaukee trots him out as their starting second baseman on Opening Day next season.
To Read All the Latest Milwaukee Brewers Rumors, Click Here!
For More Great Wisconsin Sports Content
Follow me on Twitter at @theotherRobin19 and follow us @WiSportsHeroics for more great content. To read more of our articles and keep up to date on the latest in Wisconsin sports, click here! Also, check out our merch store for some amazing WSH merchandise!