Despite the Bucks' rather successful run over the past two and a half seasons, two-time All-Star Khris Middleton has drawn the ire of many fans.  Part of this is due to his hefty contract, which many did not like from the onset.  Part of it also due to the belief that he is not productive in the playoffs.  However, neither of these reasons warrant the criticism that he has received.  In fact, Khris Middleton is vital to the Bucks' success this season, just as he was in the previous two seasons.  The fact of the matter is that Middleton will be in Milwaukee for a long time, and it's time for Bucks fans to acknowledge how good he is.
The Numbers Do Not Lie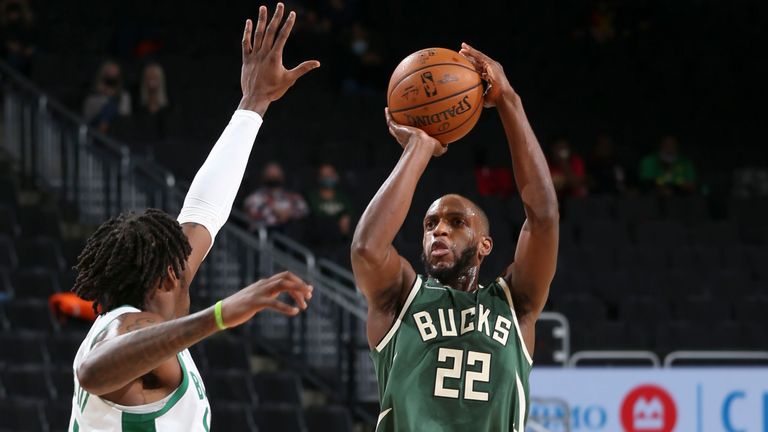 Since coming to Milwaukee from Detroit, Khris Middleton has been a valuable member of the team.  It can be argued that he has the best mid-range jump shot in the entire league, and his offensive production proves his value.
Throughout his first three seasons in Milwaukee, Middleton improved his scoring average in each season.  He went from 12.1 points to 13.4 points, and then made a massive jump to 18.2 points per game.
In his fourth season, Middleton missed significant time due to an injury.  However, when he came back in 2017, he improved his average again to 20.1 points per game.  In 2018, Middleton made his first All-Star team averaging 18.3 points, 6.0 rebounds, and 4.3 assists per game.  The 6.0 rebounds and 4.3 assists were his career-bests at the time.
In 2019-2020, Middleton made his second consecutive All-Star team.  Last season, he averaged a career-best 20.9 points per game, 6.2 rebounds per game, and 4.3 assists per game.  Additionally, he missed out on a historic 50/40/90 season by 0.3%.  He ended the season with 49.7/41.5/91.6 shooting splits.
This season, Middleton has been a very underrated contributor, but nonetheless has been putting up numbers consistent with his past production.  So far in 2021, he is averaging 20.4 points, 5.9 rebounds, and a career-high 5.5 assists per game.  He is still shooting the ball very well, holding splits of 48.9/43.3/88.9.
Many fans are saying that Middleton is merely a third option on this team and should be moved in the offseason.  If Middleton is the third option behind Giannis and Jrue Holiday, that is no reason to move him.  What team would want to trade a third option averaging 20/5/5?  Not one with championship asperations, that's for sure.
Middleton's Playoff Struggles Are a Myth
Granted, Khris Middleton struggled in the Bucks' first-round playoff series against the Orlando Magic last season.  The Bucks, however, won that series and that is not the one that many fans point to anyway.
The series in question is the Miami Heat series, which the Bucks lost in embarrassing fashion.  What seems lost on many fans is that Middleton was the Bucks' best player throughout that entire series.  In that series, he averaged 25.6 points, 6.0 rebounds, and 6.8 assists per game.  The rest of the team struggled, but not Middleton.  He stepped up, and had Giannis not been playing on a sprained ankle, the series might have gone differently.
When Giannis Is Out, Middleton Steps Up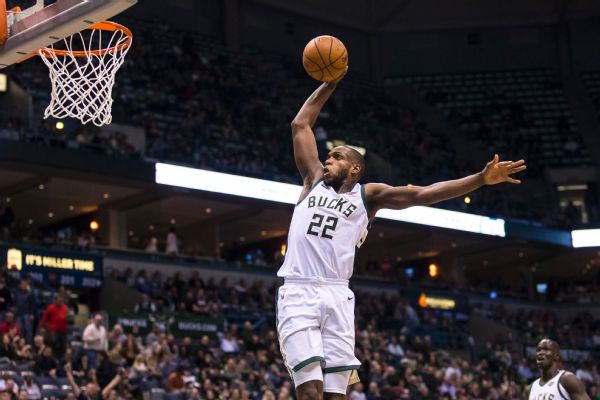 Giannis Antetokounmpo is dealing with a knee injury this season.  In the past, the Bucks' two-time MVP has missed games here and there with other various injuries.  In these instances, Middleton has taken over as the team's number one option and carried the team to victory.
Last season, Giannis missed five games.  The Bucks' record during those games: 5-0.  Middleton took over these games and led the team to victory in every single one of these games.  This season, he has upped his game to levels matched by very few in the NBA when Giannis is out.
Stat of the Day #107

With Giannis off the floor this season, Khris Middleton is averaging 28/6/6 per 36 minutes. For context, the only players doing that overall are Giannis and Luka.

Also, Middleton has 50/42/89 shooting splits in those minutes. An absolute offensive star.

— Zach Kram (@zachkram) April 7, 2021
Giannis, Luka, Middleton.  Of course, Middleton's numbers drop when Giannis is in the lineup because he is the focus of the Bucks' offense.  However, Middleton rises to the occasion when called upon and is an absolute star in this league.  The notion that the Bucks should trade him or that his contract is somehow bad is absolutely ridiculous.
Khris Middleton is a star, and the Bucks are fortunate to have him.
[pickup_prop id="4462″]
For More Great Wisconsin Sports Content
Follow me on Twitter at @theotherAdams14 and follow us @WiSportsHeroics for more great content. Check out our merch page here and use promo code Wisco at check out for $1 off! To read more of our articles and keep up to date on the latest in Wisconsin sports, click here!
Khris Middleton Booking Agent
Contact Information
Call Mayfield Sports Marketing at 262-366-8188 to schedule Khris Middleton for your corporate appearance or product promotion.  Our booking agents will work on your behalf to get you the best price for your desired sports speaker.
Mayfield Sports Marketing has earned a reputation of being the one to call for booking top athletes to speak at events and trade shows. To learn more about Khris Middleton appearance cost and booking fee, please call us today. www.MayfieldSports.com.