Looking to bounce back from a tough showing against Washington State, the Badgers stay home this week against New Mexico State. This is the last non-conference tuneup before Wisconsin hits the road to face Ohio State next week. Here are what the Badgers have to do to get back in the win column.
Offensive Line Must Bounce Back
The Badgers committed 11 penalties last week. Nine of them were on the offensive side of the ball. There was also holding penalties and chop blocks the offensive line was responsible for. They know as a unit they need to play better and get things cleaned up before Ohio State.
This is a really good offensive line for the Badgers, There's potentially three or four NFL players on the line. I'm sure they heard the criticism all week. I expect them to be hungry early and sharp from the first snap. Expect Wisconsin to run the ball early and often so the line can stamp their mark on this game.
Clean Up The Kicking Game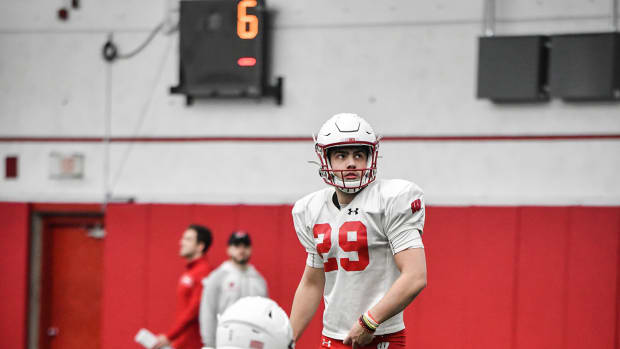 The kicking game was a disaster last week. Jack Van Dyke, who normally puts the kickoff in the end zone, did not to begin the second half. As a result, Washington State took the kick off inside the Wisconsin 20 yard line. While it only resulted in three points, those three points proved to be difference in the game. Van Dyke has the leg to do it consistently. He just has to do it consistently.
I really like that Wisconsin got Vito Calvaruso in the transfer portal. There's not doubt he has a cannon for a leg and is still recovering from an injury. However, he was 0-2 on field goals as well last week. He missed a field goal from over 50 yards that was about as far right as you could kick a ball. He had a chance to redeem himself at the beginning of the fourth quarter, but had the field goal blocked. Calvaruso admitted he mistimed the kick and it cost the Badgers six points. You could say if the kicking was better, this would not have been a close game. Calvaruso has to bounce back and be sharp tomorrow as well.
Develop Confidence Headed To Conference Play
Wisconsin didn't do much right last week outside of Graham Mertz and the front seven of the defense. These are mistakes that are correctable and have to be corrected by the time Big Ten season begins. Wisconsin doesn't get to ease their way in. They begin right away next week on the road at #3 Ohio State. Tomorrow, the Badgers have to click and be sharp in all three phases of the game.
Wisconsin is a run-first offense so expect Braelon Allen and Chez Mellusi to get fed early. Graham Mertz and the receivers have looked pretty sharp but they need to keep clicking as well and get more game reps. We need to see Wisconsin swag and confidence. This should be the perfect opponent to do just that.
Prediction
By now you've probably realized New Mexico State is bad. They are bad throwing the ball (one touchdown and six interceptions) and they are just as bad running the ball (3.6 yards a carry). The Badger defense has a prime opportunity to have a field day and gather confidence before they play one of the best offenses in the country next week.
The Aggie defense has some transfers and some upper class-men on their defense. However, they couldn't stop Minnesota on the ground a few weeks ago. It resulted in 44 minutes in time of possession for the Golden Gophers.  The Aggies have also given up an average of 195 yards on the ground per game. I like Wisconsin's run game more so I don't see a way New Mexico State consistently stops the Badgers. I think Wisconsin establishes the run game early and often.
This one could be over by halftime.
Wisconsin 45 New Mexico State 0
Follow me on Twitter @DylanBuboltz and follow us @WiSportsHeroics for more great content. To read more of our articles and keep up to date on the latest in Wisconsin sports, click here! Also, check out our merch store for some amazing WSH merchandise!