Wisconsin Badgers Football is officially back tomorrow night! The Badgers will begin their 2022 season at home in Wisconsin against the Illinois State Redbirds. Kickoff is 6 PM on FS1. This differs from last year when Wisconsin opened up against Penn State. This is a game the Badgers should win and win convincingly. If the Badgers want to start 1-0, here are the keys to victory tomorrow night.
Get The Wisconsin Badgers Receivers Involved Early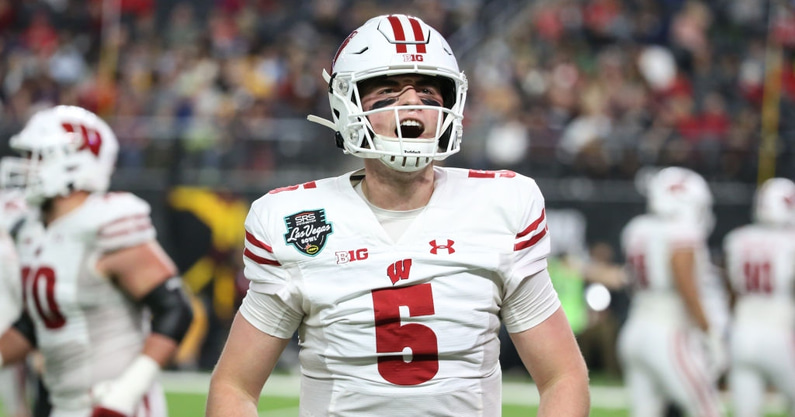 I expect Wisconsin to run a ton, especially on their first drive. They want to set the tone and make their running game presence known immediately. As they should. Wisconsin has one of, if not the best, 1-2 duo in the country with Braelon Allen and Chez Mellusi.
However, I would like to see Paul Chryst and the Wisconsin offense get the receivers involved early as well. It's an unproven group outside of Chimere Dike. I don't think the Badgers need to go for the hail mary, but some high percentage throws to establish early confidence at a young position. I also don't believe Graham Mertz will or has to throw the ball 30 times, but enough to keep the Illinois State defense respecting his arm.
Run, Run, And Run Some More
Didn't I just say the Badgers should keep the receivers involved early? Yes, I did. However, the running game is this offense's identity and bread and butter. In addition, an early break-off run from Braelon Allen would be ideal. I also want to see how Chez Mellusi responds to early contact and what his workload will be.
Mellusi and Isaac Guerendo are both coming off of season-ending injuries. I don't expect a huge load from either player. Look for Julius Davis to get some reps as well. A lot of players could carry the ball tomorrow night.
Will The Badgers Back Eight Be Challenged Early?
We know the defensive line for the Badgers will be fine. There is a ton of talent led by Keeanu Benton. The linebackers and secondary have seen a lot of turnover from a year ago. Nick Herbig is the only exception. We will see at least seven new starters between these two positions. Will Illinois State challenge them early through the air? Or will they try to establish an early run game and keep the Wisconsin Badger defense on the field for long periods of time?
I will never question Jim Leonhard and his defense. They will be fine Saturday, and they'll be a great unit again in 2022.
Wisconsin Badgers vs. Illinois State Redbirds Prediction
After coming off a 4-7 year last season, the Illinois State Redbirds will look for a huge upset in the first week of the season. There's no doubt Wisconsin is a better team, and it's not close. However, these are the games where the opponent has nothing to lose. They're most likely being paid to come here and want to make themselves known. I also worry about trick plays and special teams. These keep bad teams in games they shouldn't be in.
I could certainly see Wisconsin slowly working into this game. I'm not expecting flashy plays early. Consequently, I think the offense will slowly get into a rhythm, and the defense being aggressive early. There won't be an upset in Madison tomorrow night. Therefore I think the Badgers roll to a 1-0 record.
Wisconsin- 35 Illinois State- 13
Follow me on Twitter @DylanBuboltz and follow us @WiSportsHeroics for more great content. To read more of our articles and keep up to date on the latest in Wisconsin sports, click here! Also, check out our merch store for some amazing WSH merchandise!