The NFL playoffs are upon us, with wildcard games beginning this weekend. The Packers, however, will be on a bye week, as they earned the number one seed in the NFC. They will be in action on January 22nd or 23rd in the divisional round.
This gives Green Bay the time they need to get healthy and come up with a game plan for beating their next opponent. Key players need to step up and play well if the Packers want to go far in the playoffs. Here are some of the most vital members of the team.
Aaron Rodgers: Has to Spread the Ball Around, Not Just Feed One Player in Davante Adams
The duo of Aaron Rodgers and Davante Adams has been almost unstoppable this year. However, Rodgers does get in trouble when trying to force feed Adams. Yes, #17 is the best player on the Packers' offense and teams have to get their playmakers the ball.
However, Rodgers needs to focus on spreading the ball around; Green Bay's offense is more efficient when he does so. Opposing defenses will certainly focus heavily on stopping Adams, meaning Rodgers is going to have to get other guys involved. Targeting Lazard, MVS, and his tight ends and running backs will be extremely important in the playoffs.
Darnell Savage: Solid Player, But Needs to Play Better
Darnell Savage has not been very good this year; some might say he's regressed. Savage has made too many mental errors and struggled in coverage. In fact, quarterbacks have had a 117.6 passer rating when targeting Savage. That's a liability for the Packers.
To be fair, he is learning a new, very difficult system with Joe Barry and not having Jaire Alexander surely affected him too. However, Savage's play needs to improve in the playoffs because the whole defense plays better when he's at his best.
Lucas Patrick/Royce Newman: Whichever One Starts at Right Guard Needs to Play Well
One of the biggest question marks for the Packers is at right guard. Elgton Jenkins tearing his ACL was a truly devastating blow. The plan was to have him and Jon Runyan Jr. at left and right guard. Now that Jenkins is out, Runyan is going to be the left guard, but the right guard spot remains unknown.
It's going to come down to either Lucas Patrick or Royce Newman. Both players are capable of playing right guard, but neither have stood out at that position. Whoever gets the starting nod in the playoffs needs to perform well.
Krys Barnes: Needs to Show More Consistency
Krys Barnes has shown that he can be a great inside linebacker for the Packers. His problem this year is staying consistent. He has had a couple of good games, then a couple of bad games. For example, Barnes did not play well against the Detroit Lions but had a monster match against the Minnesota Vikings.
Consistency needs to be better for Barnes. The talent is there, but has to show he can play at a high level every game. This is especially true now to help the Packers defense be dominant in the playoffs.
Josh Myers: Has to Be Ready to Go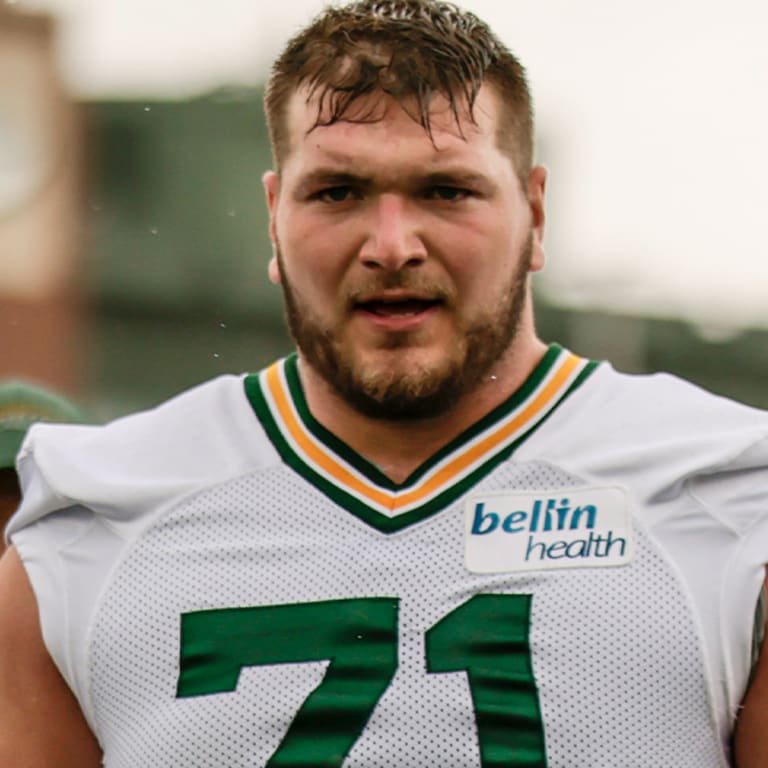 Josh Myers was thrown into the fire day one as a rookie this year. He has shown a lot of promise, ranked one of the best centers in the NFL. However, a knee injury has sidelined him for most of his this season.
While he did get to play week 18 against the Detroit Lions, Matt LaFleur was not happy with his performance. Overall, Myers needs to be ready to go when the Packers play in the divisional round. He will be a key piece to this offensive line's success. There's a lot of pressure on him, but he has to perform well for Green Bay in the playoffs.
Jaire Alexander: Hopefully He Isn't Too Rusty
Jaire Alexander has been out for most of this season due to a shoulder injury. The Packers have not been bad without him, but are certainly better with him in the lineup.
Alexander hasn't played for months. Having no game action in that long that may cause him to be rusty. COVID-19 prevented him from returning against the Lions, which would have been huge as he could've knocked off some rust. Alexander will surely play after the Packers' bye week, but the question is: how rusty will he be? The teams the Packers might play have solid receiving cores, so Green Bay needs #23 to be in his top form. Hopefully, despite him missing a lot of football, he will be ready to go in the playoffs.
David Bakhtiari: Needs to Be in Pro Bowl Form
David Bakhtiari missed almost the entire regular season due to recovering from a torn ACL. The Packers have been cautious with him, careful not to rush him back. #69 saw his first live action in week 18 but was on a snap count to manage his workload. He was able to knock some rust off – now he needs to return to his Pro Bowl form for the Packers.
Last year without Bakhtiari, Green Bay struggled in the NFC Championship, showing how important he is to the Packers' offense. Now he will be with the Packers when they play in the playoffs, and that will indeed be huge. Bakhtiari needs to be at full strength for the Packers to make a run this year.
For More…
Follow me on Twitter at  @CarlosS29143608 and follow us at @WiSportsHeroics for more content. To keep up on all of your favorite sports in Wisconsin, click here!