The Packers traded with the Minnesota Vikings to move up to pick #34 to take their guy.   Their guy is a 6′ 4″ athletic freak of nature from North Dakota State University.  Christian Watson is unlike most athletes even the NFL sees nowadays.  His athletic tool belt in off the charts: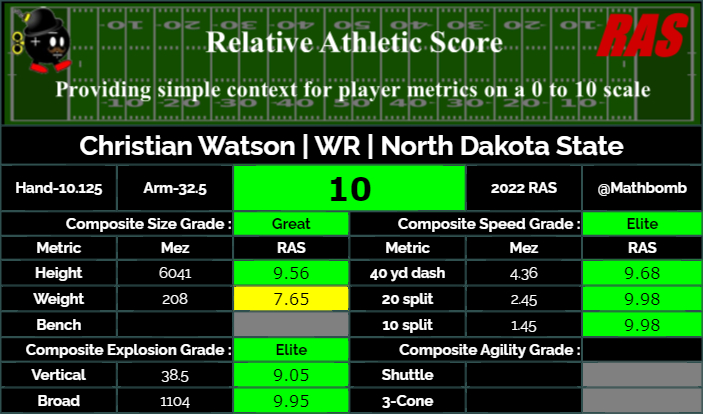 A 10 on the Relative Athletic Score that the NFL uses is just absurd.  (Some RAS models have him at 9.98, either way still absurd).
"Obviously, the speed and the size jump off the tape, that's certainly going to give us something to take the top off the defense," Gutekunst told Sirius XM NFL Radio. "With MVS leaving in free agency, (Watson) will replace that, hopefully, initially."

"I think his ability to develop into an all-around receiver," Gutekunst said of Watson's fit. "His run after the catch – they handed the ball to him a lot in the backfield, he's kick returned before – so his ability once he gets the ball in his hands to break tackles, make people miss and gain extra yards is something that is important to us."
Comparisons to WR Marquez Valdes-Scantling (MVS):
Right off the bat, MVS's RAS is nothing to scoff at, 9.27 is great.  However, it's not 10…
Valdes-Scantling stood 6-4 and ran 4.3 in the 40-yard dash. Watson stands 6-4 and ran 4.3 in the 40-yard dash.  This gives him the rare size-speed blend the Packers like in a deep threat. They both are big, tall, and have the ability to take the top off the defense.
That's where (most of) the comparisons end:
MVS has not been terrific in change of direction routes like digs and slants, but with the threat of his speed, he has created space for himself in spite of that.  He could also be a little inconsistent with his hand usage in routes.  When he nailed it, he nailed it. However when he doesn't nail it… we all see it on TV.
Look.. this isn't a bash article on MVS.  When he was on the field the Packers' offense averaged almost a full touchdown more per game than when he wasn't.  His vertical threat was missed when he wasn't on the field and he made numerous splash plays for the Packers.  What we are saying, is that Christian Watson can do all of that, AND MORE.  
Right after selecting Watson in the draft, Packers director of football operations Milt Hendrickson said the North Dakota State star has the size and speed to be a "vertical" threat right away. He also called Watson a "playmaker" who requires the defense to know where he is "every time he's on the field."  "That's a weapon for an offense," Hendrickson said.
LaFleur's offense needs to have a player capable of threatening defenses over the top, both to open up space for others underneath by occupying safeties deep and creating explosive plays down the field.  Watson can do both of those things.  Watson averaged over 20 yards per catch and created 57 plays of at least 20 yards at North Dakota State. Over 30 percent of his career touches – as a receiver, rusher and returner – gained at least 20 yards.  He knows how to win in space.
Early Signs at OTAs are looking good:
Randall Cobb had extremely high praise for Watson after the first few practices:
Randall Cobb on rookie WR Christian Watson: "He has the total package. Just being around him for the past week and seeing some of the things he can do, he has all the tools. He's very gifted." #Pakcers

— Wes Hodkiewicz (@WesHod) May 25, 2022
For More Wisconsin Sports News…
Follow me on Twitter at @mcquadewarnold and follow us @WiSportsHeroics for more great content. To read more of our articles and keep up to date on the latest in Wisconsin sports, click here!