The Green Bay Packers are one or two years away from being a possible Super Bowl contender.  Their commitment to the unofficial "youth movement" this past off-season marked a new era in Green Bay.  That era has gotten off to an injury-riddled 2-2 start.
Jordan Love has shown he can certainly play the quarterback position at a high level.  At the same time, the offense has struggled mightily at times.  The defense has been up and down, however, many fans contribute that to coaching more than anything else.  Adding a 23-year-old all-pro cornerback could help with that.
The Green Bay Packers Could Land All-Pro Cornerback Patrick Surtain II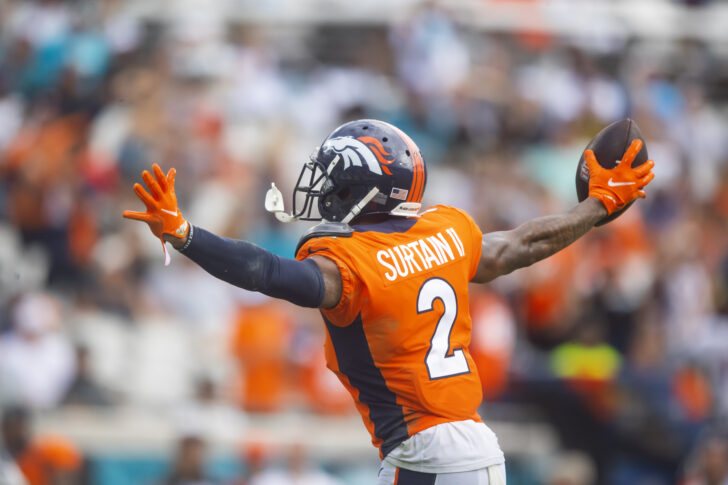 Sayer Bedinger of Fansided brought this to light:
Every NFL team in the league right now should be keeping tabs on Pat Surtain II. Making trades ahead of the trade deadline is not just about fixing areas of need, but it can also be about adding building blocks for the future. If a player like this becomes available, the Packers — and just about every other NFL team — should be interested.

The Broncos would undoubtedly want a Jalen Ramsey-level package of picks (multiple first-rounders, for starters) in any hypothetical trade of Pat Surtain, but he doesn't seem to currently fit with the team's overall roster strengths.

The Broncos may hold onto Surtain for dear life as they look to get back on track after beating the Bears, but if they end up having a fire sale, this would be a situation to monitor because Surtain is arguably the No. 1 corner in the entire NFL right now.
This Would Give The Packers Two Number One Cornerbacks
The Packers have all-pro cornerback Jaire Alexander under contract through the 2026 season.  Teaming up Alexander and Surtain II would create for one of the best cornerback duos in the NFL.
Surtain's contract is up after the 2024 season.  The team trading for him would expect to have to commit to a large contract on top of the draft capital they give up.  If the Packers felt a 23-year-old all-pro cornerback could be another building block for this young team, the Packers could consider it.
Our Partners:
Mayfield Sports Marketing
Call Mayfield Sports Marketing at 262-366-8188 to schedule Green Bay Packers players or alumni for your corporate appearance or product promotion.  Our booking agents will work on your behalf to get you the best price for your desired sports speaker.
Mayfield Sports Marketing has earned a reputation of being the one to call for booking top athletes to speak at events and trade shows. To learn more about Packers players or alumni appearance cost and booking fee, please call us today. www.MayfieldSports.com.
Radtke Sports
Wisconsin Sports Heroics and Gridiron Heroics are proud partners with Radtke Sports to offer autographed memorabilia. Brett Favre, Rob Gronkowski, Giannis Antetokounmpo, and MORE Guaranteed Authentic Collectibles and Memorabilia including signed jerseys, photos, and more at www.RadtkeSports.com USE promo code: WSH for FREE SHIPPING on your purchase. Some restrictions may apply.
For More Wisconsin Sports:
Follow me on Twitter at @mcquadewarnold, follow us @WiSportsHeroics.  You can also reach out to McQuade Arnold via email at mcquadewarnold@gmail.com. To read more of our articles and keep up to date on the latest in ALL of Wisconsin sports, click here!  Green Bay Packers, Milwaukee Brewers, Milwaukee Bucks, Wisconsin Badgers.