The Green Bay Packers have reached the mid-point of their 2020 season.  At 6-2, they are atop the NFC North division and are in position to compete for the coveted number one playoff seed.  There have been many great contributors to the team's overall success, but there have also been players that have disappointed.  The defense, which is the focus here, has had more disappointments than great contributions at this point in the season.  In response to our article on the offense's grades, many fans had some choice words for what the grades on defense should be.  So without further ado, here are our midseason grades for the Packers' defense.
Defensive Line- Grade: D
The fan in me dearly wants to give the defensive line a failing grade.  The amount of rushing yards they have given up and the lack of quarterback pressures have been glaring weaknesses for the majority of the season.  In addition, the defense has struggled to create turnovers, notching just three interceptions and three fumble recoveries in eight games.  For comparison, in 2019, the Green Bay defense forced 1.4 turnovers per game.  In 2020, they are averaging less than one.  Perhaps the most frustrating weakness is the lack of quarterback pressures.  Last season, this was an area of strength with Kenny Clark recording six sacks as an interior lineman.  Clark has yet to record a sack in 2020.
Sacks, of course, do not tell the whole story of a defense.  Quarterback pressures and hits are more indicative of successful defenses.  The problem with the Packers' defensive line is that they are not getting these either.  Combined, they have four QB hits and three sacks, and those all came from two players: Dean Lowry (one sack, one QB hit) and Kingsley Keke (two sacks, three QB hits).  Simply put, this defensive front must get better at getting to the quarterback.
Interestingly, the run defense, on paper, is not as bad as the eye test makes it out to be.  This is, in large part, thanks to the San Francisco game in which they gave up just 55 rushing yards against a very depleted 49ers team.  Even with that game, the Packers run defense is giving up an average of 111 yards per game, 12th in the NFL.  If the Packers are going to make a deep playoff run, this also must get better.
Specific Grades
Dean Lowry- C-
Montravius Adams- D
Kenny Clark- D
Billy Wynn- F
Kingsley Keke- B-
Tyler Lancaster- F
Outside Linebackers- Grade: D
The 2019 Packers' defense sported one of the best pass-rushing duos in the league in Za'Darrius Smith and Preston Smith.  Given their historic production, a slight decrease in production was expected, but nothing this drastic.
For his part, Za'Darrius Smith has put together a pretty good season on paper.  He currently has seven sacks, which is fourth in the NFL.  He also has 10 tackles for loss, which is seventh.  What is noteworthy, though, is that he only has 13 QB hits through eight games.  This puts him on pace for 26 on the season.  Comparatively, he had 37 in 2019.  As noted, a slight decrease was expected, but 11 is a pretty big difference.
Preston Smith has been very disappointing after his incredibly productive 2019 season.  To say his production has dropped off would be an understatement.  He currently has just 0.5 sacks (12 in 2019) and four QB hits (23 in 2019).  Preston also has just one tackle for loss, compared to 11 a year ago.  Much has been made on social media about how often Preston is used in coverage.  However, the percentage of plays he is used in coverage in 2020 is nearly identical to the percentage of plays he did so in 2019.  The difference is that last season he had four passes defended.  This season he just has one.  There is nothing wrong with using him in coverage, but he has to be a difference maker.
Rashan Gary, the former first-round pick, came into the season full of hopes of improving on a disappointing rookie season.  He is garnering more double teams, but he has logged just 1.5 sacks, all of which came in the same game (Week Three against the Saints).  He does have five QB hits, but is still struggling to be a game-changer.
Specific Grades
Za'Darrius Smith- B
Preston Smith- F
Rashan Gary- C-
Inside Linebacker- Grade: F
When the Packers decided not to bring back Blake Martinez, Christian Kirksey was considered to be the interior help the Packers needed in the middle of the field.  That, however, has not been the case.  Kirksey, once again, is battling injuries and has only played in three games.  In the two full games he did play, he only earned a PFF grade of 33.6, which is second lowest on the team.
Perhaps the highlight of the Packers inside linebacking core this season has been rookie Krys Barnes.  Barnes has started seven of the eight games in which he has played.  He has 50 tackles (on pace for 100) to go with a sack, a QB hit, and three tackles for loss.  Unfortunately, his stats on paper look better than his actual play.  PFF has him ranked 69th out of 85 linebackers.  As a rookie, though, the future looks bright for Barnes and hopefully he can make the adjustments necessary to make the defense more effective yet this season.
Ty Summers, whose role increased when Kirksey went down, ranks 61st out of 85 linebackers according to PFF.  While he ranks higher than Barnes, he is less effective according to eye test, especially against the run.
Oren Burkes has also been disappointing once again.  PFF gives him a defensive grade of 29.5, which by far the lowest of the Packers inside linebackers.
Kamal Martin, the Packers' fifth round pick, missed the first six games of the season with injuries and COVID.  However, in the two games in which he has played, he has done extremely well.  He has nine tackles, one of which was a tackle for loss.  In his first two career games, PFF has given him a 67.1 defensive grade, which is the highest of the Packers' inside linebackers.  Hopefully Martin and Barnes can mesh and help improve the run defense as they play together more.  If they are not able to, the Packers will continue to give up far too many rushing yards and will not make it to the Superbowl (again).
Specific Grades
Christian Kirksey- F*
Krys Barnes- B-
Ty Summers- F
Oren Burkes- F
Kamal Martin- B**
*Has played in just three games
**-After just two games
Cornerbacks- Grade: B
If Jaire Alexander was the only cornerback being graded, the grade for this position would be an A.  So far this season, Alexander is rated as the number one cornerback by PFF.  In addition, PFF has Alexander rated as the fifth best defender in the entire NFL!  If that wasn't enough, there is this:
.@JaireAlexander has been putting receivers on an island 🤯

(via @NextGenStats) pic.twitter.com/dJQlyHElX1

— B/R Gridiron (@brgridiron) October 29, 2020
Will Jaire Alexander be the first Packers player since Charles Woodson to win Defensive Player of the Year?  Not this year, most likely, but do not be surprised if he doesn't get some votes.
The rest of the Packers cornerback core has been okay, but not nearly as good as Alexander.  As a whole, the Packers pass defense ranks 13th in the league.  The Packers defense, though, also ranks fifth in the league in holding teams to three-and-out drives.  To put it simply, a good amount of opponents' passing numbers are coming in garbage time as the Packers' defense resorts to its traditional bend-but-don't-break mentality.
There are, however, some concerns regarding the rest of the cornerbacks.  Kevin King, in a contract year, has not played since Week Four.  He also has not recorded an interception or pass defended yet in 2020.  Whereas Alexander is the top rated cornerback by PFF, King is 65th.  That is a huge gap to have between a team's top two defensive backs.
Chandon Sullivan, who has remained healthy, ranks much better than King according to PFF.  He is ranked as the 52nd highest graded cornerback out of 117.  Sullivan has one interception, which he returned for a touchdown in Week Two against the Lions.  He also has three passes defended and has been playing an insane amount of snaps.  For example, in the game against the Texans, Sullivan was on the field for 93% of the defense's plays.  Similarly, Josh Jackson was on the field for 100% of the defense's plays for two weeks in a row in Weeks Six and Seven.  Jackson has been healthy, and is tackling better, but remains a liability in some defensive packages.  He is ranked 95th out of 117 by PFF.
Specific Grades
Jaire Alexander- A
Kevin King- C-
Chandon Sullivan- B+
Josh Jackson- C+
Safeties- Grade: C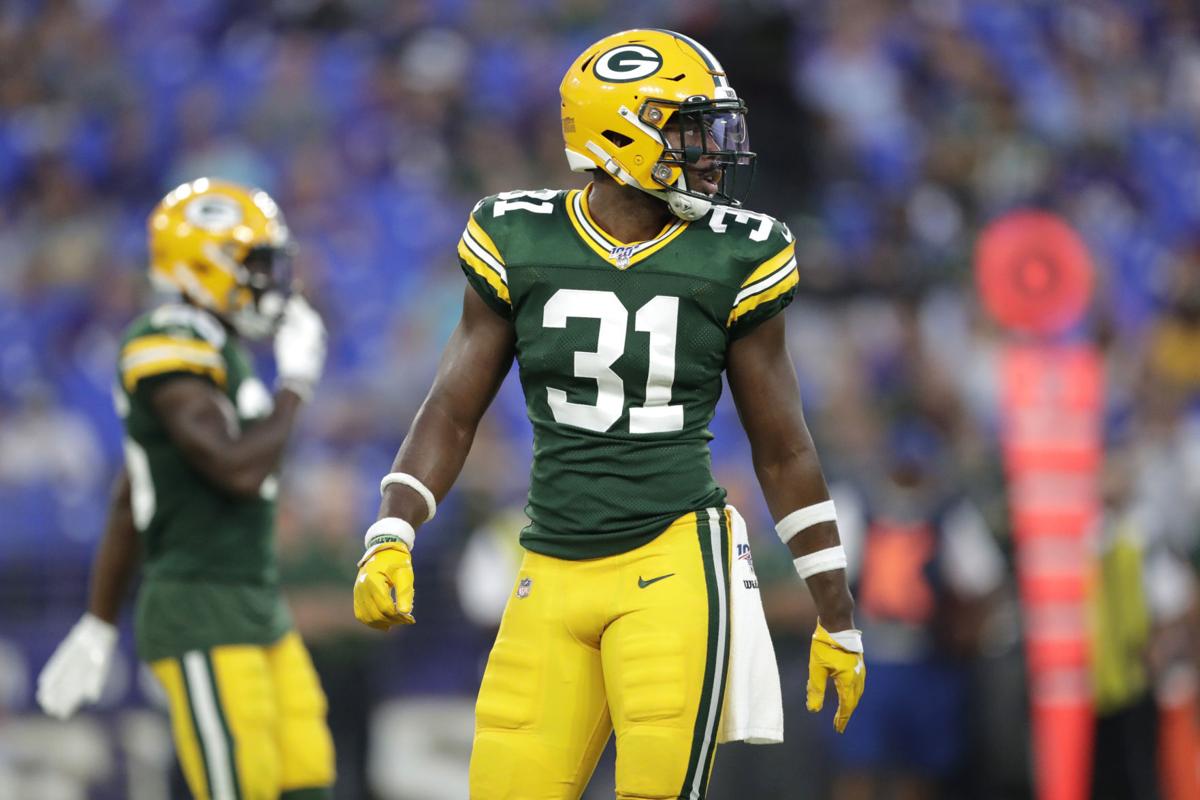 The Packers' safety rotation is led by Adrian Amos.  Amos is the 22nd ranked safety in the NFL by PFF.  This rating is by far the highest on the team.  Amos has two passes defended and a fumble recovery this season.  In addition, he has two quarterback hits and two tackles for loss.  This is pretty impressive given the limited opportunities available for safeties to blitz in Mike Pettine's system.
Darnell Savage, the other starting safety and former first-round pick, is just the 77th ranked safety in the NFL by PFF (out of 88).  While he has been able to stay healthy, he has not made the kind of jump the Packers had hoped for in his second season.  In his rookie season, Savage forced four turnovers (two interceptions and two forced fumbles), but has yet to force a turnover in 2020.
Specific Grades
Adrian Amos- B
Darnell Savage- D
Raven Greene- C
Will Redmond- D
For More Great Wisconsin Sports Content
Follow me on Twitter at @theotherAdams14 and follow us @WiscoHeroics1for more great content. To read more of our articles and keep up to date on the latest in Wisconsin sports, click here!