Green Bay Packers QB Jordan Love has had an extremely unique start to his NFL career.  After being taken in the first round of the 2020 NFL Draft, Love hasn't seen significant starting time at any point throughout the last three seasons.  However, the way he has handled himself during his first three seasons has been nothing short of impressive according to many of his teammates.  One of those teammates, AJ Dillon, spoke out about that recently.
AJ Dillon's Comment On Green Bay Packers QB Jordan Love Goes Viral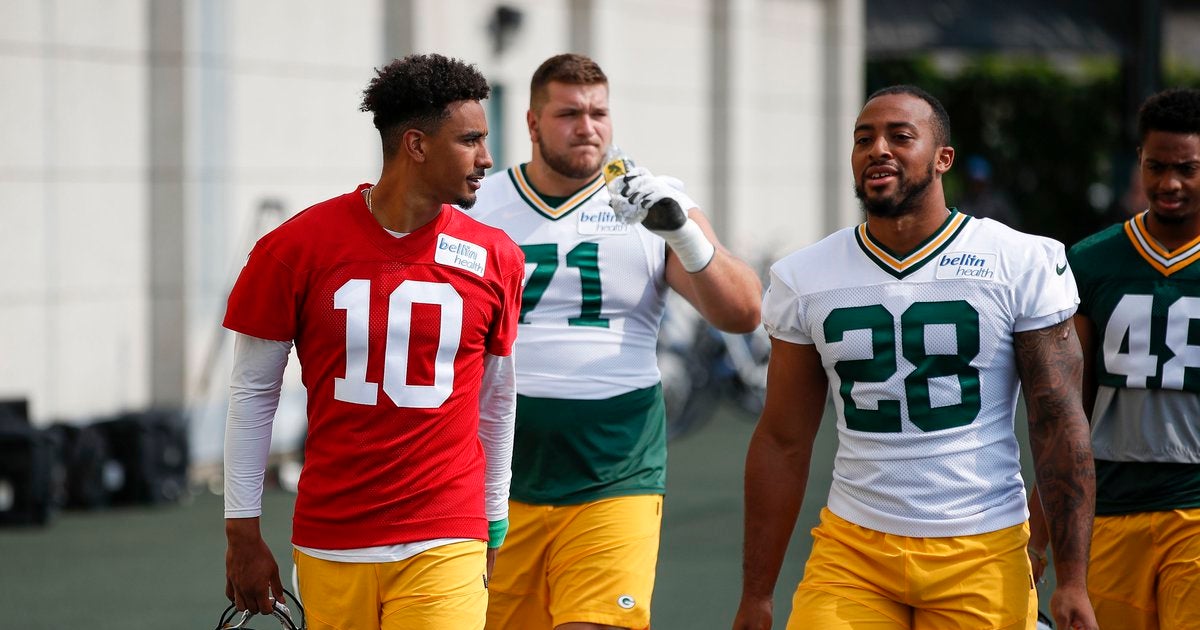 Just 36 selections separated first-round pick Jordan Love and second-rounder AJ Dillon in the spring of 2020.  However, their careers have been drastically different so far.  Dillon has played more than 1,000 more snaps than Jordan Love.  Dillon, however, had some glowing remarks for the Green Bay Packers quarterback:
"I will say this about him — the way he's approached the whole situation over the last couple of years, it speaks to the type of character that he has," Dillon told The Spun, adding that Love is capable of being a leader if his opportunity as the starting quarterback were to arise.

"He's never out here complaining or taking to Twitter. He's a leader in his own right — through his actions, showing up every day."
AJ Dillon isn't the only Green Bay Packers running back to openly praise QB Jordan Love.  Aaron Jones said Jordan Love Will Be Ready When Called Upon
Jordan Love is ready.  Jordan Love will be their guy.  He made a huge jump this year.  We've seen it, OTAs we saw it and it just kept snowballing.  You can tell he wants to play, he's been itching to play.  When his time comes he's going to be ready.

Jordan is very smart, he listens, he wants to be successful.  He is going to put everybody in the right positions.  If something isn't right, "check check check, hold on" and he'll get everybody right.  It has been so cool to see his growth and development.  Seeing him gain that confidence and pick it up, it showed when he went in against Philly and played well.

When asked about Jordan Love's arm strength compared to Aaron Rodgers, Jones said: Oh he's got it, he's got some arm strength.  I'd say it's right up there.  I don't know if you can compare it to Aaron (Rodgers), he's one of the best to ever do it, but it's right up there.  Some of the balls we see him throw in practice are like "oh, you definitely getting that confidence, you can definitely see him letting loose and going out there and playing.
For More Wisconsin Sports:
Follow me on Twitter at @mcquadewarnold, follow us @WiSportsHeroics, and listen to our Podcast, The Cheese Dads NOW with Legendary DT Gilbert Brown! You can also reach out to McQuade Arnold via email at mcquadewarnold@gmail.com. To read more of our articles and keep up to date on the latest in ALL of Wisconsin sports, click here!