The Green Bay Packers have had a number of players "switch sides" within the NFC North.  Last season, most notably, was defensive end Za'Darius Smith.  Smith signed with the Minnesota Vikings and quickly started chirping at the Green Bay Packers organization all off-season long.  This off-season we have seen a few switch sides.  Tight end Robert Tonyan signed with the Chicago Bears and defensive end Dean Lowry signed with the Minnesota Vikings.  One of those two seems to be on the same path as he can't seem to keep the Green Bay Packers out of his mouth.
Former Green Bay Packers Defensive Lineman Dean Lowry Subtly Talks About Former Team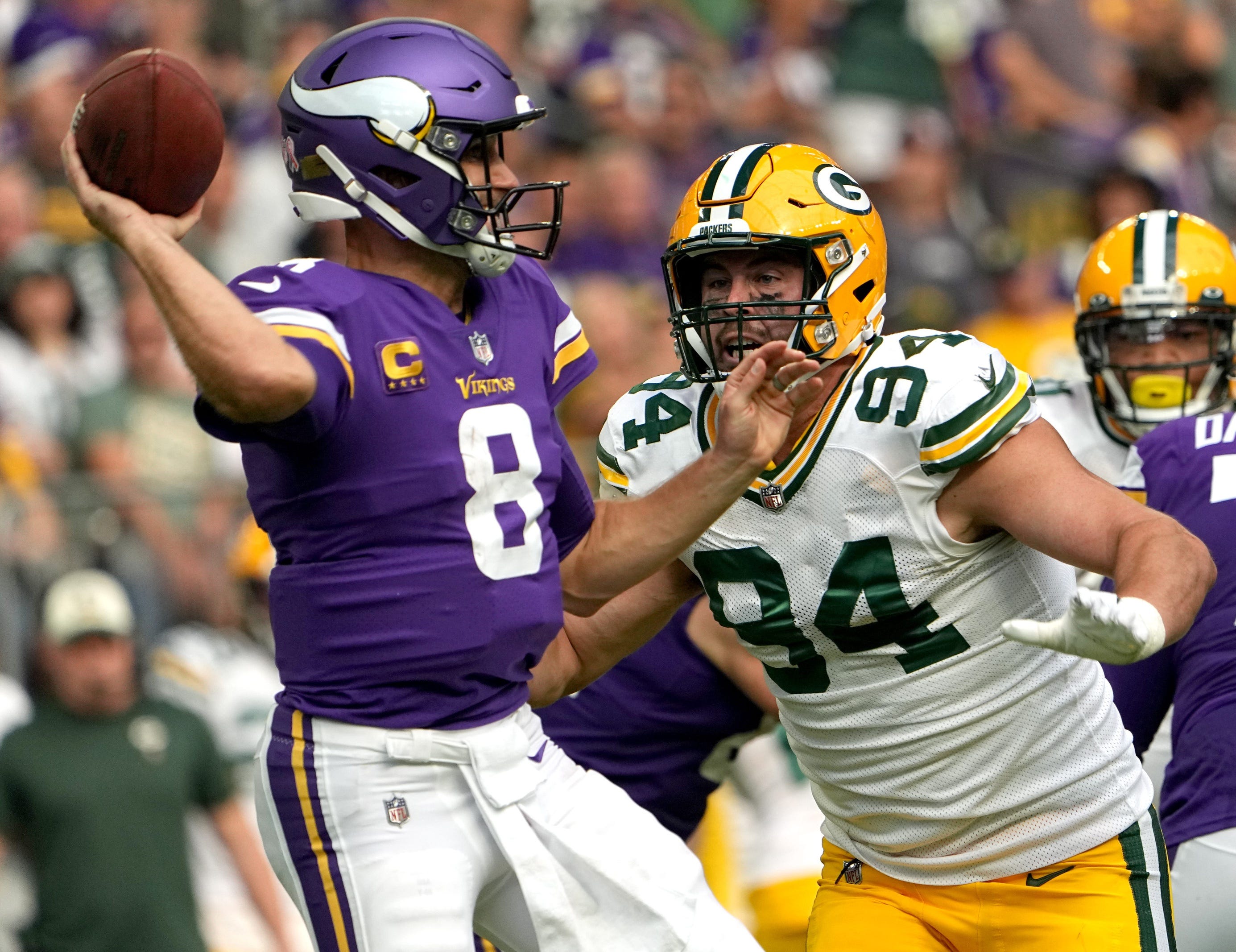 According to Jay Taft of the Rockford Register Star:
Dean Lowry opened the conversation by saying "First off, it feels great to be a Minnesota Viking." He closed it with: "One thing I've learned going on eight years now, you can always be coached."

And in between, he said a lot of interesting things about his past and future NFL adventures.  Here are some of the rest of the highlights:

How does it feel to change sides?

"I would say re-energizing. I've had so much respect for the Vikings and the way they do things. This past year, you just could tell the difference on the field with this team when Coach O'Connell got there. And I think that my experience in the division will help a little bit. I'm just done playing seven years in Green Bay, and all of those things. I'm excited, there's already a strong foundation in place, and I'm looking forward to joining a great thing."

First thoughts on the Vikings' organization?

"It just seems like the guys in the Vikings' locker room are a lot of high quality guys. It seems the Vikings search out guys with strong character. … And just being in the building, everyone from the nutrition to the strength and conditioning, everything revolves around the player's performance, and that was really impressive to see that."

How can you help this defense?

"Production and stats help to tell a story, and I had more sacks and pressures in 2021 than I did last year. Partly that's because of opportunity: I had more third-down reps that year, and this last year we had a more crowded defensive-line room."

What do the Vikings expect out of you?

"The Vikings have a really good thing going. There's so many positives going for this team on both sides of the ball, and I'm just looking to play a role in it, and to excel in my role."
To say it was "re-energizing" to change sides may be because he felt buried on the depth chart in Green Bay for so long.  Lowry is a former fourth-round pick by the Packers in 2016. He had been with the team since they drafted him. Lowry left Green Bay after recording 252 total tackles and 15.5 sacks in seven seasons.
It will be interesting to see what type of opportunities Lowry gets in Minnesota, as their defensive line doesn't have the talent that Green Bay's does.  Kenny Clark has been an all-pro for years.  That has left Lowry battling for playing time with a number of players.  Last season it was Jarran Reed and Devonte Wyatt.
For More Wisconsin Sports:
Follow me on Twitter at @mcquadewarnold, follow us @WiSportsHeroics, and listen to our Podcast, The Cheese Dads NOW with Legendary DT Gilbert Brown! You can also reach out to McQuade Arnold via email at mcquadewarnold@gmail.com. To read more of our articles and keep up to date on the latest in ALL of Wisconsin sports, click here!  Green Bay Packers, Wisconsin Badgers, Milwaukee Brewers, Milwaukee Bucks.