Does Aaron Rodgers need his top three receivers to defeat an unbeaten team? Absolutely not! The Packers pulled off a huge "upset" win this past Thursday over the Arizona Cardinals. Enough people have talked about how Adams, Lazard, and MVS were all out in the game, so that won't be the focus here. If you're a fantasy football player who wanted some points from Randall Cobb, you sure got them! Tonyan being out for the year could affect your lineup, so let's get right to it.
NOTE: The scoring is based on PPR through NFL Fantasy. Please keep that in mind as the numbers might be slightly different from a Fantasy league you're in!
Aaron Rodgers: 15.66 Points
Aaron Rodgers certainly threw more than he needed to in this game, but fantasy players will be happy with his performance. In what could've been a totally run-oriented offense, Rodgers still finished with almost 200 yards. The two touchdown passes to Cobb certainly helped his fantasy value, but it was another week of no INT from Aaron. Just three rushing yards in this game, which is something he's been building on in previous weeks. Far from a bad effort knowing his receiving core in this one.
Aaron Jones: 24.00 Points
Aaron Jones was the best potential option from the Packers offense to start, and he delivered. AJ Dillon certainly over-delivered in the run game, but Jones was basically the top receiver for Rodgers, besides in the endzone. Jones went out for a one on one deep ball early in the game, which was just crazy to see. Seven receptions for fifty-one yards is 12.1 points in itself, which is great for any WR1 option. Jones was just one yard shy of sixty on the ground but pounded in a TD to give himself an epic week of fantasy production.
AJ Dillon: 7.80 Points
This might be a relatively disappointing total knowing the run game was going to be a priority, but my goodness did AJ Dillon deliver on that field. Dillon became the top running back for a majority of the second and third quarter, but his fantasy score doesn't reflect that. No easy points from a reception, and no TD's to add to his credit. There's absolutely nothing wrong with 78 hard-earned rushing yards, but I can see some fantasy owners being let down.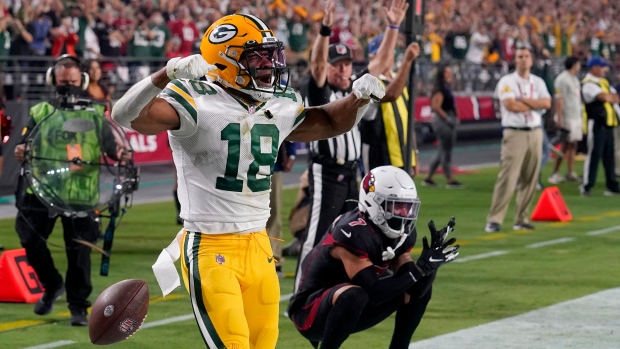 Randall Cobb: 16.50 Points
It was a no-brainer to pick up Randall Cobb off waivers if he was available, and I'm sure he'll do better than most of the other receivers you had rostered this week. Other than the likes of Cooper Kupp, Randall Cobb finished nearing the 20 point mark. Cobb hauled in two touchdown passes, but it was notable that he only finished with 15 receiving yards. Rodgers obviously saved Cobb to be the red zone threat, and he did just that. Only three receptions for fifteen yards is disappointing, but the two touchdowns more than made up for it.
Juwann Winfree: 7.00 Points
Who saw this coming! I guarantee Winfree was available on 90+ percent of leagues unless the benches are insanely deep. I probably would've picked up St. Brown if I had to choose, but thankfully I stayed away from everything. That said, Juwann Winfree had a huge showing and caught the ball from Aaron Rodgers on four separate occasions. It was far from a perfect game for Winfree, but he ended with 30 receiving yards which isn't too bad.
Robert Tonyan: 7.90 Points
My goodness, Robert Tonyan went down and the next day we learned it was a season-ending injury. The injuries keep on coming for this Packers team. If it isn't COVID, it's injuries! Kylin Hill is also out for the season, but I'd only suggest having him on your taxi squad in a deep dynasty league. Anyways, what does this mean now that Robert Tonyan is out? Marcedes Lewis is available in a boatload of leagues, but make sure to strike while the iron is hot. Lewis might become a sleeper option, especially since we've been seeing him become more and more involved in the offense. With Tonyan out, Lewis is definitely in line to step up, and I'd pick him up immediately. Tonyan could've done more in this game, but for the time he was there, he had three receptions for nearly fifty yards.

Packers Defense: 8.00 Points
Against such an explosive offense like the Cardinals, I would've had a hard time convincing myself to start the Packers defense. For as good as they've been, they were also missing Joe Barry. Thankfully, they didn't need him! The Cardinals offense was certainly flat at times, but some would argue that was due to the pressure this defense was bringing. The Packers more than held their own, which included two interceptions, two sacks, and a fumble recovery. Allowing 21 points really brought their total down, but they still got the win! Anything around ten points for a fantasy defense is a solid week's work.
Mason Crosby: 6.00 Points
Pretty straightforward week for the Packers kicker. Crosby successfully made three extra points and was 1/1 on his field goal attempts. It was a rather short field goal, so didn't turn around to be a ton of fantasy points. Some of Crosby's kicks are awful close to missing, but as long he makes them, I can't complain. If the Packers continue to put up 20+ points in games, Crosby isn't a bad option to have. It's always recommended to look for a kicker who'll kick more field goals than extra points though, so that's a thought to leave you with.
Packers Only Fantasy Team: 96.06 Points
If you wanted to risk it all this week and start Aaron Rodgers, Aaron Jones, AJ Dillon, Randall Cobb, Juwann Winfree, Equanimeous St. Brown (flex), Packers Defense, and Mason Crosby, this would be your final score. Obviously down from past weeks, however, nearly putting up 100 points with only Packers players against the Cardinals is crazy good! This is such an exciting season to be a Packers fan, I can only imagine what this team will be like at full strength.
[pickup_prop id="14350″]
For More Great Wisconsin Sports Content
Follow me on Twitter at @JordonLaw_PxP and follow us @WiSportsHeroics for more great content.  To read more of our articles and keep up to date on the latest in Wisconsin sports, click here!