In a game full of booth reviews, injuries, and blocked kicks, the Packers beat yet another opponent as they ready themselves for the unbeaten Cardinals. Aaron Rodgers put on a clinic at home against Washington, and the defense really stood out as well. We all know how much this team has been banged up, yet they still hold a 6-1 record. Impressive, to say the least! Now, let's see how impressive these fantasy numbers were.
NOTE: The scoring is based off of PPR through NFL Fantasy. Please keep that in mind as the numbers might be slightly different from a Fantasy league you're in!
Aaron Rodgers: 24.66 Points
While I didn't look this up beforehand, I would have to assume that Rodgers had a perfect passer rating this week. Out of the 35 or so passes he threw, he only had about six incompletions. On top of that, Rodgers stayed true to himself, not throwing a single interception. A three touchdown performance is nothing to complain about, especially considering that we're seeing Rodgers run more! Consider a 3rd & 11 where Rodgers rushed for a first down… beautiful! No complaints from Rodgers, but we'll see how he fares against a tough Cardinals defense.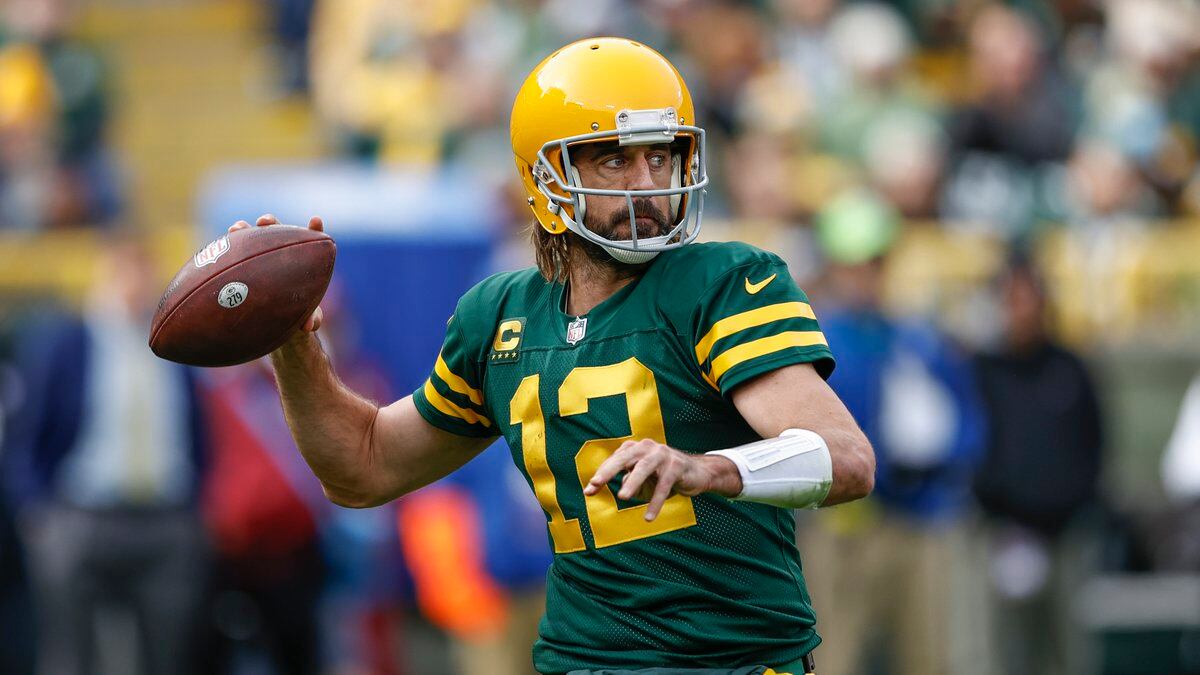 Aaron Jones: 8.90 Points
It was a very underwhelming week for Jones, but that's solely because the run game wasn't prioritized. For Jones to only finish with 19 rushing yards, one would have to assume he got injured or shut down. Nope! Jones ended the game with five receptions for 20 yards, which really saved his fantasy performance. I've talked previously about how Jones is an amazing pass catching back, and if he didn't have that aspect to his game, this would've been an all-time bad performance. 8.9 points isn't the worst, but it's pretty low compared to what we've seen Jones is capable of doing. Don't let this scare you in the long run.
AJ Dillon: -0.20 Points
That's right, Quadzilla finished with NEGATIVE points. A fumble late really screwed over his fantasy performance, which wasn't putting up great numbers to begin with. Kylin Hill had a carry to start the game, which was puzzling. Dillon eventually got his fair share, but it only resulted in six rushing yards. SIX! I think we were at the point where you possibly could've been starting Dillon, and a matchup against Washington looked promising. My deepest condolences go out to you if you started Dillon this week.
Davante Adams: 19.60 Points
Adams finished with just under 20 points, an absolutely beautiful game from the star wideout. While only having six receptions, Adams hauled in just over 75 yards and caught that beautiful over the body throw from Rodgers. Adams is still eating up the majority of the targets, but our next player really took over at the end of the second quarter. No reason to be concerned for people who have Adams in fantasy; he's basically guaranteed to score you at least 15 points each week.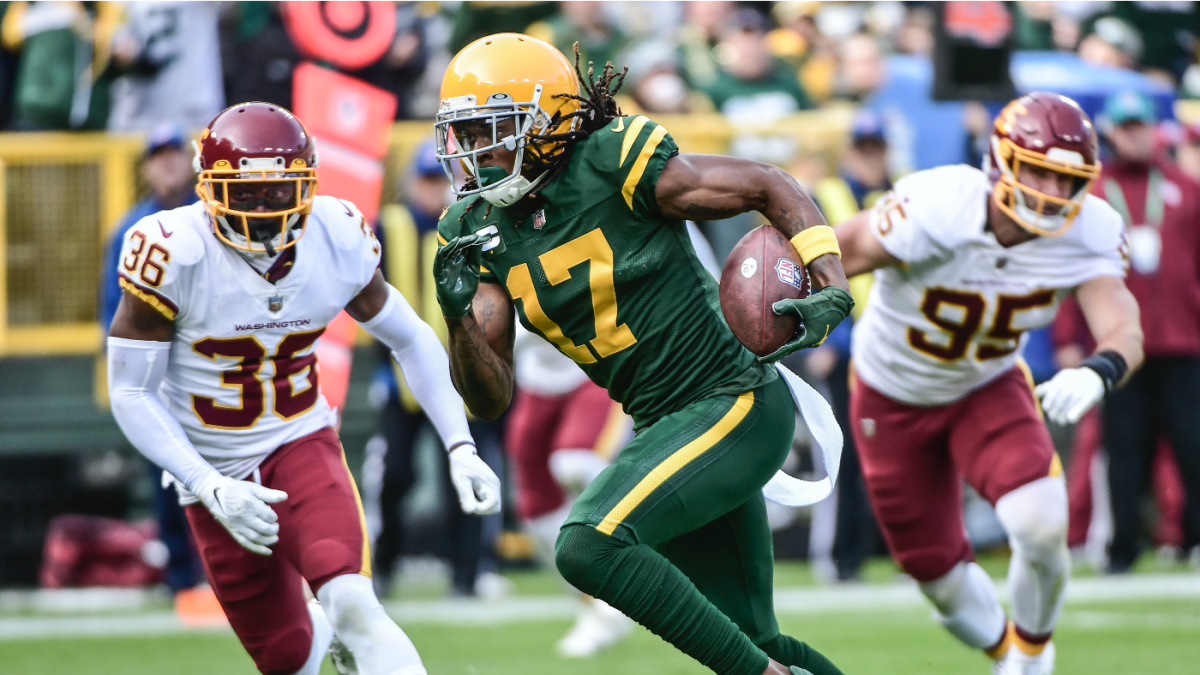 Allen Lazard: 17.00 Points
How about this performance! Allen Lazard came from out of nowhere and put on a show in the final five minutes of the second quarter. His entire fantasy performance centered around those five minutes, which is insane. I doubt anyone actually started Lazard this week, unless you were crazy and wanted to start mostly Packers. Lazard had a beautiful five receptions for 60 yards and a TD. Don't let this put you on the Lazard bandwagon; I would be VERY cautious about starting him, especially when MVS returns.
Robert Tonyan: 16.30 Points
Once again, it looked like the Marcedes Lewis show to begin the game. Lewis had a few big grabs, but eventually Tonyan got his opportunity to shine. This had to be Tonyan's best game of the year, and how fitting as it came on National Tight End Day! Tonyan can thank Greg Olsen for the TD, as it came right after he asked for a tight end touchdown reception. His stat-line read four receptions for 63 yards and a TD. It was a great performance, and I can finally say TD Tonyan is back!
Packers Defense: 12.00 Points
The dreaded "team goes into the Red Zone, team scores a TD" stat has finally come to an end. The Packers' defense stopped Washington on THREE occasions in said red zone… how about that! Obviously they weren't facing a top tier QB1, so it'll be interesting to see how they do against Kyler Murray and the explosive Cardinals next week. Give Stokes all the credit in the world for his performance this week; it's not easy putting a rookie corner on someone like Terry McLaurin! Four sacks overall with an interception and a fumble recovery. Great stuff from the Packers D.
Mason Crosby: 6.00 Points
This would've been closer to 10 points had a field goal attempt not been blocked, but anytime you get over five from your kicker, it's a nice addition. Crosby had three extra points, one of which he nearly missed. The field goal he made was in the range of 30-39 yards, which is an additional three points. Not much else to say about Crosby's performance, other than he wishes he could've had that blocked kick back!
Packers Only Fantasy Team: 109.46 Points
Sadly, you lost a whopping 0.2 points by starting AJ Dillon, but Cobb in your flex spot would've landed 5.20 points. Good to see Cobb have three receptions, and this Packers squad nearly put up 110. Aaron Rodgers, Aaron Jones, AJ Dillon, Davante Adams, Allen Lazard, Randall Cobb (flex), Robert Tonyan, Packers D, and Mason Crosby is the lineup used to calculate this score. I am very intrigued to see how this score will look in a few days after the Packers head to Arizona.
For More Great Wisconsin Sports Content
Follow me on Twitter at @JordonLaw_PxP and follow us @WiSportsHeroics for more great content.  To read more of our articles and keep up to date on the latest in Wisconsin sports, click here!