From Whitnall High School to the Miami Heat, Tyler Herro has been successful at every stop.  The NBA recently announced that Herro was voted the NBA's 6th Man of the Year.  Not only was Herro voted 6th Man of the Year, he was almost a unanimous selection.
What a way to celebrate #TylerTuesday!

Finally, it's official – @raf_tyler is your @Kia NBA 6th Man of the Year! #6MOTYLER pic.twitter.com/NxOBOcRugK

— Miami HEAT (@MiamiHEAT) May 3, 2022
Herro's 2021-22 Season
Ending the regular season as the 21st best scorer on a points per game basis, Herro ended 20.7 ppg.  Every 6th man of the year provides instant offense and Herro did just that.  Not only can Herro get you a bucket, he impacts the game as a rebounder and facilitator.  Herro averaged 5.0 rebounds and 4.0 assists.  These stats were accumulated over the 66 games this season.
When you compare Herro's stats to Jordan Clarkson, who won the award in 2021, it's clear Herro was the obvious choice.  Herro averaged 2.3 points, 1.0 rebound and 1.5 assists more than Clarkson did a season ago.  Combine these numbers with the fact that Miami finished with the best record in the eastern conference and it's amazing Herro wasn't a unanimous selection for the award.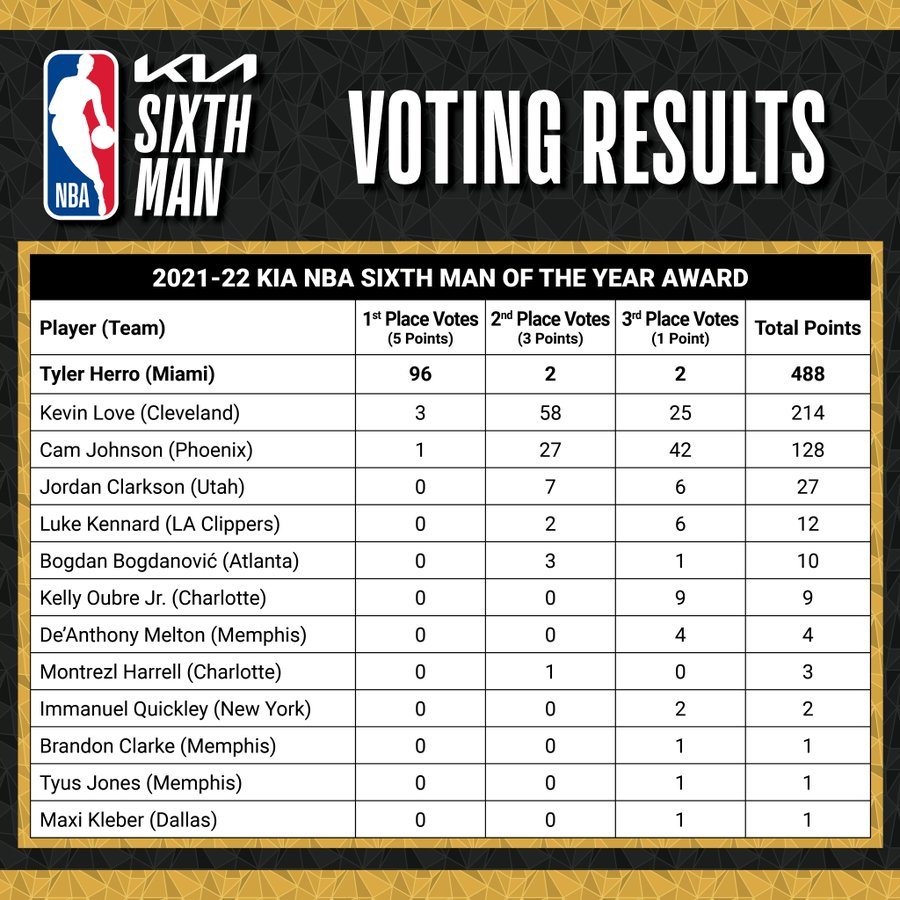 Herro makes Heat History
When fans think Miami Heat, you think about Dwayne Wade, LeBron James, Alonzo Mourning and Shaquille O'Neal.  Tyler Herro will not cement himself among these Heat legends.  Tyler becomes the first Miami Heat player to win the NBA's 6th Man of the Year award.
Some credit should be given to Heat head coach, Erik Spoelstra.  Spoelstra is a two-time NBA championship winning coach who is a top 15 head coach all-time.  On any other team, Tyler Herro is a starter but Spoelstra is using Herro's skill set in the best way for the Miami Heat to be successful.
Final Thought
Wisconsin basketball fans criticized Herro for his decision to leave the state for a blue blood program like Kentucky.  At the end of the day, Tyler Herro made the decision he felt was best for his basketball future.  If anyone is still questioning that decision, looks like Herro got the last laugh.
For More Wisconsin Sports Content
Follow me on Twitter at @wifecallsmecarl and follow @WiSportsHeroics as well for more great Wisconsin sports content! To keep up to date on the latest in Wisconsin Sports, click here! Also, check out our merch store for some amazing WSH merchandise!