The Packers have a team with a lot of talent this upcoming season. While some think this team is not really talented outside of Aaron Rodgers, the Packers have plenty of overlooked players throughout their roster. Here are a few current underrated Packers' players.
Elgton Jenkins – OL
Elgton Jenkins has a case for being the best guard in the league, and is still unnoticed nationally. In addition to being an elite guard, he is versatile enough to play any of the five spots on the line. He often faces some of the best interior rushers and has held his own, like going against elite pass rusher Aaron Donald in the 2020-21 playoffs and shutting him down. He should get his name out there if he has another outstanding year, as he is criminally underrated.
Adrian Amos – Safety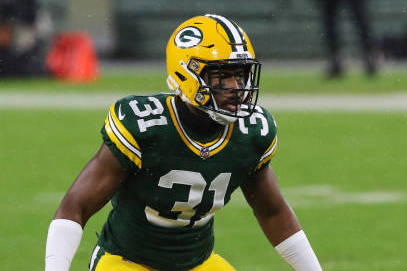 One of the most underrated safeties in the NFL is Adrian Amos. He does a lot of work for the Packers defense that goes unnoticed, lining up in the box at times in addition to his excellent pass coverage. Amos has proven to be a steal from free agency in 2019 and has not disappointed. He is a silent leader for the Packers that will continue to have a major impact on defense this season.
Billy Turner – Tackle
Considered an average signing at best, Turner is proving that notion to be wrong. In 2020, Turner was a good right tackle but had to move around due to injuries at the other positions. It needs to be mentioned that he had one of the best pass and run block win rates. This might be Turner's last year as a Packer due to salary cap problems after this season, but if he can have a solid year, he can convince the Packers to keep him.
Rashan Gary – Edge Rusher
Rashan Gary is a former first-round pick who is developing into one of the best pass rushers in the NFL. Some may question that notion, as Gary has never been known for high sack totals. While Gary only had five sacks in 2020, his low statistical prowess in that regard does not tell the whole story. For instance, he shared snaps with many of the other pass rushers on the roster. As he turns into one of the best pocket disruptors in the NFL, Gary is poised for a strong 2021 season.
Follow for More
Follow me @CarlosS29143608 and follow us @WiSportsHeorics for more content. Check out our merch page. Use the promo code WISCO at the checkout for 1$ off! To keep up on all of your favorite Wisconsin sports teams, click here!