Graham Mertz and the offensive line were far from perfect against Penn State. That's been well-established. But there was certainly room for improvement in other areas as well. Let's take a look at four keys to Saturday's matchup against Eastern Michigan as well as the Badgers' hopes of re-establishing a road to Indianapolis and the Big Ten title game.
Game Plan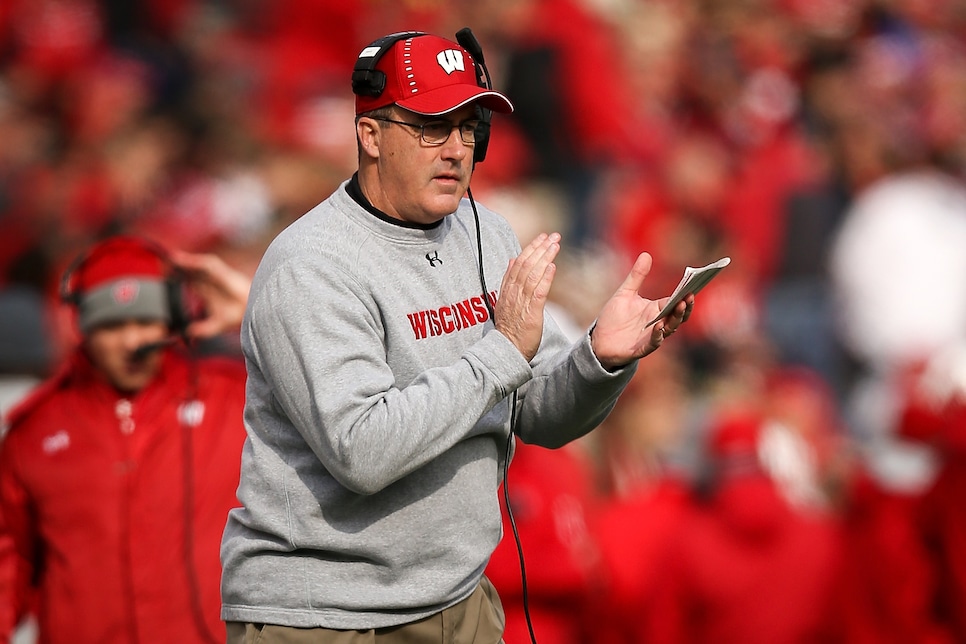 Can the Badgers add some wrinkles to an offensive game plan that had people scratching their heads against Penn State? Clearly, the UW offense needs a few plays that are SportsCenter-worthy so it's time to take some shots down the field via play-action, if only to prevent Eastern Michigan from loading the box all game. But it's also the little things that we as fans rarely notice. For example, if EMU's Jose Ramirez is having a field day off the edge out of his "bull" hybrid position, give the tackle some help by chip-blocking the defender with a fullback or tight end.
We didn't see enough of this help for left tackle Tyler Beach against Arnold Ebiketie a week ago and the Badgers paid for it. Ebiketie wreaked havoc all game with seven tackles including two tackles for loss (one sack) and played a factor Graham Mertz's decision-making throughout. Give Mertz a clean pocket and time to throw and he'll improve on his week one performance.
Jalen Berger And Chimere Dike Need To Eat
One of the great mysteries in the Penn State game was the fact that Jalen Berger – the Badgers leading rusher in 2020 as a true freshman – didn't sniff the field. No need to speculate without knowing the facts. Adding Berger to the run arsenal against Eastern Michigan will help Mellussi stay fresh if he is indeed your No. 1. Not to mention – as we saw last week – that handing the ball off the ball 31 times to anyone not named Jonathan Taylor, Melvin Gordon or Montee Ball can make your offense extremely predictable. Finally, the Badgers have enjoyed a New Jersey pipeline over the years, especially at running back – Ron Dayne, Anthony Davis, Corey Clement, Jonathan Taylor. Berger's success going forward would certainly enhance future recruiting efforts at the position in the Garden State.
Chimere Dike, who had an outstanding true freshman season in 2020, seemed poised to make a huge jump in year two in the program. As good – no great — as Danny Davis was last week, Dike needs to be a bigger part of the game plan after just getting two touches for 19 total yards against Penn State. Assuming the Badger offensive line controls the line of scrimmage, this should be a game a young player like Dike can make some big plays and gain some needed confidence for the rest of the season.
A second tight end option in the red zone
With Jake Ferguson expected to be double-covered in the red zone, can fellow tight end Jack Eschenbach make a larger impact after making one grab for six yards against Penn State? As I alluded to Austin Traylor's complimentary season to Troy Fumagalli in 2015 here, a second threat would add another security blanket for Graham Mertz. This would especially be the case inside the 20 where the Badgers struggled mightily last week.
Continued Progress By The Defense
The Wisconsin defense was stifling in week one outside of one long run and four chunk pass plays that accounted for 201 of Penn State's 297 total yards of offense. Two concerns for the defense: 1.) the need to clean up the mistakes in the secondary. Miscommunication on the back end happens, especially early in the season, but avoiding big plays against an Eastern Michigan offense that runs a spread offense similar to what we saw last week will be critical; and 2.) a zero in the stat sheet under the turnover category vs. the Nittany Lions is a reoccurring theme from the 2020 defense that needs to change if the Badgers are to challenge for the Big tEN West title.
[pickup_prop id="11105″]
Follow me on Twitter at @JoelSuperiory and follow us @WiSportsHeroics for more great content. Check out our merch page here and use promo code Wisco at check out for $1 off! To read more of our articles and keep up to date on the latest in Wisconsin sports, click here!