Former Wisconsin Badgers defensive end JJ Watt is one of the best, if not the best, players produced by the program. A native of Pewaukee, Wisconsin, Watt and his brothers dominated with the Badgers before forging successful NFL careers. So far, JJ, the eldest Watt brother, has had the most successful NFL career. He won the NFL's Defensive Player of the Year award three times and was a five-time First-Team All-Pro. Earlier this morning, Watt posted on Twitter that the Arizona Cardinals' previous home game was his son Koa's first NFL game. He also mentioned it was his last NFL home game:
Koa's first ever NFL game.
My last ever NFL home game.

My heart is filled with nothing but love and gratitude. It's been an absolute honor and a pleasure.

— JJ Watt (@JJWatt) December 27, 2022
JJ Watt as a Wisconsin Badgers Star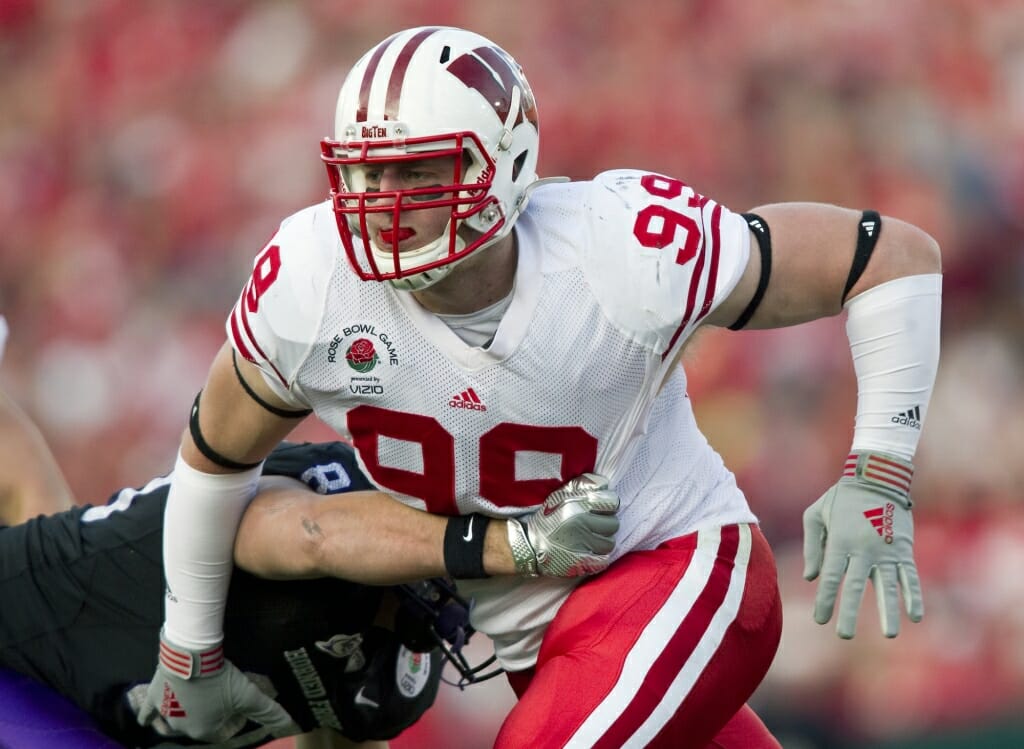 Many people forget that JJ Watt did not start his college career at Wisconsin. Nor did he start it as a defensive player. Watt started his college career at Western Michigan as a tight end. In his lone season there, he had eight receptions for 77 yards.
After transferring to Wisconsin, Watt switched to the defensive line and was an immediate star. In 13 games, he had 44 total tackles, 4.5 sacks, and 15.5 tackles for loss. In 2010, his final year at Wisconsin, he had 62 total tackles, 7.0 sacks, and 21.0 tackles for loss.
JJ Watt's Early Career
The Houston Texans drafted Watt with the 11th overall pick in the 2011 NFL Draft. He went onto have one of the most successful runs in NFL history for a defensive player. In 2012, just his second year in the league, Watt led the NFL with 20.5 sacks and 39 tackles for loss. He won his first Defensive Player of the Year Award in what was one of the most dominant individual seasons in NFL history.
Between 2012-2015, Watt won Defensive Player of the Year three times and recorded 20.5 sacks in two seasons. He also led the NFL with 17.5 sacks in 2015.
The 2014 season from JJ Watt was something else 🤯

20.5 sacks, 29 TFL, 51 QB hits — AND 5 TDs!

Enjoy retirement, @JJWatt

— Gridiron (@Gridiron) December 27, 2022
Injury Plagued Seasons
Unfortunately, injuries happen to even the best players and Watt was no exception. 2016-2017 saw him play just eight of a possible 32 games due to back injuries. Many thought that his career was over.
2018
However, in 2018, Watt started and played in all 16 Houston Texans games. He led the NFL with seven forced fumbles and racked up 16.0 sacks. He made his final All Pro Team and Pro Bowl that year as well. In addition, Watt came in second for the NFL's Comeback Player of the Year Award.
End of an Era
After 2018, Watt struggled to stay healthy in 2019. In 2020, he played in all 16 games, but was not the same dominant player that he had been. After that season, he signed a two-year contract with the Arizona Cardinals. While he was injured for a good portion of last season, Watt seemed to have turned back the clock a bit in 2022. So far this season, Watt has 9.5 sacks and has played in 14 games.
His decision to retire is most certainly what's best for him and his family. Now a father, he undoubtedly wants to be able to do everything a father does without risking any further damage to his body.
Once a Badger, always a Badger.
For More Great Wisconsin Sports Content
Follow me on Twitter at @theotherRobin19 and follow us @WiSportsHeroics for more great content. To read more of our articles and keep up to date on the latest in Wisconsin sports, click here!