Former Green Bay Packers wide receiver James Jones has made quite a name for himself as a football analyst. His experience as a player in one of the most high-powered offenses of all time has given him insight that very few have. That is why when he compared San Francisco 49ers quarterback Trey Lance to four-time MVP Aaron Rodgers, it garnered a great deal of reactions.
"THIS KID GON BE SPECIAL." – @89JonesNTAF. Speak those facts James Jones 🗣🗣🗣👏👏

Saying Trey Lance will be compared to the likes of Rodgers & Mahomes years down the line.
[🎥: @nflnetwork | #49ers] pic.twitter.com/Lr8IIsFhfg

— 49ers & NFL News 24/7 (@49ersSportsTalk) June 18, 2022
What James Jones Said about Trey Lance
After admitting that football fans only have a small sample size of what Trey Lance can do on the NFL level, James Jones made the following statement: "I believe we are looking at a bonified super star." He went on to say:
"Like the Patrick Mahomes. Like the Aaron Rodgers. We had a small sample size of Aaron Rodgers, but all you heard out of the locker room and the people and the people around Aaron was like, 'Just wait.'"
Jones goes on to explain that these exact phrases are the same things that are coming out of the 49ers organization regarding Trey Lance.
When it comes to comparisons to other quarterbacks, Jones said the following about Lance:
He can make plays with his legs
Lance has a really strong arm
He will be in the same category as Patrick Mahomes and Aaron Rodgers
Comparing Trey Lance to Aaron Rodgers Through Their First Six NFL Games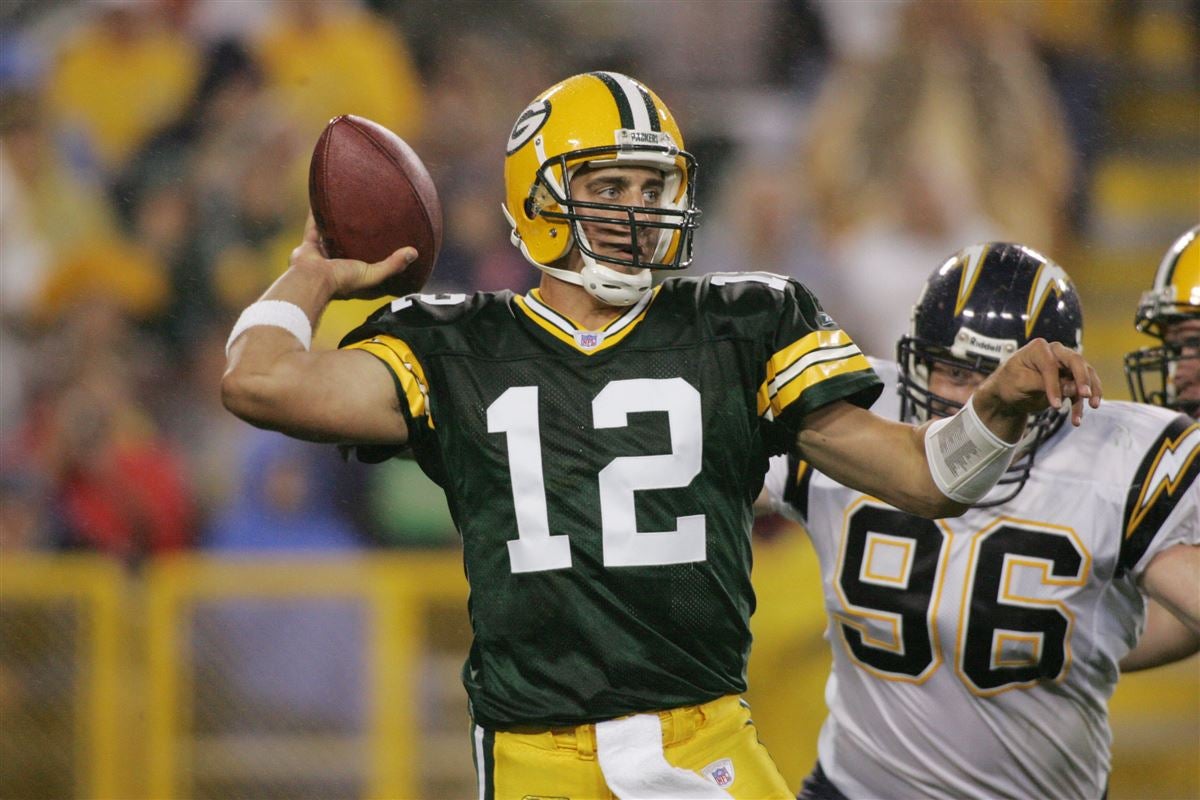 Trey Lance was drafted third overall by the San Francisco 49ers in the 2021 NFL Draft. As a rookie quarterback, he appeared in six games, two of which were starts. Here are his stats through those first six games of his career:
41/71 (57.7%), 603 yards, five touchdowns, two interceptions, 97.3 passer rating
Of course, both Packers and 49ers fans are familiar with how Aaron Rodgers fell in the 2005 NFL Draft. After selecting him as the heir-apparent to Brett Favre, the Packers had Rodgers sit behind the Hall of Famer for three seasons. Despite Favre playing every game, Rodgers did get his opportunities to play. Here is how he fared in his first six games:
15/31 (48.3%), 111 yards, no touchdowns, one interception, 43.9 passer rating
Despite his poor production early, the Packers were very high on Aaron Rodgers' potential. Despite backlash from fans, the team decided to move on from Brett Favre in 2008. In his first season as a starter, Rodgers threw for 4,038 yards, 28 touchdowns, and 13 interceptions. He had a completion percentage of 63.6% and a passer rating of 93.8. The Packers went 6-10 that year.
Related: Comparing Aaron Rodgers' first six games to Jordan Love's
Final Thoughts
It is not wise or fair to compare the situations that Aaron Rodgers and Trey Lance came into in the NFL. Rodgers faced a great deal of hatred from Packers fans due to the immense popularity of Brett Favre. If anything, his situation is more akin to his own backup Jordan Love's.
Related: Jordan Love states "I can't control what is going on
Trey Lance, on the other hand, was drafted to replace Jimmy Garoppolo. While Garoppolo has not been a terrible quarterback, he has been rather underwhelming, especially considering his $27.5 million average annual salary. 2022 is the last year of the five-year contract he signed with the 49ers back in 2018. Football fans may be seeing a lot more of Trey Lance soon, and if James Jones is to be believed, it is going to be quite the show.
For More Great Wisconsin Sports Content
Follow me on Twitter at @theotherRobin19 and follow us @WiSportsHeroics for more great content. To read more of our articles and keep up to date on the latest in Wisconsin sports, click here! Also, check out our merch store for some amazing WSH merchandise!