The Green Bay Packers had a flurry of players leave this off-season.  Whether it was via trade or free agency, the Packers have a whole new squad in 2022.  A few of those players seem to be flourishing in their new homes.  One of them is former Packers Linebacker Za'Darius Smith.  After his strong performance against the Cardinals, he took home NFC Defensive Player of the Week Honors.
Za'Darius Smith Wins NFC Defensive Player Of The Week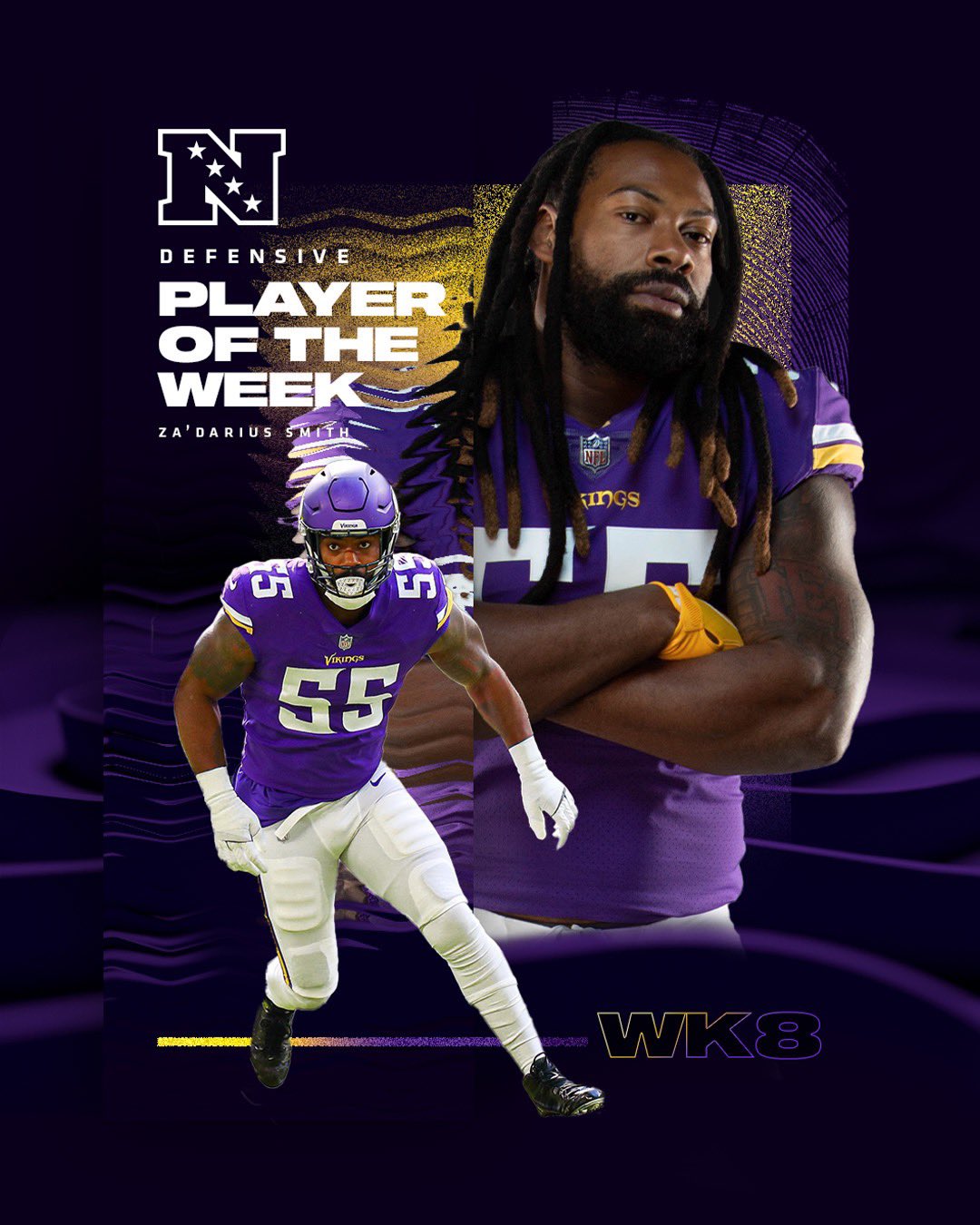 This was his reaction to winning this award:
God Is a Awesome God!! Just a year ago I thought my football career was over!!! Look at how the tables have turned! https://t.co/7sAlTLufsX

— Za'Darius Smith (@zadariussmith) November 2, 2022
Za'Darius Smith finished with 7 total tackles, 3 sacks, 4 tackles for loss, and 1 pass deflection.  Smith became the sixth player this season to make three sacks in one game. The outside linebacker's final sack on Sunday came with Arizona at the Minnesota 37-yard line.  He took down Cardinals QB Kyler Murray for a 7-yard loss with 10 seconds left in the game.
This brought his sack total to 8.5 in 2022 and 53 in his career.  Smith won an NFL weekly award for the third time in his career.  He is the first Minnesota linebacker to win the NFC Defensive Player of the Week Award since Week 1 of the 2016 season. Smith was the AFC Defensive Player of the Week for Week 6 of the 2018 season with the Baltimore Ravens and the NFC Defensive Player of the Week for Week 4 of the 2020 season with the Green Bay Packers.
This has been a fairly rough season for Packers fans and this certainly doesn't help.  The Packers would be benefitting greatly from the production that Za'Darius Smith is putting out so far this year.  Rashan Gary has been a one man wrecking crew this year, but the rest of the pass rush has struggled to stay consistent.  The Packers will see Za'Darius Smith once again on New Years Day in Green Bay.  The Packers will play the Vikings for the New Year at 3:25 CT at Lambeau Field.
For More Wisconsin Sports: