Equanimeous St. Brown was drafted by the Green Bay Packers in the sixth round of the 2018 NFL draft.  He was one of three wide receivers taken in that years' draft.  J'Mon Moore was taken in the fourth round; Marquez Valdes-Scantling was taken in the fifth.  During his four years in Green Bay Equanimeous St. Brown never found his place as a full time starter.
While he showed flashes at times, he never won the competition for s consistent starting role.  He finished his four years in Green Bay with a total of 37 receptions, 543 yards, and one touchdown.   In March the former Green Bay Packers wide receiver signed with the Chicago Bears.  The deal was for one year –  $965,000.  Equanimeous St. Brown had some things to say about Aaron Rodgers recently, full story here.
Equanimeous St. Brown Talks Aaron Rodgers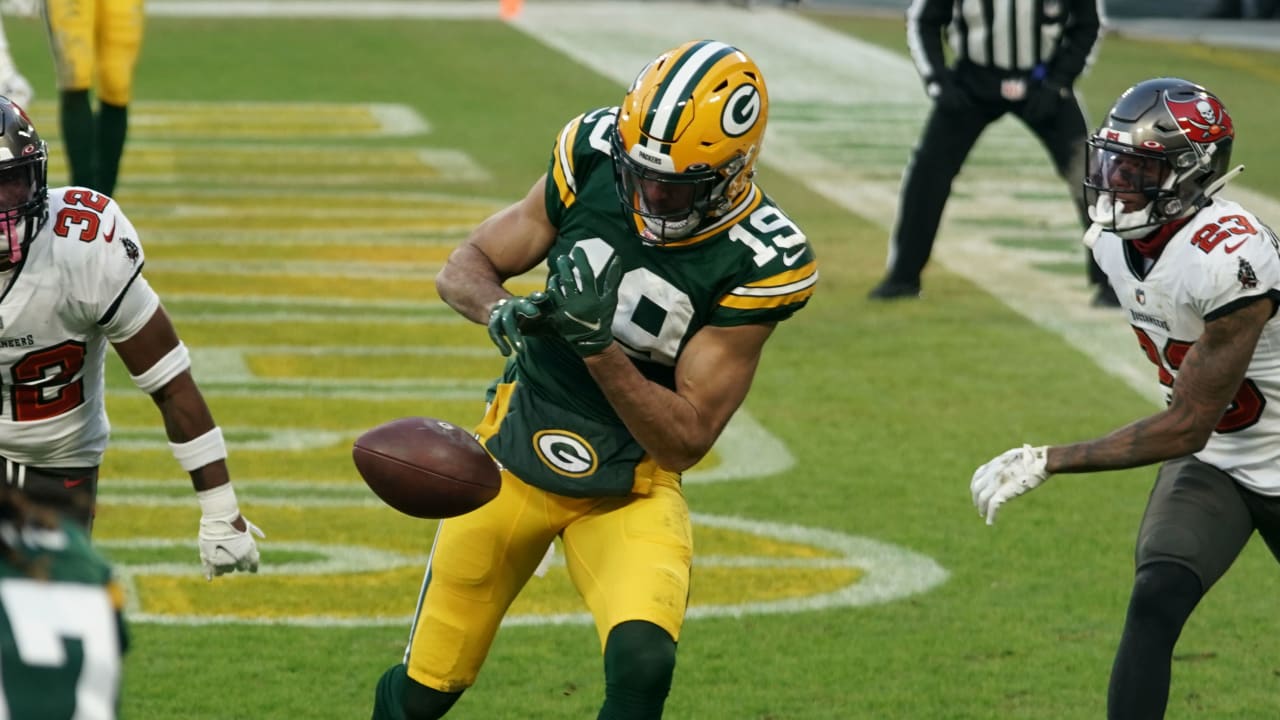 E.Q. St. Brown was one of the five ex-Packers to join the Chicago Bears this off-season.  Clearly there is a Green Bay presence on the field and in that locker room in Chicago.  St. Brown has been pretty vocal about what he feels he has brought from Green Bay into Chicago.  In fact he has stated clearly that he has learned from Aaron Rodgers making mistakes:
"Like I told the receivers, I'm like, 'Sometimes you've got to know all the plays, perfectly, because everybody makes mistakes,' " St. Brown said. "Let's say, if he (Fields) makes a mistake in the huddle, you've got to know what the right play call is.

"I tell them even Aaron has made mistakes in the huddle before. As receivers, we've got to make him right. If we make mistakes, he makes us right. So, it's a team effort and we've got to work with each other."
St. Brown Also Talked About Davante Adams:
"He's been a coach in the receiver room with us (Packer receivers) as well as the other receiver coaches," St. Brown said of Adams. "He's taught me and the other receivers so much. It's hard to talk about it all."

"I mean what he's really good at, a lot of people know he's good at his releases," St. Brown said. "So you chat the coaches up on his releases a lot. All the other receivers in Green Bay try to copy it a lot and try to learn to do what he does."
We are all aware that Aaron Rodgers is not perfect.  No one is.  Additionally, St. Brown was in Green Bay for four full seasons.  It is pretty safe to say he got plenty of one on one time with Aaron Rodgers.  However for him to point out the mistakes that a four time MVP quarterback made, when he couldn't crack WR2 on the depth chart… is interesting.  We will see if Rodgers makes any mistakes against the Bears this year… (unlikely).