The Bucks only have one draft pick this year. Their only pick is late in the first round and in this situation you have to draft the best talent remaining or the player with the highest ceiling. Depending what fan you talk to, journalist you read, or broadcaster you listen to, the Bucks draft need varies. I believe they could add value and depth to their team with a pick at any position.  I know nowadays basketball is supposed to be positionless. But, we still have discussions about the top players at each position. So, here are five players, one at each position, that the Bucks could draft this Thursday.
Kennedy Chandler (Point Guard)
Chandler is shy of six feet tall and around 170 pounds.  One of his biggest criticisms through the draft process has been his size. However, Chandler counters his smaller stature with speed, athleticism (41.5″ vert), and wingspan (6'5″). I could see Chandler running pick and rolls with Giannis and Bobby. But, he will need to improve his jumper percentage off the dribble (24.2%). He shot 38.3% from three and was most effective when catching and shooting. He's great at finding the right opportunity to attack the hoop. However, can he be as efficient with the bigger bodies flying around? If the Bucks draft this pesky defender he will get the time to work on the dribble jumpers and his FT percentage (60.6%). The 19 year old would sit behind Jrue Holiday and get an opportunity to develop his weaknesses.
Blake Wesley (Shooting Guard)
The next prospect is my favorite and he flew under my radar for most of the season. He had a quiet 18 points in the upset of Bama in the Tourney, and had six games where he made 3+ three pointers. His 3% for the season was only 30.3% and his FG% is 40.4%.  He's a streaky shooter, but had 8 games over 20 points; when he's on he can take over. The Bucks need more bench scoring options. He has big playmaker ability, but is raw and will need time to develop. He's listed as a two but can also run point having good vision, ball handling, and passing skills. He was second team All-ACC and is just scratching the surface of his abilities.  At 19 he has time to develop into a starter or star.  Should the Bucks draft Blake, his ceiling is highest of the five players in this article.
E.J. Liddell (Small Forward)
Liddell's body and ability is most ready to come in and contribute immediately. He spent three years at Ohio State, where we saw him improve his game each season.  Liddell can shoot from everywhere, 49% FG%, 37.4% from 3, and 76.5% from the line during his senior season. He is most comfortable from midrange but also has a solid post game. He's going to rebound (8) and block shots (2.5) for you at the next level.  He will be versatile defensively due to his quick feet and size. His ball handling can be sloppy at times and he can get into foul trouble going for blocks. I'd love to see him at the three, backing up Khash, and playing along Giannis.  However, he may spend more time at the 4 with the evolution of today's game. If Liddell slides to 24, and the Bucks want help now, they should draft EJ.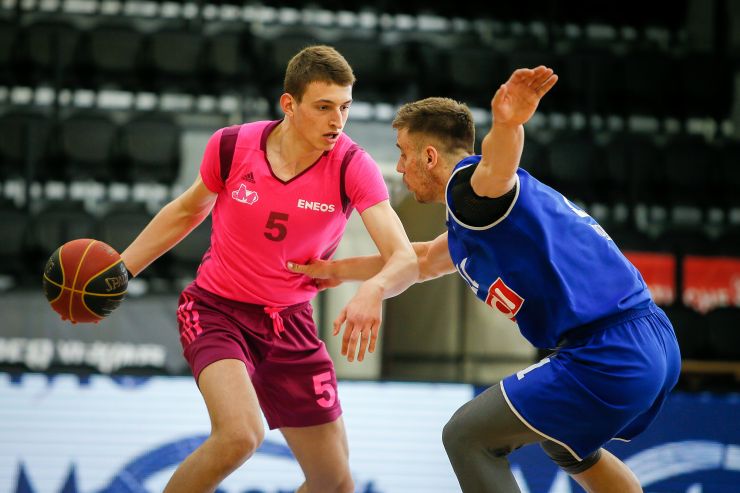 Nikola Jovic (Power Forward)
This is my only foreign player on the Bucks draft board and he might become the top foreign player of the draft. He will be a stretch four, and could help the Bucks with bench points in year one. He's got an arsenal of shots and moves; and can handle the ball in pick and roll situations. Because of his height (6'11") and length (7′ wingspan) it's easy for him to pass to open teammates or shoot over defenders that sag. Although his offensive game is ready to help a team out, he will get exposed defensively. He doesn't have the strength to bang with the bigs. In addition to that, speedy NBA guards will get around him if he switches on D. In conclusion, his offense will continue to grow and he could grow into a number two option. But, there is going to be a learning curve defensively.
Walker Kessler (Center)
First off, if the Bucks draft Kessler he has a chance to become a premiere rim protector at the next level.  He averaged 4.6 blocks per game this past season.  With this ability, he can help out when others make mistakes defensively. He has a great motor and I could see him becoming a fan favorite in Milwaukee. Surprisingly, he has good handles and can finish strong at the rim or use a soft touch.  He's a solid midrange shooter but struggles from 3 (20%). Kessler isn't scared to shoot the three with 1.5 attempts a game. Which could be seen as a positive for the development of an outside shot. Due to his motor, size, and instincts he can provide breathers for Lopez in year one. Lopez isn't getting any younger and it might be time to bring in his replacement. Kessler has a few holes in his game, but has the work ethic to fix them.
Draft Decision
Whoever the Bucks draft this year, it is vital that they get it right. The Bucks will not draft in the first round again until 2028. Amongst this set of players I think Wesley has the potential to become an everyday starter or even reach that All-Star level. Liddell is most NBA ready and will be able to be jump in and help out on Day 1. Chandler and Kessler will be able to work themselves into the rotation and find solid minutes. But, I just don't see either of them progressing beyond that. Jovic is the biggest risk, as many foreign players are, but with his great attitude, offensive upside, and youth he just might be worth the risk.
Stats and Scouting reports from www.nbadraftroom.com and www.nbascoutinglive.com were referenced.
For More Great Wisconsin Sports Content
Follow me on Twitter at @BernieBango and follow us @WiSportsHeroics for more great content. To read more of our articles and keep up to date on the latest in Wisconsin sports, click here! Also, check out our merch store for some amazing WSH merchandise!