In the famous words of former Brewers outfielder Trent Grisham, "Winning is fun." The current Milwaukee Brewers are not have much fun right now as they have now lost eight games in a row. As if losing games wasn't bad enough, the Brewers have also found out Brandon Woodruff has a condition that is keeping his sprained ankle from healing. Additionally, Kolten Wong was added to the 10-day IL with a right calf strain. When it rains, it pours, and it is STORMING for Brewers fans. With so much negativity surrounding the team on social media and in the news, here are eight things (one for each game of the losing streak) that can provide some light in the darkness.
#1- Christian Yelich Has Been a Great Leadoff Hitter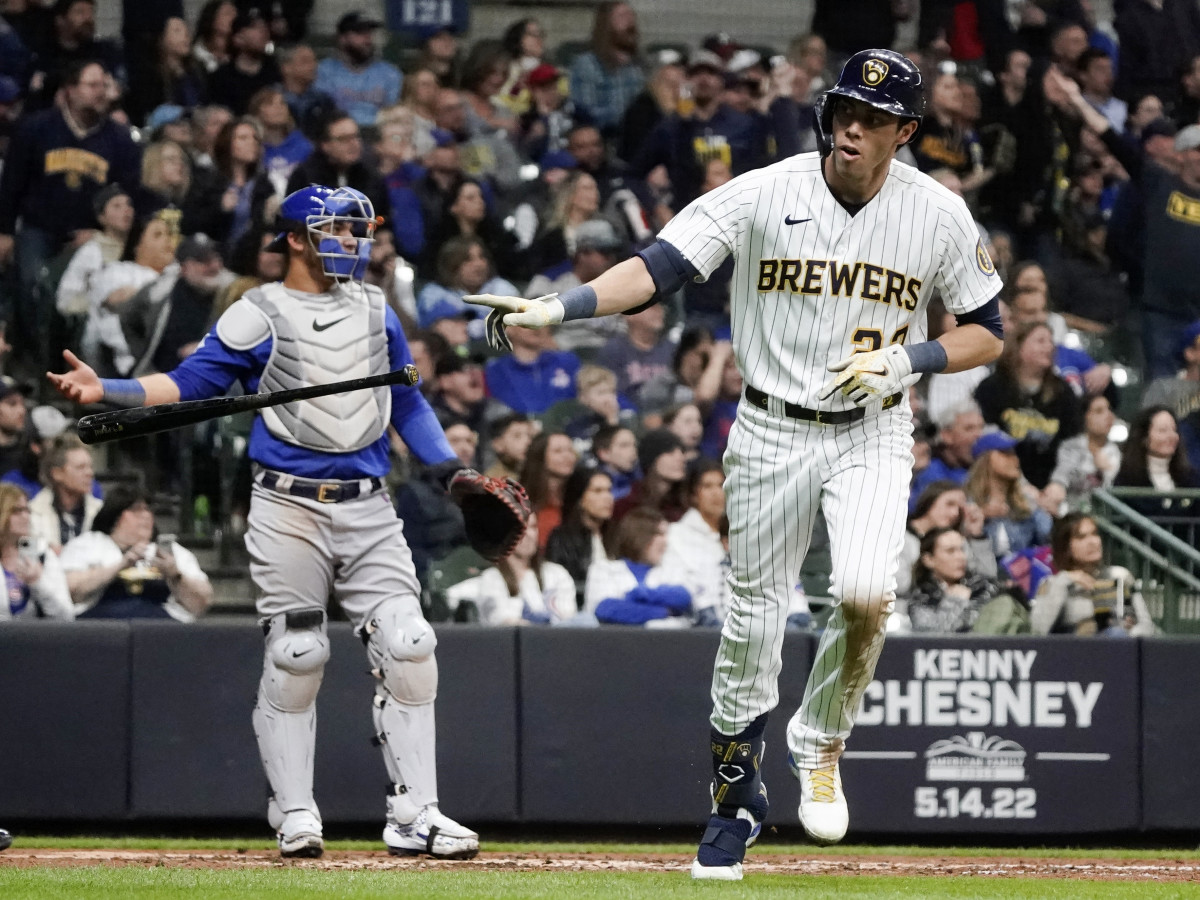 The struggles Christian Yelich has had since breaking his kneecap in 2019 are very well documented. It seems that no matter where Craig Counsell puts him in the lineup, he continues to struggle. With Kolten Wong ailing and struggling, Counsell decided to insert Yelich into the leadoff spot on June 8th.
Career hit # 1,258

Christian Yelich has hit a home run! And one off a lefty!

Yeli leads off today's game with a solo home run to center field. This is the 6th home run for Yelich this season and 166th of his career. #ThisIsMyCrew pic.twitter.com/mw33LuPphX

— Christian Yelich Hits Tracker (@YelichHits) June 11, 2022
The results have been fantastic. In three games as the Brewers leadoff hitter, Christian Yelich is hitting .385. He also ended a long home run drought with a leadoff home run in the team's most recent loss to the Nationals. While we may never get 2018-19 Yelich back, it has been nice to see him having some personal success.
#2- Andrew McCutchen Is Out of His Slump
Earlier this month, designated hitter Andrew McCutchen was mired in a miserable 1-40 slump. Despite the Brewers recent losing streak, though, he has come back to life at the plate. In his last five games, McCutchen is hitting .473 with four RBI.
It is a small sample size, but Cutch is heating up. When the Brewers finally start winning again, and they will, it will be vital that his bat remains so.
#3- Mark Mathias Hit His First Major League Home Run
Everyone loves a feel-good story. Mark Mathias made his Major League debut with the Milwaukee Brewers in 2020. In that shortened season, Mathias provided some needed late-season depth and exciting moments. In 16 games, he hit .278/.278/.361 with four RBI.
After missing all of 2021 with a shoulder injury, Mathias has already been called up by the Brewers twice. In the meantime, he has hit .325/.427/.526 with five home runs and 16 RBI with Triple-A Nashville. On Saturday night, after rejoining the Brewers earlier in the day, he hit his first Major League home run.
Get that ball!

That's Mathias' first Big League homer.@markmathias_12 | #ThisIsMyCrew pic.twitter.com/jHonqLzlHp

— Milwaukee Brewers (@Brewers) June 11, 2022
The Brewers did get that ball for Mark Mathias, by the way. The fan who caught it exchanged it for an autographed Christian Yelich bat.
#4- Devin Williams Is Back to Form
A great deal of the negativity surrounding the Brewers right now centers around their pitching. Indeed, the pitching has been pretty terrible for over a week. Devin Williams, though, has returned to the form that helped him win National League Reliever of the Year and Rookie of the Year in 2020.
Number of barrels against Devin Williams this year: 0
Maybe you can see why. https://t.co/55CujmTyMH

— Codify (@CodifyBaseball) June 10, 2022
Over his last 11 appearances, Williams has allowed exactly zero runs. During that span, Williams has struck out 19 batters in 11 innings while allowing seven base runners.
#5- Jason Alexander Has Been a Pleasant Surprise
The Milwaukee Brewers have a plethora of excellent pitching prospects. Ethan Small made his Major League debut earlier this season, and there are other high-profile pitchers waiting in the wings. Jason Alexander was a surprise call-up by the Brewers earlier in the month, but he has arguably been the best one.
Jason Alexander makes his home debut for the @Brewers tonight.

He talked with @SophiaMinnaert about his stellar first outing. #ThisIsMyCrew pic.twitter.com/RhkiHgkIjI

— Bally Sports Wisconsin (@BallySportWI) June 7, 2022
In two starts with the Brewers, Jason Alexander is 0-0 with a 2.25 ERA. He has given up 14 hits and five walks in those two starts, but has been able to limit the damage by inducing plenty of ground balls. With Brandon Woodruff and Freddy Peralta out for a while, Alexander has provided some much needed quality starting pitching.
#6- Omar Narvaez Is Back
On top of the flurry of injuries that have plagued the Milwaukee Brewers this season, the team was without catcher Omar Narvaez for over a week due to COVID-19. Last season, Narvaez was an All-Star and his absence from the lineup was sorely felt.
Omar Narváez is back and in the lineup tonight as the Brewers seek to snap their six-game losing streak at the Nationals: pic.twitter.com/XzZXNgapSK

— Todd Rosiak (@Todd_Rosiak) June 10, 2022
Omar Narvaez returned to the Brewers' lineup on Friday, June 10 and went 1-3. While it seems rather ho-hum, it needs to be noted that Narvaez has been one of the Brewers most consistent hitters all season. So far in 2022, Narvaez is slashing .275/.368/.413 with two home runs and 10 RBI. He is also on a six-game hitting streak and his hitting .454 over that span.
#7- The Rest of the National League Central Has Struggled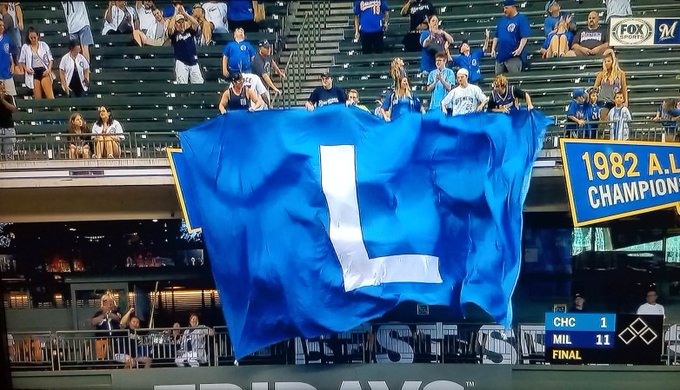 Despite being on a long losing streak, the Milwaukee Brewers did not fall out of first place until Friday. St. Louis now sits atop the division with a 1.5 game lead over the Brewers. This is certainly not an insurmountable hole. Meanwhile, the rest of the NL Central has been on losing streaks as well:
Pittsburgh Pirates- five game losing streak
Chicago Cubs- five game losing streak
Cincinnati Reds- four game losing streak
Of course, the Brewers' losing streak is worse, but they are far from out of the division race. It is, after all, a long season. They still have 101 games left to play.
#8- A Healthy Brewers Team Is a Force to Be Reckoned With
If it seems as if the Brewers just haven't been healthy at all this season, it's because they haven't. Luis Urias missed the first month of season. Hunter Renfroe missed time. Andrew McCutchen had COVID. Kolten Wong is head to the IL. Willy Adames just returned from an IL stint.
Locked on Brewers host Dominic Cotroneo made a very astute observation regarding the five players listed above. Milwaukee has only played four games in which all of them were healthy. Their record? 4-0.\
THREAD🧵 (1/4)
The #Brewers have had Willy Adames, Andrew McCutchen, Hunter Renfroe, Luis Urías, & Kolten Wong all on the active roster at the same time for exactly …

Four games. May 3rd-6th. They went 4-0 in those games.

— Dominic Cotroneo (@Dom_Cotroneo) June 11, 2022
It's a long season, Brewers fans. As several people have pointed out on social media, the Brewers' 2011 and 2018 each had long seven-game losing streaks. They also won their division and went to the NLCS in each of those seasons. It is difficult to watch right now, but it will get better.
For More Great Wisconsin Sports Content
Follow me on Twitter at @theotherRobin19 and follow us @WiSportsHeroics for more great content. To read more of our articles and keep up to date on the latest in Wisconsin sports, click here! Also, check out our merch store for some amazing WSH merchandise!