The mountain continues to get steeper and steeper for Deshaun Watson to play in the NFL in 2022 (or ever).  Yesterday The New York Times reported Tuesday Watson booked a number of massage appointments during the time in question.  At least 66 different women over 17 months, from fall 2019 through spring 2021.  Now 24 of those women have filed civil lawsuits against him claiming sexual misconduct assault occurred.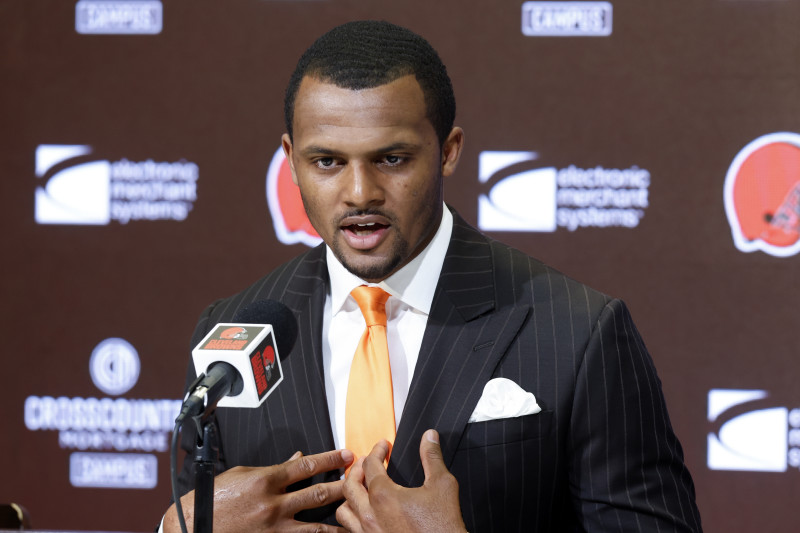 In March of 2022:
Back in March 2022 a grand jury found that Deshaun Watson will not face chargers on nine criminal charges against him.  His lawyer released this statement following the verdict:
"We are delighted that the grand jury has looked at the matter thoroughly and reached the same conclusion we did. Deshaun Watson did not commit any crimes and is not guilty of any offenses.

"Now that the criminal investigations have been completed, we are happy to move forward with the civil case depositions. We will vigorously defend those cases with every ounce we have.
On June 6th, a 24th lawsuit was filed in courts against Deshaun Watson. The newest lawsuit is very detailed and disturbing, as many of them have been.  WARNING, below are extremely graphic details:
Graphic Details:
Watson reached out to Plaintiff a few days later to schedule a second massage. Plaintif agreed. The second massage session took place on August 9, 2020 at Plaintiff's apartment, at around 3:00 pm or 4:00 pm in the afteroon. At the beginning of the session, Watson did not want to use the draping that is typically used in a massage. Instead, he requested a small towel. Watson also insisted on starting the massage with him lying face up. Watson reminded Plaintiff he only wanted her to focus on his upper body and abdomen. He then demanded that she work on his inner thighs and quadriceps. During the massage, Watson's tone became aggressive as he repeatedly demanded that she go higher and higher into his inner thighs, causing her hand to touch his scrotum. As the massage continued, Watson made piercing eye contact with Plaintiff'. At this point, Plaintiff became very uncomfortable with the situation. She was also scared, because Watson was in her apartment, and he was much bigger and stronger than the Plaintiff: She also did not want to upset Watson for fear of retaliation against her small business. 

As Plaintiff  attempted to focus on getting the massage completed, at some point, Watson got causing the towel to fall off: By this point, Watson, was now completely exposed. Watson then started. Plaintiff immediately stopped the massage. Apparently responding to look of shock on Plaintiff's face. Watson said to Plaintiff, "Relax. It is okay to touch it." Plaintiff refused Watson's entreaties. Watson then stood up and continued more aggressively. As he did so, Watson asked the Plaintiff' "Where do you want me to put it?" Plaintiff by this point was in complete shock and could not speak. She froze. Watson quickly; some of his stuff got on Plaintiff's chest and face. Plaintiff' immediately left the room, and ran into the bathroom to clean Watson's stuff off' of her. Watson offered no apology or explanation for his conduct. He instead got dressed, paid Plaintiff $150 via Cash App and left. Plaintiff was left humiliated and traumatized shortly after the massage, Plaintiff called her close friend to tell her what happened. They both were mortified by Watson's conduct. There were no further massage sessions. She shortly thereafter quit massage therapy.
The storyline fits many of the past lawsuits.  With each passing day, the odds of Deshaun Watson playing this year in the NFL drop from slim to none. The NFL and Roger Goodell is extremely unlikely to allow Watson to play while these investigations are going on.  
Follow me on Twitter at @mcquadewarnold and follow us @WiSportsHeroics for more great content. To read more of our articles and keep up to date on the latest in the NFL, click here!