Josh Hader has been the Brewers' most dominant bullpen arm for the last half-decade. He's been a key contributor to Milwaukee's ascendence to the top of the National League. As he approaches his final year of club control in 2023, is it time for the Brewers to trade Hader?
Why Would the Brewers Trade Josh Hader?
You might be thinking, "this dude is crazy. Why would we trade one of the best closers in all of baseball?" Well, it's a complex situation, and both routes the Brewers can take are full of risk.
The reason the idea of trading Josh Hader exists is that he is an incredibly valuable asset in the baseball world. How many dominant left-handed pitchers can consistently shut down opposing lineups with the game on the line? Of the few that are possibly out there, how many are still under club control? Very few.
As a result of Hader being a superstar closer and not being an unrestricted free agent until 2024, the Brewers could trade him this offseason for some big prospects. While there is a ton of risk in trading your superstar away for unproven prospects, there's also a risk in signing a relief pitcher to a deal that takes up ten percent of your payroll.
Hader will likely begin earning upwards of ten million dollars this offseason, and that number will increase even more the next. As we learned from Christian Yelich's contract, there's a ton of risk when dealing with contracts that large. Rather than letting him walk and getting a draft pick in return, why not capitalize on his trade value now?
What is Hader's Trade Value?
The value of superstar players has fluctuated in recent seasons. We've seen teams receive massive hauls for All-Star pitchers in recent seasons, but we've also seen teams get next to nothing in return. For example, the Brewers got Josh Hader in a deal that also got them Adrian Houser, Domingo Santana, and Brett Phillips. All that value in exchange for an aging Carlos Gomez and an inconsistent Mike Fiers.
Last offseason, Hader trade rumors were flying like crazy. Teams like the Padres and Dodgers were spending like crazy to get one leg up on each other. It's too early in the offseason to predict how big each team will be spending; but after falling short of World Series aspirations, teams like the Dodgers, Padres, Red Sox, and Yankees will likely all be open to deals that improve their bullpen.
With the number of teams interested, and the ability David Stearns has at making trades, Hader's value will be high. The Brewers won't just give away Hader; it'll likely take multiple Top 50 MLB prospects and a couple of lower-end prospects for a deal to get done. While that might seem like a lot of a closing pitcher, teams are willing to spend big when they can get a dominant closer like Hader for multiple seasons.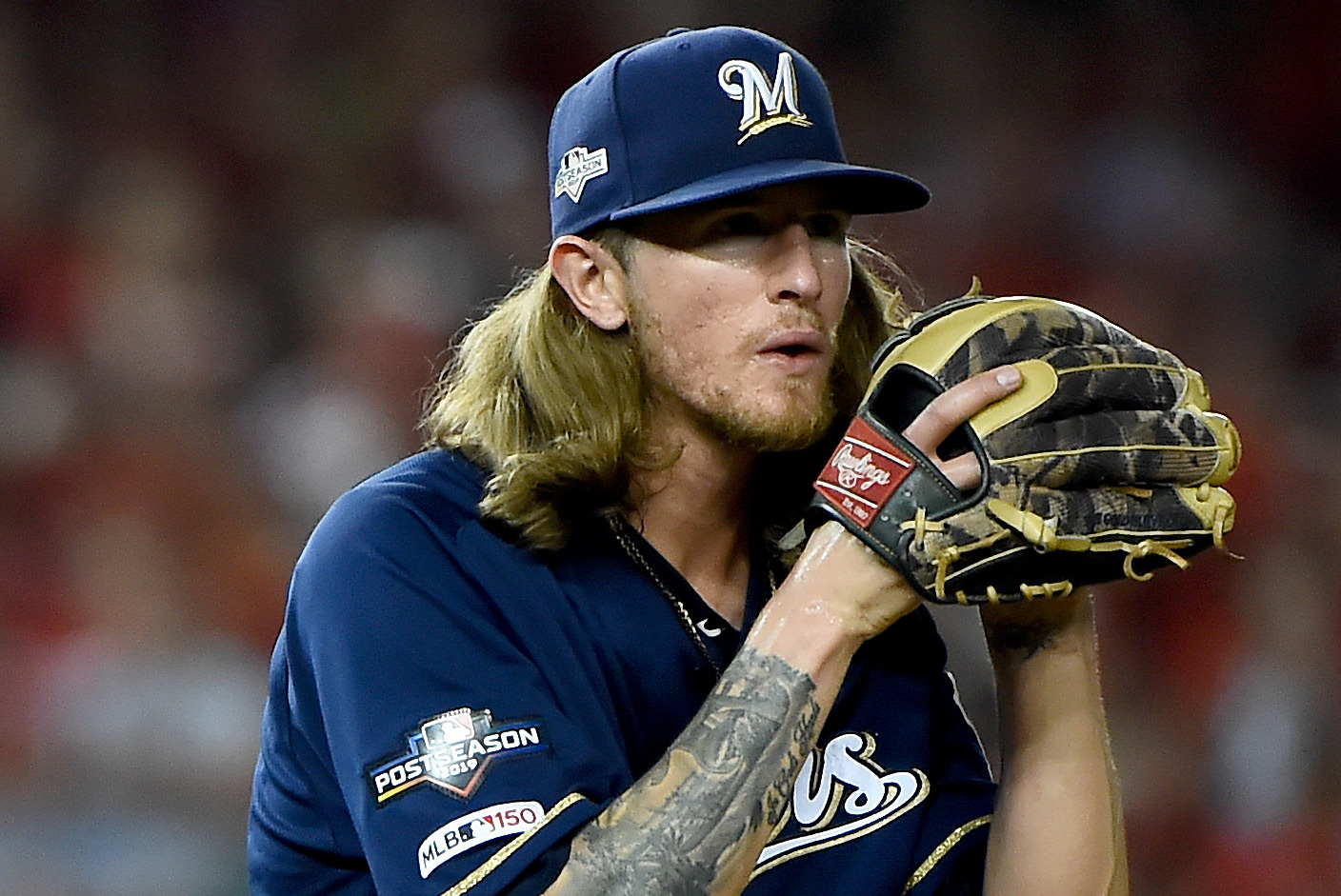 What Teams Are Interested in Hader?
Just like last season, there are going to be dozens of teams calling about Hader's availability this winter. The list of teams interested in him will likely be dominated by big market teams who can afford to give him a big extension. However, there is a chance that some smaller market teams could make a run at Hader for a playoff push next season. Let's talk through some teams that could be interested and what they have to offer.
Los Angeles Dodgers
The Dodgers seemingly have infinite money and prospects. Even after trading away multiple top prospects for Max Scherzer and Trea Turner at the deadline, they still have one of the strongest farm systems in baseball. As one of Milwaukee's biggest playoff rivals over the last four seasons, it's unlikely the Brewers would trade Hader to LA. There are very few trade packages that the Dodgers could offer that would entice Stearns enough to give baseball's superteam another superstar. Here's a potential deal that would be good enough for Hader:
Brewers Get:
Diego Cartaya, Catcher, Class-A (Dodgers #1 Prospect, #28 Overall)
Edwin Rios, 1B/3B, MLB (Former Top 10 Dodgers Prospect)
PTBNL (Player to be Named Later)
Dodgers Get:
San Francisco Giants
The Giants surprised everyone this season by dominating the MLB and winning the National League West. After investing in aging starters and trading for a superstar in Kris Bryant at the deadline, the Giants were able to overcome the LA superteam across town. Going into 2022, they are losing Hall of Fame Catcher Buster Posey to retirement and will be losing a handful of players to free agency. If they do decide to re-sign those players, they'll have limited money left to bolster their bullpen. With aging starters, their window for winning is small, so it makes sense to trade for a superstar close with two years of club control left to help boost your chances during that window. Here's a deal that could get Hader to San Francisco:
Brewers Get:
Patrick Bailey, C, Class-A (Giants #8 Prospect)
Kyle Harrison, LHP, Class-A (Giants #5 Prospect, #99 Overall)
PTBNL
Giants Get:
Seattle Mariners
Another team that exceeded all expectations was the Seattle Mariners. They were competitive until the very end of the season and plan on being big spenders this offseason. One way Seattle could fill a big hole is to trade for Josh Hader. It seems as though their pieces in the bigs are developing well enough where they can confidently trade away some key prospects for big pieces. Considering their untouchables like Julio Rodriguez and Jarred Kelenic, here's a trade that could work between these two teams:
Brewers Get:
Emerson Hancock, RHP, Double-A (Mariners #4 Prospect, #34 Overall)
Harry Ford, C, Rookie Ball (Mariners #5 Prospect, #98 Overall)
Mariners Get:
Boston Red Sox
The Boston Red Sox made an unlikely playoff push this season even after losing star pitcher Chris Sale for nearly the entire season. After coming so close to making the World Series, Boston is likely going to make that final push towards becoming a respected contender in the American League once again. After dealing with some big question marks in their bullpen this season, one way they could bolster the bullpen would be to trade for Josh Hader. Here's a deal that could bring young power bats to Milwaukee and a dominant closer to Boston:
Brewers Get:
Triston Casas, 1B, Triple-A (Red Sox #2 Prospect, #18 Overall)
Blaze Jordan, 3B, Class-A (Red Sox #9 Prospect)
Red Sox Get:
Oakland Athletics
The Oakland Athletics are not really known for trading away prospects for stars. Usually, they're the ones trading away homegrown stars for prospects. Oakland seems to be moving towards a rebuild, but that doesn't mean they wouldn't be open to a player like Josh Hader if he came with some nice prospects. In this potential trade, the A's can dump salary as they planned on doing, while also receiving prospects and a huge trade asset in Josh Hader.
Brewers Get:
Matt Olson, 1B, MLB
Frankie Montas, RHP, MLB
Athletics Get:
Josh Hader, CP, MLB
Tyler Black, 2B, Class-A (Brewers #7 Prospect)
Tristen Lutz, OF, Double-A (Brewers #28 Prospect)
PTBNL
Trust in David Stearns
Brewers fans shouldn't be too worried about Josh Hader being traded anytime soon. As perennial contenders, the Brewers are better off retaining Hader for at least another season. However, if the Brewers do decide to trade Hader while his value is highest, Brewers fans should trust David Stearns. In his time with the Brewers, nearly all of his trades have benefitted the Crew long term. For now, rest easy knowing that the Brewers still have one of the most dominant closers in all of baseball.
For More Great Content:
Follow me on Twitter at @BJarumbo and follow @WiSportsHeroics as well for more great Wisconsin sports content! To keep up to date on the latest in Wisconsin Sports, click here!