The year is 2023 and Green Bay Packers quarterback Aaron Rodgers has just turned 40 years old. After throwing for another 35 touchdowns in the previous three seasons, Rodgers has thrown 505 touchdowns in this what-if scenario, but could the future Hall of Famer actually throw 600 touchdown passes?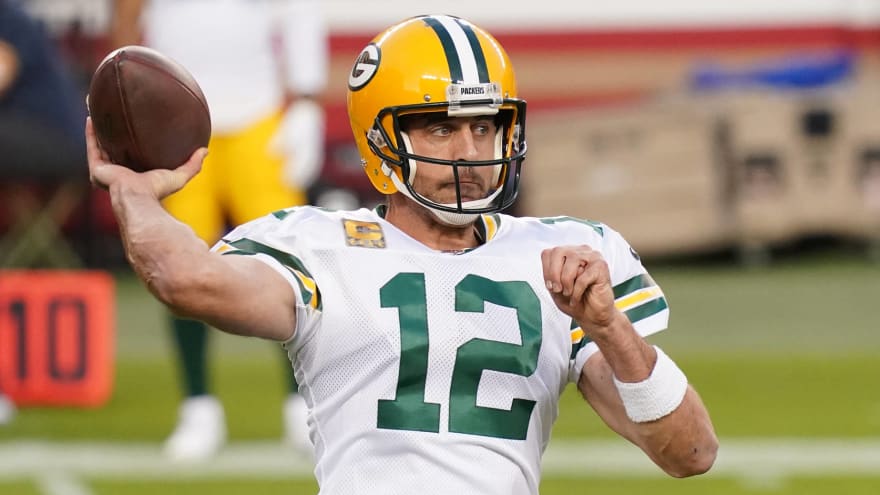 Hey, as long as we're entertaining the idea. then why not?
Could Aaron Rodgers Throw 600 Touchdown Passes?
Rodgers has proven to be one of the best — if not THE best — pure throwers of the football the NFL has ever seen. On Nov. 6, 2020, against the Philadelphia Eagles, Rodgers' third touchdown pass of the game to Davante Adams made history becoming the seventh player in league history to accomplish the 400 passing touchdowns feat.
Rodgers is also the fastest player to reach this milestone, doing so in just 193 games.
With four games remaining in the 2020 NFL season, Rodgers sits at 400 on the spot. If Rodgers were to keep up his current pace of 35 touchdowns a season, then it would take roughly six seasons to throw 600.
In our proposal to start this story, we're giving Rodgers another 105 touchdowns in the next three seasons.  This sounds extreme but with Rodgers having the most seasons of 35+ touchdowns (five seasons), it's not entirely impossible.
Comparing Rodgers to Other Greats
If we take a look at Rodgers' peers such as Drew Brees and Tom Brady, they're constantly battling for the lead with 565 and 569 touchdown passes, respectively.
However, both Brees and Brady have had sustained success in their forties while staying mostly healthy. In 2020, Brees has thrown 18 (while also serving time on the IR) and Brady has thrown 28 this season.
Although it's currently unknown how much longer both Brees and Brady will continue to play, the fact that Rodgers at 37 is only currently 169 touchdown passes from at least matching Brady and Brees gives him an opportunity to get there. Throw in the fact that Rodgers is six years younger than both of them, and the possibility is certainly real.
Davante Adams and Aaron Rodgers
Rodgers has sustained longevity of success due to an excellent wide receiving corp he's had. From Greg Jennings to Jordy Nelson to Adams, Rodgers has had reliable receivers to help him reach his milestones.
The Rodgers-Adams connection is special as the duo has become one of the deadliest pairs in recent memory.
[My teammates] didn't say a whole lot during the week, but it's always interesting to see who gets the milestone throw," Rodgers said, according to ESPN's Rob Demovsky. "Pretty cool that Davante got it. I didn't do a whole lot on that play. It was a really good schemed play. He did the whole thing, stiff-armed his way into the end zone. But yeah, it was fun to have those milestones back-to-back weeks. Like I said last week, a lot of it is longevity, but there also is some consistent play tied to it."
Rodgers said the next milestone he has in sight is throwing 500 touchdown passes before throwing 100 interceptions — currently at 88.
Adams' career play has been an extremely high value for Rodgers since coming into the league in 2014. If Rodgers is going to reach 500 and 600 milestones, then Adams will be a huge factor in reaching them.
"It's something special to be a part of that because I caught I believe his 200th, that was my first touchdown, so I got to keep that ball, he let me keep that one," Adams said. "To be able to get 400, man, it's awesome. It's a lot of touchdowns to throw. It's cool for me, but I think he wins in the coolness department on that."
For More Great Wisconsin Sports Content
Follow me on Twitter at @WritingDavid and follow us at @WiscoHeroics1 for more great content! To read more of our articles and keep up to date on the latest in Wisconsin Sports, click here.