Last season, Corbin Burnes returned from a very rocky 2019 season.  After going 7-0 in his rookie season in 2018, the right-hander struggled in 2019.  Burnes was 1-5 with a 8.82 ERA and ended up all the way down in Double-A in order to get things right.  Last season, he rebounded going 4-1 with a miniscule 2.11 ERA.  He finished seventh in the Cy Young vote, and may have been higher had he not missed his final starts due to injury.  This season, Burnes has picked up where he left off, and is making history while doing so.
Corbin Burnes Takes a No-Hitter to the Seventh Against the Twins
In his very first start of the season, Corbin Burnes took a no-hit bid to the seventh inning against the Twins.  Unfortunately, he did not get any run support, and took the loss after giving up a lone hit: a solo home run.
Burnes exited the game in seventh with 11 strikeouts and just the one run.  Jose Berrios, though, also took a no-hit bid deep into the game against the Brewers.  Omar Narvaez broke up the no-hitter against the Twins' bullpen, but the Brewers failed to muster any other offense.
Both José Berríos and Corbin Burnes had at least 11 strikeouts and no hits allowed through 6 innings.

According to @EliasSports this is the 1st game in modern MLB history (since 1900) where both starters had at least 11 strikeouts and no hits allowed through 6 IP. pic.twitter.com/V8SUWE62A7

— ESPN Stats & Info (@ESPNStatsInfo) April 4, 2021
What was historic about the game was that it was the first time in baseball's modern era that two pitchers took no-hitters into the seventh inning in the same game while both recording at least 11 strikeouts.  Berrios ended up with 12, and Burnes had 11.
Corbin Burnes Against the Cardinals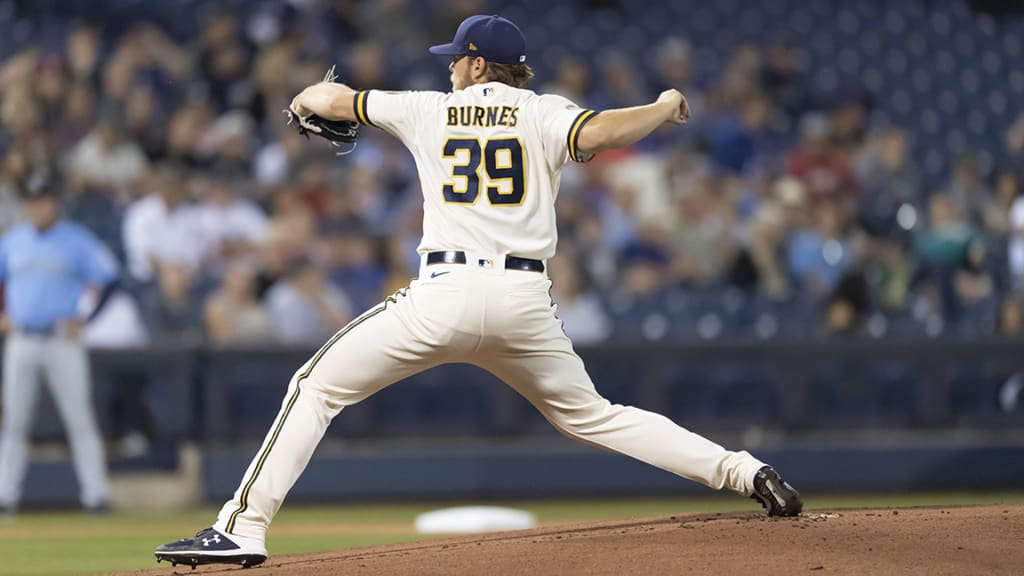 In his most recent start, yesterday against the Cardinals, Burnes showed that his first start was no fluke.  After he allowed a triple to lead off the bottom of the first, Burnes shut the Cardinals down.  He struck out the next hitter, then induced a popup, then a fly ball to end the inning.
Burnes went on to mow down the Cardinals hitters, striking out nine total batters and allowing no walks.  He even managed to notch a hit of his own at the plate.  However, the Brewers mustered just one run and the bullpen blew the lead after Burnes was relieved.
What was so historic about this performance?  Take a look at this:
Pitchers to have CONSECUTIVE outings of 6+ IP, 0 BB and no more than 1 H allowed

Corbin Burnes (2021)*
Hal Brown (1963)
Cy Young (1904)

*First two outings of the season.

— Jason Catania (@JayCat11) April 8, 2021
Burnes has done something that had only been done twice before.  Hal Brown was a knuckleballer who had a very successful career in the 60s.  Cy Young needs no introduction, as the award for the best pitcher in each league is named after him.
[pickup_prop id="6161″]
The Brewers' Offense Needs to Get Going
The Milwaukee Brewers' offense ranks among the worst in baseball.  It is still early, but the fact that Corbin Burnes is 0-1 after his historic start to the season is an embarrassment.  What Burnes is doing is nearly unparalleled and he has the stuff to be a 20-game winner in this league.  However, he will not get there unless the bats wake up.
The offense struggled all last season, which begs the question if last season was not a one-time struggle.  Keston Hiura especially needs to snap out of his slump as the Brewers rely on him for his offense.  Hiura is not the only one struggling as the Brewers have struggled mightily to get runs across the plate.  They need to figure it out soon, or Corbin Burnes and his legacy may suffer.
For More Great Wisconsin Sports Content
Follow me on Twitter at @theotherAdams14 and follow us @WiSportsHeroics for more great content. Check out our merch page here and use promo code Wisco at check out for $1 off! To read more of our articles and keep up to date on the latest in Wisconsin sports, click here!
Corbin Burnes Booking Agent
Contact Information
Call Mayfield Sports Marketing at 262-366-8188 to schedule Corbin Burnes for your corporate appearance or product promotion.  Our booking agents will work on your behalf to get you the best price for your desired sports speaker.
Mayfield Sports Marketing has earned a reputation of being the one to call for booking top athletes to speak at events and trade shows. To learn more about Corbin Burnes appearance cost and booking fee, please call us today. www.MayfieldSports.com.