The Wisconsin Badgers have had flashes of brilliance throughout the season.  Unfortunately, they have also struggled at times, too.  Their inconsistent play, especially against ranked opponents, showed again last night as they dropped their second game in a row.
Cold Shooting Kills Comeback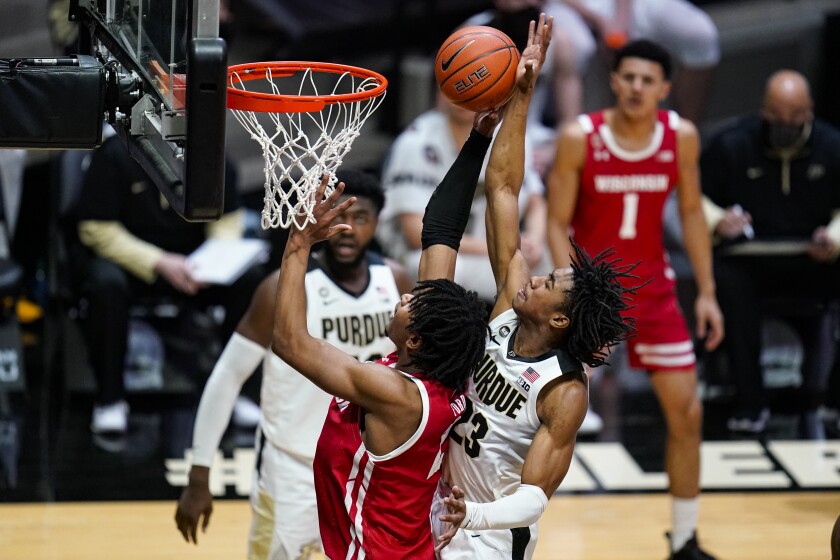 Despite the Badgers' struggles, they were never out of the game.  However, they were unable to get over the hump due to poor shooting across the board.  D'Mitrik Trice, the Senior guard, whose late-game shooting against Illinois nearly led the Badgers to victory, was just 2/10 from the floor.  This included just 2/8 from three.  As a whole, the Badgers shot just 24/1% from three.
The Badgers were led in scoring by senior Brad Davison.  Davison scored 15 points, but also did not shoot very well.  He was just 4/12 from the field, including 3/8 from three.  Additionally, he was just 4/6 from the line.
Big Performances for Purdue
Purdue was led by Freshman center Zach Edey.  The 7 foot 4 phenom scored 21 points off the bench on 8/11 shooting.  He was also 5/7 from the line.  The much undersized Badgers just had no answer for him down low.  As a freshman, Edey is just going to get better.  The Badgers are looking at having issues with him for the foreseeable future.  In fact, the rest of the Big Ten might have trouble with him for a while.
Freshman guard Jaden Ivey led the Purdue starters with 18 points.  Ivey shot just 4/9 from the floor, but was 9/10 from the free throw line.  With such a young core in Ivey and Edey, Purdue certainly seems to be ascending in the Big Ten.  Meanwhile, the Badgers, led by seniors, seem to be on the decline.
Wisconsin Cannot Beat Good Teams
With the loss against Purdue, Wisconsin continues to struggled against the better opponents in the Big Ten.
Wisconsin is 0-7 against the 1st through 5th place teams in the Big Ten and 10-2 against the 7th through 14th place teams

6th place is exactly where they belong#Badgers

— Scary Alvarez (@barryisthedon) March 3, 2021
With tournament play quickly approaching, the Badgers must figure out a way to hang with better teams or their dance will end very swiftly.
For More Great Wisconsin Sports Content
Follow me on Twitter at @theotherAdams14 and follow us @WiscoHeroics1for more great content. To read more of our articles and keep up to date on the latest in Wisconsin sports, click here!