The 2020 season is coming to a close and to fans and some players, it's probably going to be the biggest sigh of relief. It's been a wacky one, and some teams have been using this as an excuse for their poor performance, but other teams have been thriving through the shortened season. 
Christian Yelich's name has been thrown around all season, and not for good reasons. His name was one you didn't expect to be in the conversation of players that are in a hard-hitting slump. His numbers are nothing short of a disaster in comparison to how he's performed in previous seasons. Coming off back-to-back batting titles, the 2020 Christian Yelich has not proved to be a batting champion.
What's Going On?
It has been said everywhere by many, Christian Yelich is just not himself. He's hitting a slash line of .209/.335/.448 with 10 home runs, but 62 strikeouts. Yelich has the third-most strikeouts in the National League with Javy Baez at second and Keston Hiura at number one with 66. 
Those who have struck out the most in MLB this season: 1. Miguel Sano, Min, 71. 2. Keston Hiura, Mil, 65. 3. (tie) Christian Yelich, Mil and Javier Baez, Cubs, 62. 5. (tie) Joey Gallo, Tex and Evan White, Sea, 61.

— Tom (@Haudricourt) September 15, 2020
At the beginning of the 2020 season, Yelich went 1-for-27 in the season-opening road trip. Up until the 12th of September, he had reached base in 29 consecutive games; a tie for the tenth longest streak in Brewers history. Now, it's almost an eye sore to watch Christian Yelich at the plate when fans are all aware of his capabilities.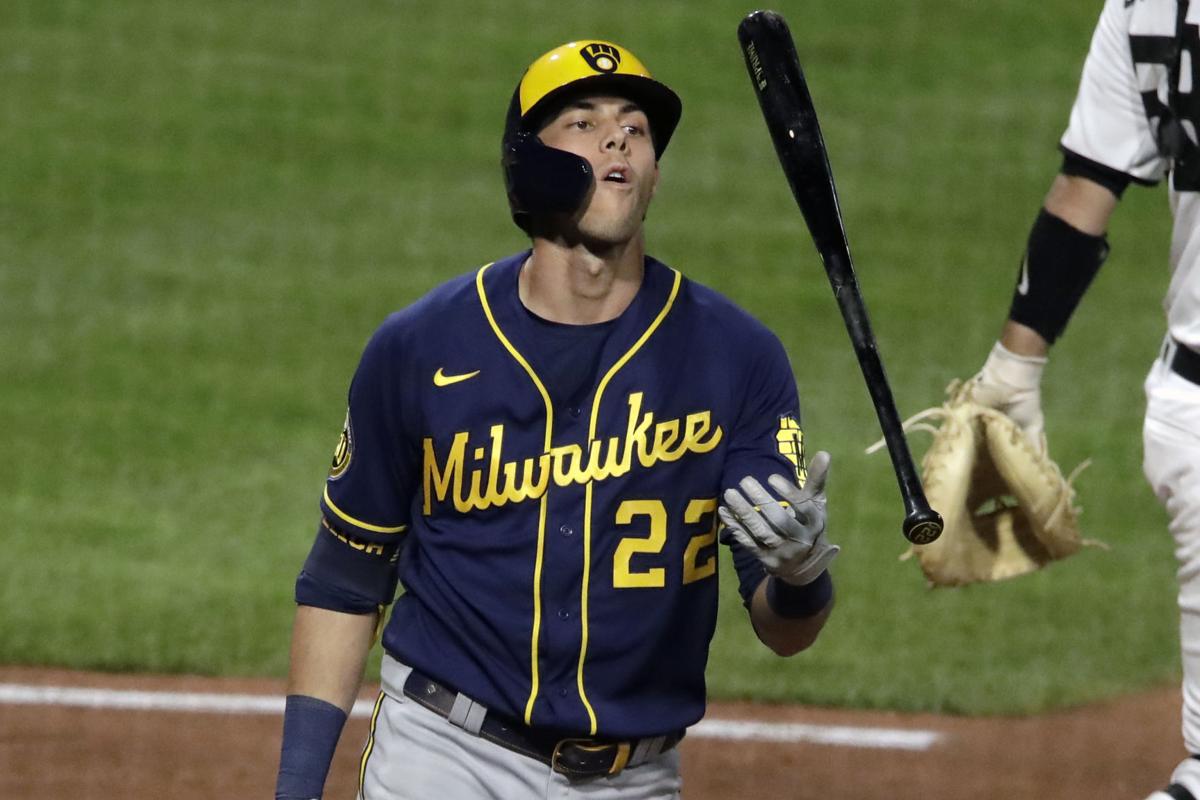 Yelich's season has been up and down. Just watching his at-bats, and you can tell something is up with him. He's allowing himself to take pitches that he would dominate and swinging at pitches he would normally take. His entire approach at the plate is different and his frustration shows. Usually, fans can hear some curse words being shouted once he strikes out.
Offensive Struggles
Christian Yelich is a vital part of the Brewers' success. There have been times where Yelich carried the team on his back as they struggled. But, with him struggling, the team is struggling as well. When he's not himself, it's not going to help the overall performance of the Crew.
The offense has been so inconsistent this year. Many players that dominated last season started slow and some of the off-season acquisitions weren't performing to the standards that they had when brought to the team. While the Brewers have brought home some significant wins, there hasn't been anything to make up for the losses. 
Last season, the Brewers had power-hitters such as Mike Moustakas, Eric Thames, and Yasmani Grandal that helped carry the lineup and produce good offensive numbers. Since they're off with different teams, it has been up to Yelich to put up those numbers and do some damage.
It would be a different story had Christian stayed out of his first slump and began to fix his struggles. However, it seems that once he's finally going, something happens and the slump effects him greatly. Though he's making contact with the ball, when it's hit on the ground, eight times out of ten, there isn't a great reward for getting the ball in play. We've seen many ground-outs from Yelich, but we've also seen him drive grounders deep into the field for some doubles. 
What's Causing This?
There hasn't been one main reason behind Yelich's slumps. Missing the last month of the 2019 season and their Wild Card appearance, due to a knee injury, cost him the MVP award. Fans thought that going into the 2020 season, it was going to be redemption for Yelich. It's been completely opposite for the hard-hitter.
Yelich has changed his entire approach at the plate due to the knee injury. Many have pointed that out, and it's very obvious. Instead of transferring that hip/leg power through both of his legs, Yelich is putting a lot of the power into his back foot. This could be to protect the knee, and it could be a trust issue. He's opening his hips way more and opening up more space between the two feet. His leg kick is lower and he's just very inconsistent with the approach. This could be something that Yelich doesn't notice that he's doing.
Mental Blocks
Not only are there physical issues hindering Yelich's performance, but there's a mental aspect going into it that fans can visibly see when he's at the plate. Due to last season's knee injury, Christian Yelich could very well be getting in his own head. There could be protection factors going into why he's performing the way he is, and it could be mental thoughts eating him alive.
A mental day or a couple of days off from the lineup is definitely needed for Christian Yelich. We saw that he took a mental day-off and it helped him. Possibly even taking more one-on-one batting practices with hitting coach Andy Haines could be beneficial to the mental aspect of the slump. Come to the off-season, I'm sure he'll be working hard to ensure that he can bring himself back to the MVP caliber type of person. 
Christian Yelich went 3-for-4 against the St. Louis Cardinals on Tuesday night in the Brewers' 18-3 win, respectively. It was an offensive explosion from everyone in the lineup, and fans hope to see it continue. This is what Yelich needed; A home run and two singles were showing  promising things from Yelich at the plate.
Even though he had a good performance on Tuesday, it needs to carry through for the rest of the season. His offensive contributions are vital to the team's success as we round out the regular season.
Though, if Yelich doesn't snap out of whatever he's going through, the postseason appearance won't look too promising.
For More..
Follow me on Twitter at @sarahspooon and follow us at @WiscoHeroics1 for more great content! To read more of our articles and keep up to date on the latest in Wisconsin sports, click here.