The Green Bay Packers moved up in the second round of the 2022 NFL Draft to grab their guy at wide receiver.  Christian Watson was taken 34th overall and will immediately have the expectations of being "the guy" in Green Bay.  Even if it doesn't happen right away, Green Bay will want to see that potential from him early on.
Chris Simms' initial reaction of Christian Watson's draft pick:
Oooooohhhhhhh baby Rodgers and Christian Watson!!! Wow my second favorite receiver in the draft and I think the second most explosive receiver in the draft behind Williams. The @packers are three for three with big time players so far in this draft.

— Chris Simms (@CSimmsQB) April 29, 2022
Chris Simms goes onto explain in video his breakdown of Christian Watson.  "Do you like DK Metcalf?  Do you like Chase Claypool?  How about Mike Evans from the Buccaneers?  Because that's what you're getting in Christian Watson."  That's extremely high praise from Chris Simms on Christian Watson's potential in this league.  "His acceleration off the line is as good as anyone in the draft."
What is the comparison between Watson and those three wide receivers?
Height: 
Christian Watson: 6′ 4″
Chase Claypool: 6′ 4″
Mike Evans: 6′ 5″
DK Metcalf: 6′ 4″
Weight: 
Christian Watson: 207 lbs
Chase Claypool: 238 lbs
Mike Evans: 225 lbs
DK Metcalf: 229 lbs
40 Yard Dash: 
Christian Watson: 4.36
Chase Claypool: 4.42
Mike Evans: 4.53
DK Metcalf: 4.33
RAS (Relative Athletic Score):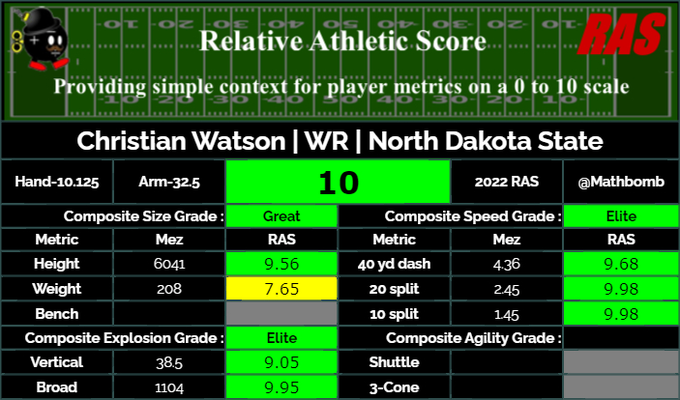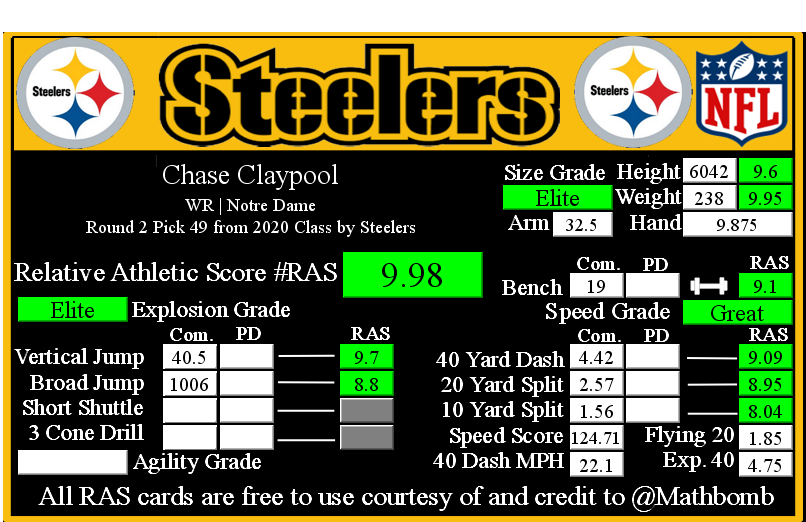 On paper (except for weight) Christian Watson has similar or better measureables than all three of those NFL stars.
Christian Watson Drop "issue"
Chris Simms also addressed Watson's drops which have been deemed a bit of a concern for him.  "That drops that I saw on tape were from a guy that didn't get the ball enough.  So now he's going to get the ball for the first time with three minutes left in the first quarter and he can't wait to catch it and he's already looking up field because he wants to show the universe that he's gonna make this guy miss and turn up the field for 70 yards.  So they're concentration drops to me.  Okay, so he does have a few of those.  But he's also got some of the most damndest catches unbelievable catches, I would say out of anyone in this draft."
If you remember, Davante Adams used to have those exact type of drops early in his career.  Chris Simms also referenced Jamaar Chase early in the 2021 season and preseason.  At the end of the day Simms sees nothing but major potential for Christian Watson, and having him paired with Aaron Rodgers will only enhance his career.
For More Wisconsin Sports News…
Follow me on Twitter at @mcquadewarnold and follow us @WiSportsHeroics for more great content. To read more of our articles and keep up to date on the latest in Wisconsin sports, click here! Also, check out our merch store for some amazing WSH merchandise!