On Milwaukee's recent road trip the team finished with a 2-2 record. The Bucks were able to beat the Utah Jazz and the Sacramento Kings. Meanwhile, the Golden State Warriors and Minnesota Timberwolves were able to shoot their way to victory. Milwaukee is getting some much needed rest before they welcome Chicago to town for round 3 of the I-94 rivalry on Tuesday.
Round 1 & 2
The Bucks won round 1 and 2 against the Bulls in the four game season series. Both wins by Milwaukee have not come easy. Milwaukee's average margin of victory against the division rival is 5 points. In the two wins, Giannis has needed monster games for Milwaukee to be victorious. In the first meeting, Giannis went for 30 points and then 34 points in the second meeting. Meanwhile, the Bucks have struggled to defend Chicago's star players DeRozan and LaVine. Like Giannis, DeRozan is also averaging north of 30 points in the series thus far.
Lopez Effect
On the recent road trip, Milwaukee welcomed back center, Brook Lopez. The coaching staff has kept Lopez between 15 and 20 minutes through his first three games back from injury. In limited minutes, Lopez has looked good in stretches. He looks to be moving well but hasn't exactly shot the ball efficiently. Lopez presence defensively is needed more than his offensive game. Brook's rim protection and rebounding are a huge part of what makes Milwaukee successful.
Bad Blood
How can you forget about the first meeting? Grayson Allen's flagrant 2 foul on Alex Caruso made headlines and further heightened the intensity of the rivalry. Allen fouled Caruso hard on a layup attempt, and the resulting fall caused Caruso to fracture his right wrist, requiring surgery.
1st Bucks/Bulls matchup tonight since the infamous Grayson Allen/Alex Caruso incident. Should be a good one @RedLineRadio pic.twitter.com/YPg02iEYtq

— Barstool Sports (@barstoolsports) March 4, 2022
The second matchup in the series was post trade deadline. Tristian Thompson had something to say to Grayson ahead of matchup number two.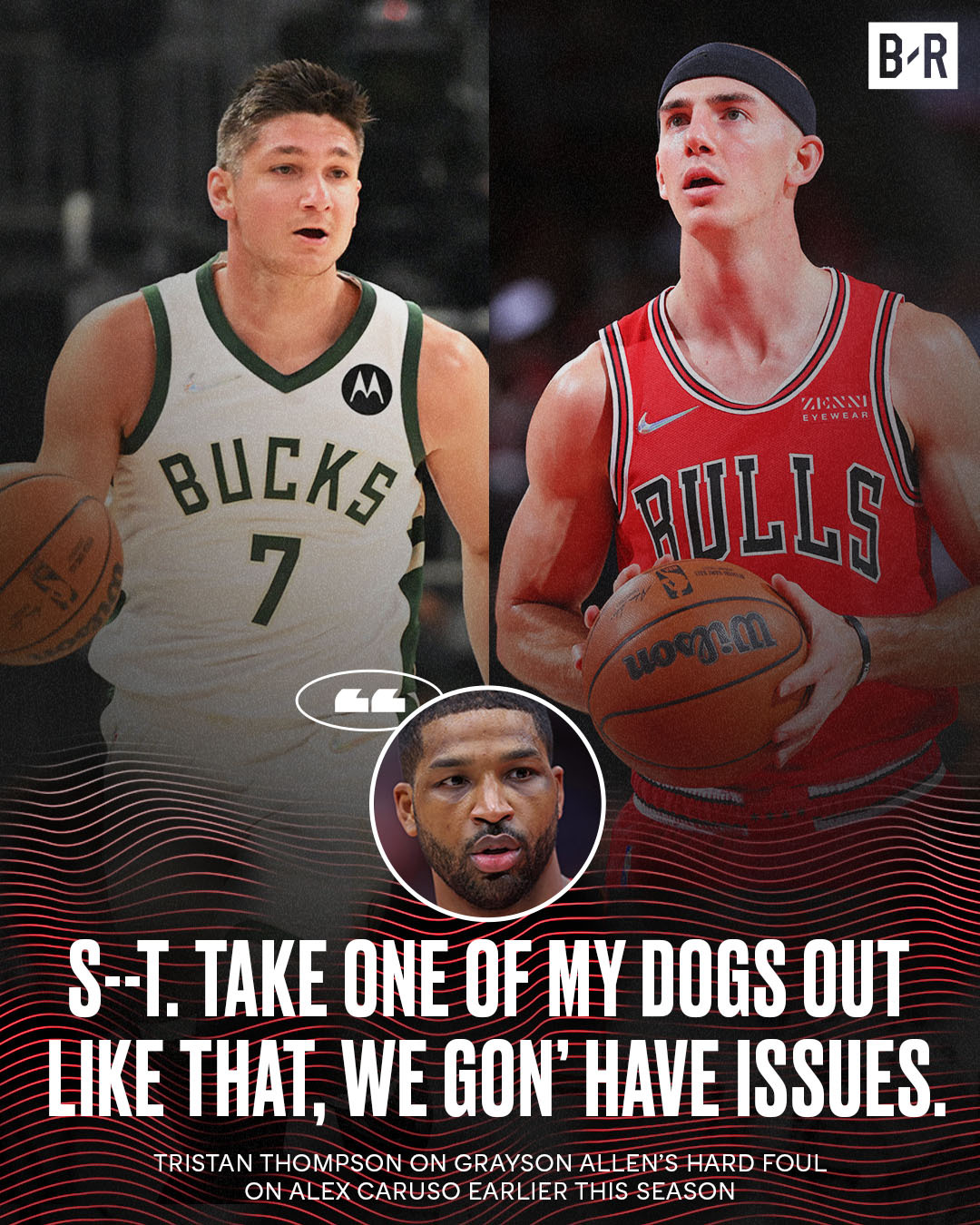 Round three expects to have the same type of intensity as the first two.
Bulls Struggles
Chicago is currently on a three game losing streak but hasn't faired well against the top teams in the NBA.
The Bulls are 0-15 vs the top 3 teams both conferences this season. pic.twitter.com/3BDfRqemu4

— StatMuse (@statmuse) March 19, 2022
Milwaukee will look to make the Bulls 0-16 against the top three teams in both conferences.  In addition, Milwaukee currently has a half game lead over a surging Boston and inconsistent Philadelphia team for the second seed in the eastern conference. Defeating Chicago will be important for keeping the second seed with only 11 games remaining in the season.
Injury Report
Not much has changed for either team on the injury report. The Bulls will still be without Lonzo Ball who last played a game in January.
The Bucks currently have Giannis listed as a game time decision. The two time MVP sat out of Milwaukee's final road game in Minnesota with right knee soreness.  No additional reports have surfaced that Giannis expects to miss the Chicago game. Lindell Wiggington also remains out for the Bucks.
Game Prediction
For the first time since game one of the season, Milwaukee will finally have its championship core in tact.  The return of Lopez and Connaughton cannot be overlooked. Each player brings value to the Bucks team, more than what shows up in the box score.
[pickup_prop id="20470″]
The game will likely be hard fought given the first two matchups. However, I do expect Milwaukee to prevail.  Giannis has proved to be a matchup nightmare for Chicago and I expect that nightmare to continue. With the return of Lopez, this will allow Milwaukee's guards to put more pressure on DeRozan on LaVine knowing Brook will be protecting the rim.
Milwaukee by six. Final score: 121-115.
For More Wisconsin Sports Content
Follow me on Twitter at @wifecallsmecarl and follow @WiSportsHeroics as well for more great Wisconsin sports content! To keep up to date on the latest in Wisconsin Sports, click here! Also, check out our merch store for some amazing WSH merchandise!