The Green Bay Packers have one of the most storied franchises in NFL history.  Throughout their 100+ years of competition, they have had numerous players elected to the Football Hall of Fame.  That tradition continued on Saturday night with the election of Charles Woodson to the Hall of Fame.  Woodson becomes the 27th Packers player to enter Canton.
Michigan
Charles Woodson played his college ball at the University of Michigan.  He played three years in college, but his final season, 1997, was by far his best.  That year, Woodson recorded seven interceptions.  Not only that, but Woodson also took snaps as a wide receiver, and caught two touchdown passes.  Additionally, he rushed for another score, though he had only three rushing attempts on the season.  Woodson was also Michigan's punt returner that year, and had 33 returns for 283 yards and another score.  He won the Heisman Trophy that season, and remains the only primarily defensive player to win the award.
The Oakland Raiders: Part One
Charles Woodson was drafted by the Oakland Raiders with the fourth overall pick in the 1998 NFL Draft.  He made an immediate impact, winning Defensive Rookie of the Year and making the Pro Bowl in his first year.  That season, he recorded five interceptions and two forced fumbles while making 64 tackles.
Woodson made the Pro Bowl in each of the next three seasons as well.  Twice, in 1999 and 2001, he was named First Team All-Pro.
The next four years, though, were not as productive for Woodson.  Injuries shortened two of his seasons and his contract expired with very few teams interested in his services.  It looked like it might have been the end of the line.
The Green Bay Packers
Ted Thompson and the Green Bay Packers, though, took a shot on Woodson and signed him to a seven-year deal in 2006.  Woodson rewarded their faith in him immediately with one of the best seasons of his career.  In 2006, Woodson grabbed a career-high (at the time) eight interceptions, forced three fumbles, and deflected 20 passes.
Two years later, in 2008, Woodson returned to the Pro Bowl.  He had another great campaign, recording seven interceptions, two of which were returned for touchdowns.  He also forced a fumble and deflected 17 passes.
The next year, in 2009, Woodson established himself as the best defensive player in the NFL.  He won Defensive Player of the Year after leading the NFL in interceptions (nine) and defensive touchdowns (three).  He also forced four fumbles that year, bringing his total turnovers forced to 13.
In 2010, Woodson helped lead the Packers to victory in Super Bowl XLV despite breaking his collar bone during the game.  The next year, 2011, Woodson was again named First Team All Pro and led the NFL with seven interceptions.
Unfortunately, in 2012, Woodson was limited to just seven games.  It would be his final season in Green Bay.
The Oakland Raiders: Part Two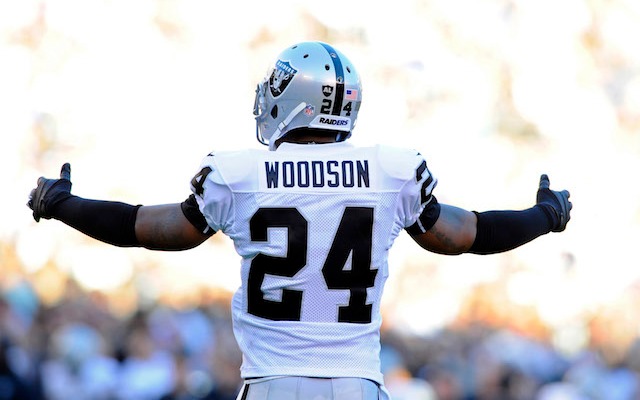 Charles Woodson returned to Oakland on a one-year contract.  He spent the final three seasons of his career with the Raiders, not missing a single game during that time.  In his final season, 2015, Woodson was named to his ninth Pro Bowl.
Comparing Numbers with Oakland and Green Bay
Charles Woodson's 18-year career was split between Oakland (11 years) and Green Bay (seven years).  Unlike baseball, NFL players do not have to choose which team they will represent in the Hall of Fame.  They go in as a player.
That being said, it is interesting to see how his career numbers split between the two teams.  Of Woodson's 65 career interceptions, 38 of them came with the Packers.  During his career, Woodson returned 11 of those interceptions for touchdowns.  That total, 11, is tied for second-most in NFL history.  Nine of the eleven came as a Packer.
While not known specifically for rushing the passer, Woodson still recorded 20 sacks in his career. 11.5 of them came with the Packers.  He also recorded 183 passes defended in his career, fourth most all time.  Over half of them, 99 to be exact, came as a Packer.
[pickup_prop id="4629″]
For More Great Wisconsin Sports Content
Follow me on Twitter at @theotherAdams14 and follow us @WiscoHeroics1for more great content. To read more of our articles and keep up to date on the latest in Wisconsin sports, click here!