Coming off an NBA Championship, Bucks fans have repeat aspirations.  The slow start to the season isn't one fans expected. Giannis should take a page out of Aaron Rodgers playbook and tell fans to r-e-l-a-x.  There are 82 games this season and the season just got underway.  Here are a few ideas to calm the nerves of fans.
Injuries
It's no secret, injuries are part of an NBA season.  Every team goes through stretches where they aren't at full strength.  The injury bug seemed to bite the Bucks early on this season.  Jrue Holiday, Brook Lopez, Bobby Portis and Donte DiVincenzo have all missed time.  What does each players' absence mean to the team?
Holiday
Jrue Holiday proved his worth last season and most importantly in the playoff run.  Holiday's defensive toughness helps set the tone for the rest of the team.  His ability to harass opposing guards up and down the floor allows other members of the team to play aggressive on the wings.  In addition to his defense, Jrue has the ability to create his own shot but also for his teammates.  Jrue should return as early as Tuesday against the Pistons.
Lopez
Brook Lopez is currently dealing with a back injury.  It goes without question that allowing Brook to get back to 100% is in the team's best interest.  Similar to Jrue, Brook's value presents itself on the defensive end of the floor.  The Bucks ability to rebound has been suspect with Brook's absence.  In addition to that, Brook's most underrated defensive attribute may be his communication.  If you watch and listen closely, Lopez is always communicating to his teammates on the defensive end of the floor and in transition.  Giannis is a great rim protector but it never hurts to also have another 7'0″ protecting the rim as well.
DiVincenzo
Donte brings an energy that lifts his teammates.  Since Donte has entered the league, he has played with high energy on both the offensive and defensive end of the floor, sometimes to a fault.  Early on, Donte was a slasher who made timely cuts to the basket.  Over the last few seasons, he's improved his game and most importantly his perimeter shooting.
Portis
Bobby on the other hand is quite possibly the most beloved Milwaukee player outside of Giannis.  Bobby brings a versatile offensive game.  He can play with his back to the basket or step out and knock down jumpers.  He has a scorer first mentality which had him in the conversation for 6th man of the year last season.
Turnovers
NBA games can get out of hand in a hurry or teams can come back in an instance.  In both of these situations, turnovers play a large part.  The Bucks have averaged 13 turnovers per game.  This may not seem like a lot but the timing of these turnovers is cause for concern.  Milwaukee nearly blew the road game in San Antonio where they had 20 turnovers.  Once the team gets to full strength the turnovers will likely reduce.  Having role players handle the ball more than they are accustomed to generally results in high turnover rate.  However, against the Spurs, timely turnovers were committed by our All-stars Middleton and Giannis.  Getting a better handle on the turnover differential will undoubtedly help the team and record as a whole.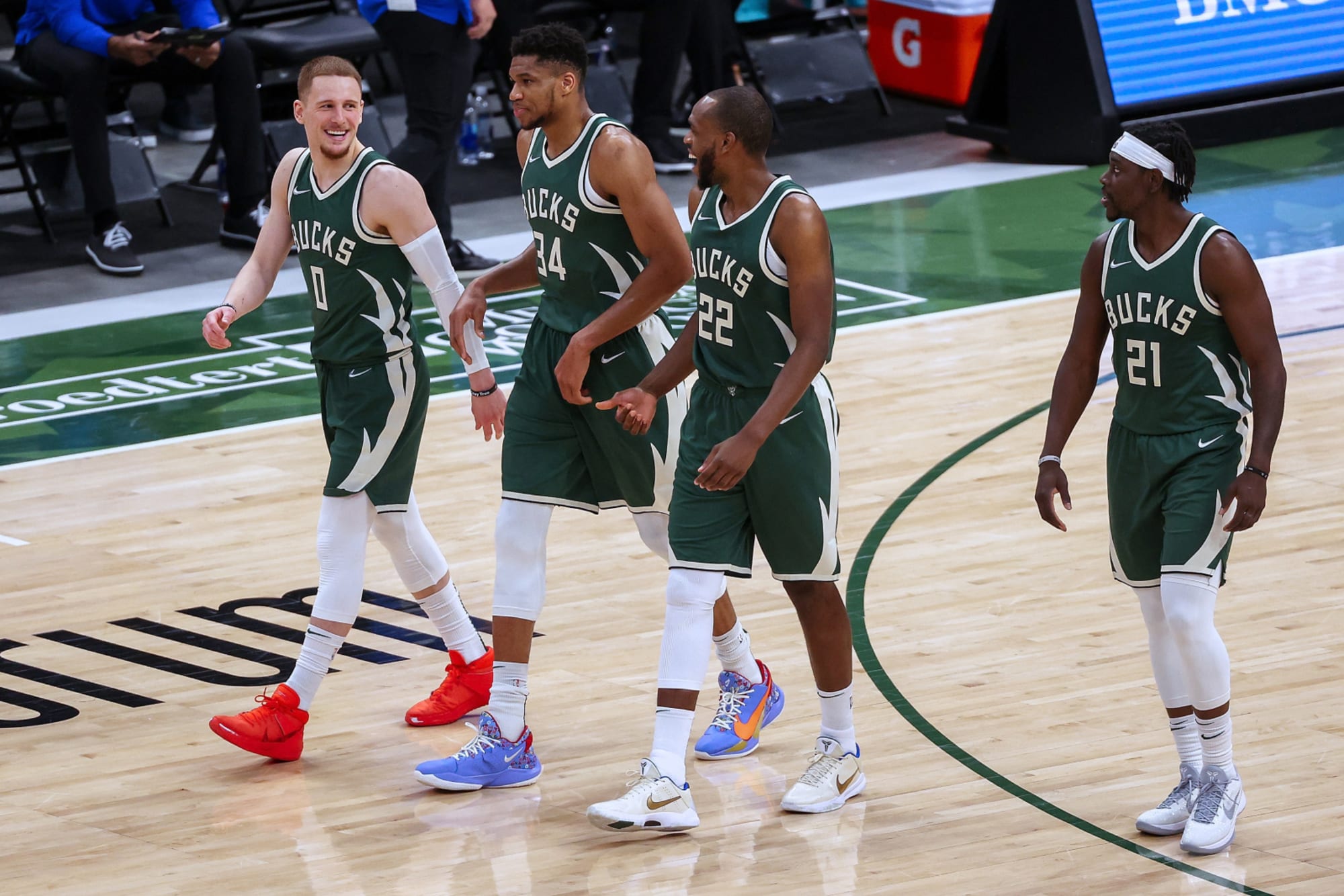 Regular Season History
In 2018-19 Milwaukee stormed out of the gates and ended with a 60-22 record, good for first in the Eastern conference.  That record tempted fans with the idea of an NBA Finals run, however, that run stopped in the conference finals.  In 2019-2020 the Bucks once again had an outstanding 56-17 record.  It's no secret though that the bubble was not kind to Milwaukee.  They struggled in the first round against Orlando just to go on and be dominated by Miami.  Last year, the Bucks posted a record of 46-26 and one could argue that making sure they finished in the top 4 was more important than boasting the best overall record.  Look for coach Bud and staff to plan a way for the team to be healthy for another long playoff run.
Taking everything into account, Bucks fans shouldn't be hitting the panic button.  With 75 games left to play, Milwaukee will be just fine.  The game of basketball is about runs both during the game as well as wins and losses.  Look for the Bucks to get back on track against the Detroit Pistons Tuesday, November 2nd.  Click here to see the entire Bucks schedule.
Follow me on Twitter at @wifecallsmecarl and follow @WiSportsHeroics as well for more great Wisconsin sports content! To keep up to date on the latest in Wisconsin Sports, click here!
[pickup_prop id="11342″]